Moonstone has provided BF with their April 2014 pre-order info.
SHEENA #2
Story: David de Souza, Steven E. de Souza, Paul D. Storrie
Art: Shawn McCauley
Colors: James Brown
Covers: Jake Minor, Jim Silke
32pgs, color, $3.99
DIE HARD screenwriter Steven E. de Souza's critically acclaimed reboot of Will Eisner's SHEENA, QUEEN OF THE JUNGLE comes to Moonstone in this action packed series! A man-eater is on the loose, the government bounty is in the thousands, and trigger happy hunters are descending on Sheena's private jungle like shark fisherman pursuing "Jaws".  As the mutilated victims pile up, Sheena knows her jaguar companion is innocent… but can she prove her theory that the killer is neither man or beast before the intruders end up killing an innocent… or stumble upon her own secret role as the leader of Val Verde's spreading revolution?
(3 covers: Minor = 60%, Jackson = 20%, Silke wraparound = 20%)
*RETAILER INCENTIVE= one free copy for every 4 ordered
SHERLOCK HOLMES & KOLCHAK the Night Stalker: Cry for Thunder novel HC
Author: Joe Gentile
Cover: Doug Klauba
6" x 9" HC, 160pgs, $19.99
ISBN: 978-1-936814-73-2(51999)
PREVIEWS EXCLUSIVE!
The long awaited MUCH EXPANDED (over TWICE the story!) novelization of the critically acclaimed crossover graphic novel!
Two of the most unique investigators of all time attempt to untangle the same mystery…100 years apart from each other! The lawless wild west- the hidden world of Victorian London- the present day hell of Hollywood…there…and back again.…one of the strangest stories never told…
"Gentile's characterization was top-notch. Holmes is brilliant, sharp-tongued, crafty, manipulative, physical and surprisingly compassionate in his pursuit of justice in the name of an unjustly imprisoned immigrant…Gentile's narrative voice for Kolchak perfectly captures Darren McGavin's noirish voiceovers and downtrodden schmuck-who-won't-give-up personality."- BookGuide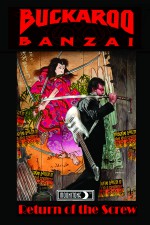 BUCKAROO BANZAI: TPB vol.1: Return of the Screw  (new printing/new cover)
Story: Mac Rauch, WD Richter
Art: Stephen Thompson
Colors: Ken Wolak
Cover: Dave Dorman
120Pgs, 7" x 10", color, $15.95
ISBN: 978-1-936814-71-8(51595)
reduced price!
Written by Buckaroo's creators!
Along with his Hong Kong Cavaliers, Banzai must battle more than one surprise arch enemy, each with their own motives, but all acting in concert to bring Banzai to his knees! All this sandwiched between a couple of great rock and roll guitar solos, a few surgical procedures, a crazy gun battle on land and air, Buck's one chance for the ultimate revenge, his soul in turmoil, all the chicks digging him, engineering synchronicity, pretty toilets, a human pickle, and a giant sombrero! This volume reprints the super-seller 3 issue mini series, plus a TON of extra goodies: character files!  Unused covers! Alternate ending! Production designs from the unfilmed TV Movie!  A brand new interview with Banzai's creator Mac Rauch!
BUCKAROO BANZAI: TPB vol.2: No Matter Where You Go…
Writer: Mac Rauch
Art: Chew Chan, Shawn Van Briesen
Colors: Ken Wolak
Cover: Matt Haley
158pgs, color, 7" x 10", $16.95
ISBN: 978-1-936814-71-8(51695)
First time in paperback!
writer Mac Rauch and director WD Richter return to their creation with BRAND NEW STORIES!
"…a bold, titillating mix of particle physics, rock n roll, super-sonic speed, beautiful women, and villains beyond redemption."
Everyone's favorite adventurer/surgeon/rock star is back again just in time to save the world!
-Get the low down on the events that transpired BEFORE the movie!
-See for the first time a good look at Buckaroo's beginnings!
This volume reprints the 2 issue "Prequel" series, the two-issue "H.O.T.H." series, and the "Origin" and "Big Size" issues.