Press Release
Koyama Press has announced their Fall 2014 plans, with new books from Renee French, Patrick Kyle, Michael DeForge, Walter Scott, John Martz, and Britt Wilson.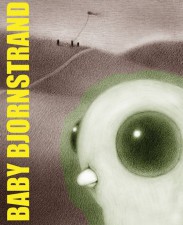 Baby Bjornstrand
ISBN: 978-1-927668-13-9
$20.00
6 ½ x 8, 132 pages, full colour, softcover
September 2014
Baby Bjornstrand is like a monster movie written by Beckett, and presented in delightfully delicate, and slightly diabolical, pencil drawings.
Baby Bjornstrand tells the tale of Mickey, Marcel and Cyril and their misadventures with an undeniably adorable, and mysteriously menacing monster. A wasteland becomes fertile ground for fantasy as the book's graphite grotesqueries are brought to life by French's adroit hand; her elegant shading seemingly wringing her wondrous worlds out of the page itself.
RENEE FRENCH has been making comics that revel in the killer side of cute and the horrors that lie within and without since the early 90s. Her past work includes The Ticking (Top Shelf Productions, 2006), Micrographica (Top Shelf Productions, 2007), H Day (PictureBox, 2010), and Hagelbarger and That Nightmare Goat (Yam Books, 2013).
"Baby Bjornstrand is both beautiful and brutal, warm and indifferent. Like all of Renee French's art it hints at the innocent and the profane without missing a beat. A creature after my own heart." — Guillermo del Toro, Hellboy, Pan's Labyrinth, Pacific Rim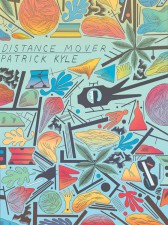 Distance Mover
ISBN: 978-1-927668-08-5
$20.00
6 x 8, 188 pages, two colour, softcover
September 2014
Imagine Dr. Who as designed by Joan Miró and you'll have a sense of this art house, sci-fi adventure.
Mr. Earth can move incredible distances in his improbable Distance Mover, a wondrous vehicle that reflects the fantastic world it traverses. He, and his young art-star protégée Mendel, explore culture-rich crystalline cities, challenge the mighty Council of the Misters, try to overcome the all-conquering Ooze, and much more!
PATRICK KYLE lives and works in Toronto, Canada. He is the co-founder and editor of Wowee Zonk, a contemporary comic book anthology featuring up-and-coming international artists. He has been previously nominated for Doug Wright and Ignatz awards for his self-published comic book series Black Mass and Distance Mover.
"Pure comics, heartbreakingly swift in its speed and span. Distance Mover is heady and hilarious, high and low, a tightly wound breakneck-paced science fiction epic, full of calamity and beauty. Quite literally this book will bend and blend your mind with time and space.  Read it, and move great distances." — Jordan Crane, author of Uptight and The Clouds Above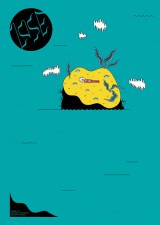 Lose #6
ISBN: 978-1-927668-12-2
$8.00
7 ⅛ x 10, 52 pages, b&w interior, softcover
September 2014
The sixth issue of this standalone, multiple award-winning anthology series by one of comics' brightest young stars.
Lose #6 is the latest installment in Michael DeForge's one-person short story anthology series. Hailed as the next Daniel Clowes or Chris Ware, DeForge is cartooning's brightest young star, and Lose is a standalone showcase for his talents.
MICHAEL DEFORGE currently lives and works in Toronto as a cartoonist, commercial illustrator, and as a designer for the hit Cartoon Network program Adventure Time. His one-person anthology series Lose has received great critical and commercial success, having been nominated for every major comics award including the Ignatz and Eisner Awards.
"Everything and everyone in his [DeForge's] drawings is dripping, bubbling and developing unsightly growths. He warps and dents the assured, geometrical forms of vintage newspaper strips and new wave-era graphics into oddly adorable horrors; his stories are prone to whiplash formal shifts." — Douglas Wolk, The New York Times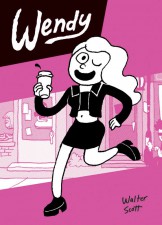 Wendy
ISBN: 978-1-927668-09-2
$18.00
6 ½ x 9, 216 pages, b&w interior, softcover
November 2014
Wendy is a sardonic look at the art world and its attendant creatives and creeps.
Wendy is trendy, and has dreams of art stardom — but our young urban protagonist is perpetually derailed by the temptations of punk music, drugs, alcohol, parties, and boys. Hegemonies and hearts are broken in this droll and iconoclastic look at the worlds of art and twentysomethings.
WALTER SCOTT is an artist from Montréal. His work has been exhibited across Canada and Wendy has been serialized on Random House Canada's literary digital magazine Hazlitt.
"If you are or were ever a 20-something art school party girl, this comic will stare directly into your soul. If you aren't and never have been, that's okay too because Wendy's art show-littered search for happiness, questionable life choices and totally human tendency for failure are just a great read anyway." — Olivia Whittick, VICE Magazine
CHILDREN'S COMICS
Koyama Press is pleased to announce that we are diving head first into the wonderful world of children's comics with two exciting releases!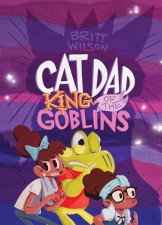 Cat Dad, King of the Goblins
ISBN: 978-1-927668-11-5
$12.00
6 ½ x 9, 48 pages, colour, softcover
September 2014
Age 6+
Like visiting Narnia with a sugar rush!
Miri and Luey have a dilemma. Their dad's been turned into a cat and their closet is a garden full of goblins. There is only one thing for them to do — grab their friend Phil the frog and dive head first into a wild, woolly and wacky adventure.
BRITT WILSON grew up in Brampton, Ontario. She attended both OCAD and Sheridan College, eventually graduating from Sheridan with a Bachelor of Applied Arts in Illustration. Wilson published her first book Britt Wilson's Greatest Book on Earth, a collection of her mini-comics, with Conundrum Press in 2012. She now lives in Toronto, Ontario with her husband and white cat.
"I've admired Britt's utter mastery of drawing skill for the longest time, and it looks like that is not going to end anytime soon. I am ok with this." — Kate Beaton, author of Hark! A Vagrant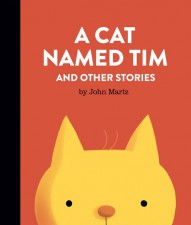 A Cat Named Tim and Other Stories
ISBN: 978-1-927668-10-8
$19.95
8 ½ x 10, 52 pages, colour, hardcover
September 2014
Age 3+
Richard Scarry and Rube Goldberg collide in John Martz's whimsical comic book world.
In Tim's world, a cat can paint on the ceiling and a happy pig couple can wait months for the bus. A duck and a mouse love to go flying, in a plane, of course. Every page is an adventure and each character is colorful in this collection of comics.
JOHN MARTZ is a cartoonist and illustrator in Toronto, Canada. He is the creator of the wordless online comic strip Machine Gum, and the illustrator of several picture books including Abbott & Costello's Who's On First? (Quirk Books, 2013). His comics and illustrations have appeared in The Globe & Mail, MAD Magazine, Maisonneuve, and more. He won the 2013 Ignatz Award for Outstanding Story for his comic book Gold Star (Retrofit Comics, 2012).
PRAISE FOR WHO'S ON FIRST?
"Martz's expressive characters cavort on backgrounds that pop with appealing color. Clever page formatting conveys the pacing that is such an integral part of the laughs." — School Library Journal