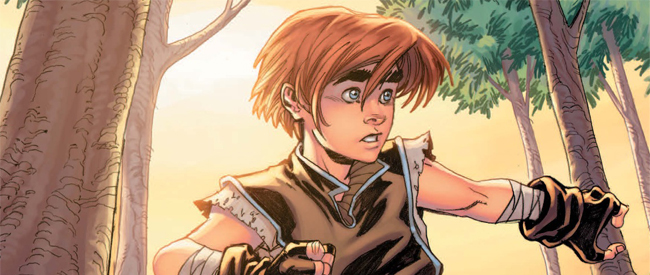 Although the story may seem a tad familiar, Jeremy Dale's Skyward takes flight with lush artwork and high production values.
Action Lab Entertainment's latest all-ages fantasy epic Skyward by talented newcomer Jeremy Dale may lack some of the originality and distinctiveness of their breakout hit Princeless, but the book isn't without its own particular charm. While it may not make you think or tickle your funnybone like Jeremy Whitley's Eisner-nominated creator-owned classic, Skyward will satisfy one's need to escape into a familiar yet different fantasy land.
Taking on both writing and art duties, Dale ably lays out the groundwork for his magical secondary world, taking a simple, straightforward approach that, while it promotes easy access by a wide demographic, also sacrifices originality and the innate sophistication so evident in works like Princeless. This first issue reads very much like the first chapter of Robert Jordan's Eye of the World: A young hero is torn from his family and sent on a quest of self-discovery and vengeance that has wider implications than he could ever imagine. Nothing really new here but that's okay. Skyward isn't and was never intended to be another Princeless. Rather, Skyward is Skyward – a rousing bit of high quality high fantasy adventure one doesn't have to think too much to appreciate or enjoy. To put it simply, it's brain candy for young readers.
Skyward's real strength and its big selling point is Dale's fabulous artwork. A fusion of John Byrne's robust, textured rendering with the lustrous polish of a major animation house, Dale's lush visuals can't help but draw the reader into the realm of Skyward. Slick character designs and beautifully realized backgrounds are a testament to his design sense but it's the fluid transitions and swift, even pace that truly showcase Dale's talents as a visual storyteller. Even if the dialogue reads a little modern for a medieval setting, the polished, accessible art style and distinctive visual tone will persuade most readers to keep turning pages.
Despite the inevitable comparisons to Action Lab's other all-ages phenomenon, Skyward is a book that fills a different need than a modern fairy tale about witty, resourceful princesses. Skyward is a comic book for boys made by boys – rambunctious, cool, and just imaginative enough to allow us all to escape the drudgery of our daily lives for a spell, no matter how old we may be.
Jeremy Dale (W, A), Steve Downer (C) • Action Lab Entertainment, $3.99, July 2013.