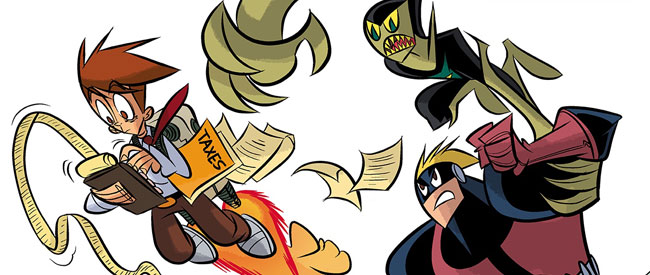 About 7 years ago, APE Entertainment released a fun three-issue miniseries about a little nerdy youngster named Tim and his adventures at his first job: accountant at the offices of SHR, the HR for superpowered individuals.
Super Human Resources, as the series was called, offered a quirky, outside-in perspective on superheroes. But most of all, it was plain fun, as it allowed writer Ken Marcus to pull in many a gag from his real-life work situations.
Fast forward to 2016, and Super Human Resources is back for a second go-round, this time at Action Lab Entertainment.
"Kevin Freeman, who was our editor at our first publisher, became President at Action Lab. He has always been a great supporter of our little book," says Marcus when asked about the publisher switch.
"Action Lab is carving out a great, indie niche for itself with great books like Princeless, Molly Danger, Awake, Stray and Hero Cats among others. It's very different than anything else out there in the marketplace. I feel lucky to be a part of what they're doing."
It turns out that Freeman assuming his current role at Action Lab wasn't the primary reason for SHR to be on an extended hiatus. It's been "way too long" in the works, stresses Marcus, who points at the killer combination of a demanding day job and raising a couple of young kids as the main culprits.
"I've always been working on it, but it always took a back seat to real life. Being an indie creator having no deadlines or schedule is great. But it's also horrible for getting things actually finished. Slowly but surely, we've been working on it. With my awesome new artist, Armando Zanker who's replacing Justin Bleep from the first volume. Armando's been great with deadlines. I've been the horrible one.
So, where does Super Human Resources II pick up from where you last saw Tim? "Tim soon gets kidnapped by four, undercover villains from the Evil Alliance," unveils Marcus. "We spend a lot of time with these incompetent, yet somehow loveable morons. We also meet their boss, interstellar conqueror Devastator, who's having troubles of his own with a rebellious, omnipotent teenage daughter."
Super Human Resources II can be preordered now from Action Lab Entertainment. The first issue hits stores this June and features covers by Justin Bleep and Gabriel Hardman.