With over a decade's experience of comics publishing and a focus on bringing translated French language comics to English-speaking audiences, Nicolas Rossert's Sloth Comics has become a regular fixture on the UK convention circuit. From books by legendary figures like Moebius and Lewis Trondheim through to the championing of newer or lesser-known voices like Francesca Dare and Yatuu, the one constant throughline is the sense of escapism and/or fun that their comics provide. I caught up with Nic to ask him about Sloth's publishing ethos, the intricacies of trasmlation, and navigating the rocky shores of Brexit and the pandemic…
ANDY OLIVER: Can you give us some background on Sloth Comics' beginnings? And why did you pick Sloth as the name for the publisher?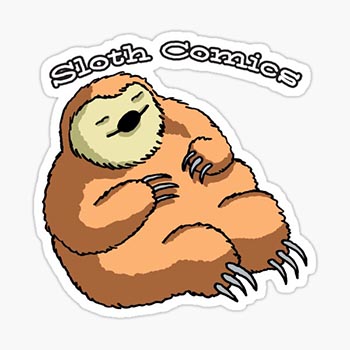 NICOLAS ROSSERT: I think the story starts many years ago, when I was 17 or 18. My oldest friend (Daniel Selig who drew the Sloth Comics logo I still use) and I had just finished our first full-length comic book and we wanted to move on, but before we did that we might as well give a punt to getting it published. We really expected a rejection, which we got, and I still have the letter. After that experience, I got really interested in that world behind the scenes and what happened on the selection process and mainly how one would make a pen and paper comic book into a real book. I decided I wanted to study publishing so I could make create my own comic book publishing company and give people a chance on being published and bring French comics to the UK.
After my studies, I did just that. Started a business after doing all the business things and writing a business plans. When this was happening, I had just moved to North London, and I managed to get a student year pass for London Zoo on the last days my student card was still valid. When I needed a break, I would go there and generally hang out for a big in the rainforest area, home of Prince, the zoo's sloth. I think that is where the name came from. I thought a sloth would make a fun mascot and it is also a deadly sin, so it opened up possibilities for a more serious label if needed later. I have been thinking about that more lately while considering the publication of some dark, non-fiction stories.
AO: How would you describe the ethos of Sloth Comics in terms of both the French work you've published in translated editions and the original English language comics you've championed?
ROSSERT: This is hard to encapsulate in one single point and I am struggling to put it all in writing. Sloth Comics has now been publishing comics for a decade! The tagline I stick to is "just lazy fun" because that's part of what I like to publish, something fun that will take you away into another world for a little bit.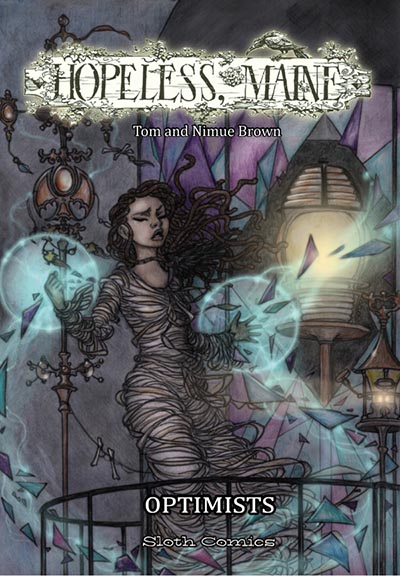 Within that, I try to publish comics with strong female characters with female and non-binary creators. It still feels like too much of a niche and everyone deserves to have comic book protagonists they can relate to. I try to keep these all-ages too and a smaller format so they can be transported easily. That would be series like Penny Blackfeather, Erika and the Princes in Distress, and Hopeless, Maine (although this one might be more for young adults).
I've also tried to publish titles which are simply fun. Some of the books I have translated, I read them myself as a teenager and absolutely love them, like Goblins. Bludzee, which is coming out soon, is also just fun. It's just fun and sometimes, that's all that needed, and I hope that appeals to everyone.
AO: Thinking about that translated work first, how do approach the curation of that side of your output? Are you looking predominantly to spotlight voices that aren't known outside of their home nation? Are there particular genres or styles you gravitate towards?
ROSSERT: First thing I look for is a graphical style that will work outside of France and Belgium. Then the story, subject and comedy needs to translate and be transposable. There are aspects of French culture that do not work in the UK at all. I hesitate to have any nudity and have consider that carefully. Even if it's part of the story and absolutely not sexual, I know I have had problems with people not wanting to buy comics with nudity in it for anyone, not just for under 18s.
I also have to make sure things translate into English on a linguistic level. Puns can be extremely hard to translate. There's always something here and there that won't translate verbatim, but you can catch it up by adding a different joke. But when one of my favourite series has every single character named using a pun, then I just can't do it. It's sad, but sometimes, there are limitations that you cannot cross. I'm still trying to find a solution for that title though. I won't give up!
Once all those things are ticked off, I have a plethora of titles to choose from. I tend to go for things I think would match my ethos, so I look through a lot of titles with female or non-binary protagonists which are also fit into adventure, fantasy and/or comedy. I could honestly spend every waking hour translating and adapting comics, if I just had to money to back all those projects!
Most recently, I did decide to translate Bludzee by the legendary Lewis Trondheim. I don't think he's all that well know in the UK, but it's still an honour for me to get to work on one of his books. I am also looking to work on other things like that, but there are limitations which are more business related than anything else and I don't know if that's really the subject here.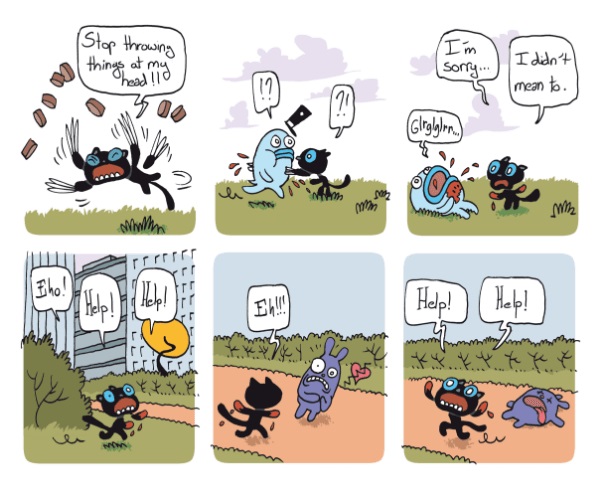 Although it is worth mentioning my financial limitations. Translating a comic book isn't something cheap for me, so I do have to chose titles carefully. I need to pay the creators and print the books while making sure I can also turn a profit in the end.
AO: Who are some of the UK creators you've published over the years and what attracted you to their comics practice?
ROSSERT: Let's start with Francesca Dare, creator of Penny Blackfeather who created a series with amazing characters, a fantastic sense of humour and a subtle feminist take on fairy tales and fantasy. They watercolour everything! Their technique is amazing! Their inking is gorgeous. I am so happy to have published their books. I was originally attracted to Penny when I saw the first two self-published issues in GOSH! in London during a signing event, they were taking part in. My printer, Rich from Comic Printing UK, saw I was really into these and introduced us and soon after I offered to publish the full first graphic novel. It was exactly what I was looking to publish: that comedy, fantasy title in a small format with a strong female protagonist that had charm oozing off the pages.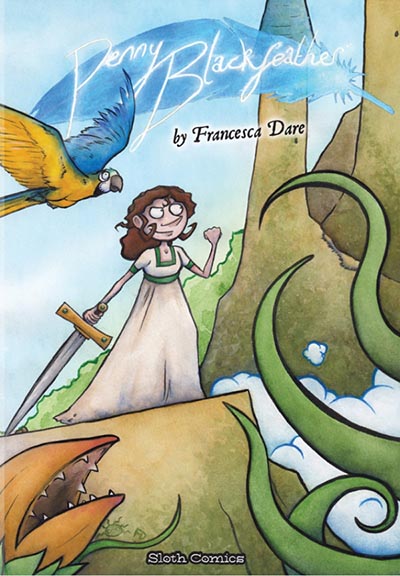 Most recently, I met Tom and Nimue Brown. Tom is American, but creates Hopeless, Maine with Nimue. They actually came to get me and show me their series which was started with Archaia but was dropped when the imprint was bought over. Again, they had a series that fit perfectly into what I want to publish! Their dark fantasy with a strong female protagonist is fantastic. The story is full of mysterious steampunk, containing so many aspects of classic fantasy and horror that it is impossible to not get sucked in. I don't know if I'm allowed to reveal their artistic process, but it's a mix of traditional and digital art with a unique finish. Nimue writes the story and script, Tom pencils the pages and both colour them.
I also met Charles Cutting and saw his first part of his traditionally created Kaddath. Charles used every traditional medium on the face of the earth to create a comic which really matched the aesthetics of European comics. I really enjoyed the graphic style and his use of the comic book medium to tell stories.
I have also worked with other UK artists for the creation of merchandise. They are also comic creators, like Claude TC, Josceline Fenton and Daniel Selig.
I have more UK creators I am working or am about to work with, but I'm going to keep those under my hat for now.
AO: You also published work by Moebius in your earlier days. That must have been a very exciting time for you as a publisher. How did that come about?
ROSSERT: Are you ready for the least magical answer ever? I got to publish Moebius because I asked if I could. That's it. There's nothing special about it. I wish I could still work on Moebius titles, but for many reasons, it's impossible for the moment. I keep asking every year just in case.
My experience with publishing Moebius was a mixed bag. Working on the book, getting it published, that was amazing, exciting and actually extremely simple thanks in part to my French colleagues.
The bad part? Actually, selling it. I thought people would know Moebius. Oh, was I wrong! Of course, quite a few did, mainly comic creators. I remember selling a copy to Glen Fabry, Mike Collins, Colin MacNeil and other legendary creators! But most of the general public had no idea who he was. They would only know some of his film work, but none of his comic work. That was incredibly disheartening. I spent a few Thought Bubbles and MCMs explaining to people who Moebius was. That really hurt. Loran, French creator of Booyah! and ASH was with me at an MCM and couldn't believe no one knew who he was either.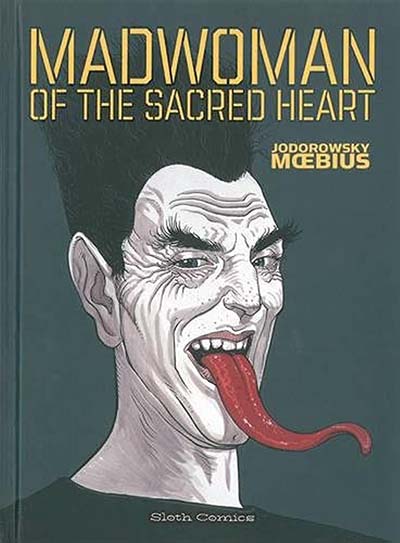 AO: What would you say was the secret of a good translation? What are the challenges of bringing work to a new audience in English without losing context and/or nuance?
ROSSERT: Before I get into this, for French translations, my hands are bound by "author's rights" (droits d'auteur) which means I have to keep things as identical as possible to the original, and if I have to modify that artwork, I need to ask permission from my French colleagues and/or the original creator.
I think the secret of a good translation is a good knowledge of slang, colloquial expressions, and pop culture. Ok, the latter if mainly for comedy, but that is probably the hardest thing to translate. You can't only match a meaning to another meaning, you must match the tone and the language registers.
To adapt something to a new audience you might actually have to change the context, at least some of it. This is where your pop culture knowledge comes in. Some contextual references just do not translate. You can force it, but it will lose all meaning. Imagine if you have to translate a reference to Doctor Who to a language and culture where Doctor Who never even aired there. You can force it through, it's fine, it's one gag, people will turn the page soon enough, but you will waste that gag. I think it's best to try and get away from that specific context and just create a more culturally appropriate one, if possible, of course.
Adapting a book is a lot more than just changing the language. Puns for example, can be incredibly hard. You can't just put a new pun in because most of the time, this will be accompanied by the comic art, so you can end up really limited.
The other limitation is the artwork. Not unlike lettering someone else's work (I also letter all the comics from Sloth Comics aside from Penny Blackfeather) you sometimes must make text fit in the background, on signs, on parts of the artwork you just can't modify. There might be something ideal but that just doesn't fit. Sadly, you have to learn to compromise and make things fit.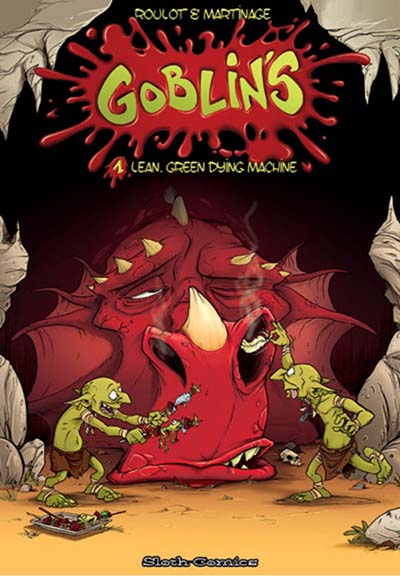 I think a few examples might help to illustrate this:
Bludzee had a single gag which just didn't translate. He tries to go on Youtube and get a video of a big roar from a predator. The gag in the French version if that the PC autocompletes "fauve" (wildcat) to "fauvette" (warbler – a small bird) and the PC starts to chirp which is not what he wanted. On that page a yellow bird is seen on the computer screen which creates a real limitation. The solution I found, and that has to be approved by Lewis Trondheim, is to have "black bear" autocomplete to "black bird" and change the bird on the drawing from yellow to black. We try to change the actual artwork as final recourse so I can tell you I spent hours looking up bird names and thinking about them fitting in an autocomplete.
In Goblins, which is the most challenging but the most fun translation to do – mainly because Tristan Roulot, the writer, is very fun to work with – we had to adapt the names of the goblins from French to English. Adapting names is super important as they'll stay like that for the whole series! My now favourite goblin was called in French "the tamer goblin", as in lion tamer. It sounds weird in English! So I had the idea of making a reference to the 1982 film The Beastmaster because it was kind of cheesy and would fit the goblin so well. Tristan loved it. That was the name we chose, and we managed to stick a new little reference in there. That's that pop culture knowledge! I've fit a few extra jokes in the Goblins series that weren't in the French version just because it would work.
AO: For smaller publishers this has been an incredibly difficult few years. How have you had to evolve and adapt to the double blow of Brexit and the pandemic?
ROSSERT: It has been a challenge! During the pandemic, sales were bad! There was a moment where Amazon didn't take any new stock in… I make a significant portion of my revenue at comic cons. There were obviously none of those going one. I'm also a graphic designer and illustrator, so during that time, I really fell back on that and worked for Twitch streamers. I did a lot of emotes, logos, transitions, overlays… I even started streaming that work myself. I'm glad I had a fallback! To be honest, I did a Masters in Design just in case and it did end up coming in handy.
During that time, I still manage to publish the first book of Erika and the Princes in Distress (below) by Yatuu and volume 4 of Hopeless, Maine by Tom and Nimue Brown but the launches for those were rocky at best. Only now are people starting to be aware of them, especially Erika.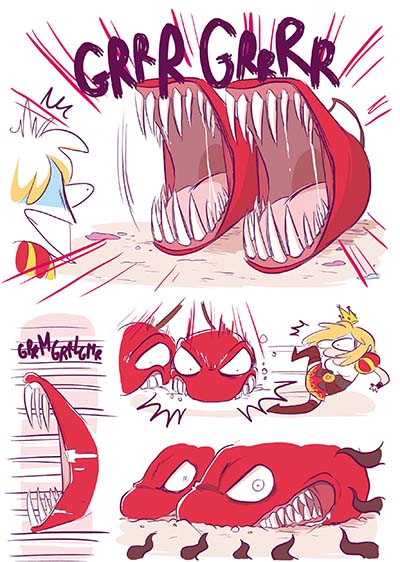 I also started work on my own book which I wrote and illustrated myself: The Basics of Roller Derby. I couldn't afford an artist so I drew it all myself, aside from the amazing cover done by Gary Erskine. Oh, I couldn't draw when I started Sloth Comics, but with a decade of comic cons with great artists who taught me things, I managed to draw my first illustrated book!
Then came Brexit… oh that one is painful. We have a worldwide paper shortage, which has made the price of paper skyrocket. Of course, the UK barely has any paper mills left. This means printing comics in the UK has become very expensive! So expensive that a quote for printing Bludzee went up 40% from before to after Brexit. So I've had to go print abroad. I'm not a fan because it's not as eco-friendly and it's harder to know the exact working conditions of employees of those printers. Anyhow, printing is done, very well done, by an extremely professional printer, and the books should have arrived in the country now… but… import and international logistics are a headache for me as I really don't do this… I used to do it with French colleagues. They'd sort that, it'd arrive in France and they'd send it up to me and now we obviously can't do that, or rather we can't do that as easily.
AO: And, finally, what's coming next from Sloth Comics? What kind of projects can we look forward to seeing from you in the coming months?
ROSSERT: Hopefully Bludzee will be out by the time people are reading this! I should also be releasing volume 5 of Hopeless, Maine this summer and handing over Basics of Roller Derby over to be distributed more widely, as it has been more popular than I anticipated. I also just started a strip on the life of a sloth. I'm going to accumulate a few and start releasing that on Webtoon and probably our site.
I'm about to start translating the second book of Erika and the Princes in Distress and Goblins 4. Then I have a few potential projects with independent UK-based comic creators that are in discussion. I also have more new series to consider translating but there's so much choice, it's hard to pick!
If I have the time, I have something I have started working on. I always prioritise other work though, so I tend to be very slow in creating my own titles.
For more on Sloth Comics and their publishing output visit their website here.