While we're going to be somewhat Thought Bubble-intensive over the next two weeks at Broken Frontier we mustn't forget that SPX is coming this weekend with a whole host of small press comics debuting at the show. One of those is Ashanti Fortson's smallness, a comic that immediately grabbed our attention when, courtesy of editor Claire Napier, the press details arrived at BF (just check out the use of colour!).  We have a six-page preview of the book below and we'll be returning to its pages for a full review at some point post-Thought Bubble…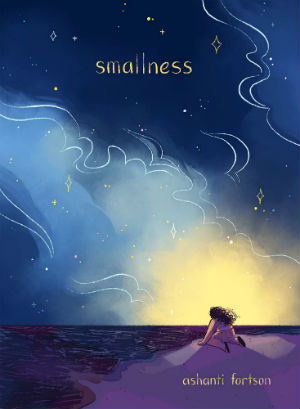 Debuting at SPX, Ashanti Fortson's one-shot comic smallness follows recently-fired Akma's journey across the farthest galaxies, as she searches for a way to escape the magnitude of her mistakes. Investigating how, in our emotional lives, we can miss the forest for the trees—or the galaxy for the planets?—smallness offers a cycle of life that we all know intimately but can still find ourselves needing a guide for. From misery through confusion and self-recrimination to peace, Akma's emotional centre is laid open on the page. It's catharsis waiting to happen.
Branching out from their queer space fantasy webcomic Galanthus, Fortson applies an immediately viable futuristic aesthetic and some classic fantastic motifs to social events familiar to the past and present, making this thirty-two page sci-fi a timeless examination of the heart and head accessible to fans of any genre. Children will love that Akma finds her way to a moment of happiness; teenagers and adults will understand how she makes the trip. All will be delighted by the beings who lend their help— every time they read and re-read.
Full color throughout, smallness will be in print at SPX for $15, and available afterwards in print at Fortson's Etsy shop and PDF on Fortson's itch.io page here.