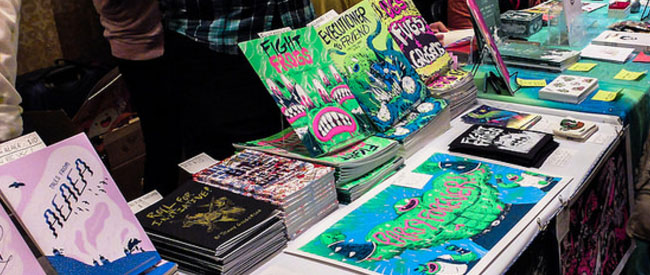 Small Press Expo 2014 (SPX) is over but the energy it generates isn't gone yet. I'd love if I could always vibrate at the specific frequency this particular comic book convention activates within me, but various natural laws dictate that isn't possible.
For this week, next month, maybe even the beginning of next year I'll be jittering and hopping in place, my creative molecules excited by the possibilities. Those unknown outcomes and all of their many intricacies are why I love comics and stories in general, and SPX is a massive showcase of their existence. The word "gestalt" could probably be used by someone smarter than me.
My own experiences with the con have been as varied as they have been exciting. This was my third year attending and I came away with new books to read, new posters to hang, more names to memorize and creations to seek out. Nothing new, as far as the results of attending the con go, but on the other hand definitely new when all of the content and its possible effects on my mind are considered.
The buildup to the con is always a little nervous-making, but that's probably more to do with personal psychology than anything. It's just under a nine-hour drive for me, from Indiana to Bethesda, Maryland. I never make the trip alone, and it's always been as fun as driving nine hours can be. I've somehow managed to hide a slight amount of social anxiety behind enthusiasm, and also whittle it down to a manageable size over years of work, so the show floor is exciting at the same time as it is scary.
SPX has a feeling which exists at other conventions, yes, but it's also the purest I've personally ever experienced in a room slightly larger than a small town's high school gym. To walk around that con floor is to experience a sense of community, of belonging.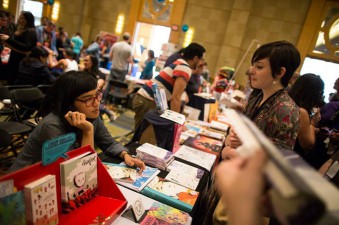 Maybe that's saccharine, but I'm not averse to a little sentimentality. I doubt I'm alone in thinking SPX has something special, or in my own emotional connection to that place. Attending means I'll see people who are like me because they love these things I do, but also not like me because they come from different places physically, mentally, emotionally. More people are drawn to the positive energy there and at some point the con might have to book a bigger room.
I'm protective of the con, and my hope that it won't grow to become cumbersome and bloated is rooted in that feeling, but is undoubtedly selfish too. Larger wouldn't necessarily mean worse. It would definitely mean more success, which means more content thus more contact, therefore more community, and those are the things comics fans tend to crave.
When I stepped to the registration table to get my weekend badge I was greeted by Michael Thomas, Assistant Director of SPX and whose online presence is sometimes denoted by his initials, MDT. Later that night he would preside over the wedding between cartoonist Simon Hanselmann, who married comics, that partner we were all there to court. I managed to arrive just in time to see the nuptials announced as official, their union through words consecrated with a kiss between Hanselmann and none other than Gary Groth, co-founder of Fantagraphics Books. It was unique, as was the SPX Prom, an after party DJed by Tony Breed and Shannon Stewart.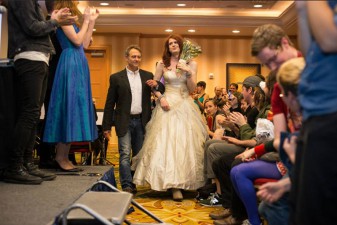 The invitations, distributed via Tumblr and other forms of social media, demonstrated the acceptance the con is about, inviting guests to "Come as you are or dress up…". Maybe that's a seemingly insignificant phrase, but I think it's another example of the magnitude, the sheer immense landscape of acceptance contained in a "small" area.
My selfish fears that the show will grow huge and unmanageable are most likely naive and misplaced. Founded in 1994, the show is now 20 years old and still felt like a community affair. This year the show boasted top-tier first-time guests such as Lynda Barry, Emily Carroll, Jules Feiffer, and Brandon Graham, who spent time after official convention hours perusing and critiquing artists' portfolios.
According to the official SPX press release there were 280 tables and 650 creators, numbers which make it easier to understand how I feel like I missed seeing (finding) certain creators and their work. Both days of the convention go fast, the time dwindling as your money floats away. Not a dollar is wasted though, and while I'm sitting here reflecting on the con and how it makes me feel, it seems inappropriate to say I "spent" money there either (see: aforementioned sentimentality). It feels invested; in artists, in art, and even in the conventions own SPX Graphic Novel Gift Program, which helps public and academic libraries acquire graphic novels.
If you're a fan of comics it's hard to imagine you wouldn't find something you love at SPX.
Photo credits: SPX Facebook and Theodore Taylor.