Pre-orders for the latest edition of Zainab Akhtar's carefully curated independent comics box ShortBox went live today and you have until January 31st to make sure you get hold of this latest compilation of indie comics excellence.
Of note to regular Broken Frontier readers is new work from our recently announced BF 2018 'Six to Watch' artist Matthew Pettit who contributes the comic Paradise. That's just one of five comics in a set that includes material from Emily Carroll, Viviane Schwarz, Gyimah Gariba, Rosie Brand and a print from Alexis Deacon.
You can visit the ShortBox site here and order #7 online here.
Here's the important information about ordering from the ShortBox team with previews below. Happy reading!
ShortBox is an independent comics box. It is not a subscription service. There is no signing up. It's simply a (pretty special) box of comics we publish and put together every 3 months. The comics are brand new releases created especially for the box that you won't find anywhere else. You buy a box, and that's that- there's no further commitment to anything else.
Pre-orders run for a 10-day period. That begins on the 22nd of January and ends at midnight on 31st January. This is the only way to get the box.
The box will ship in March.
We ship worldwide!
ShortBox #7 includes:
Beneath the Dead Oak Tree by Emily Carroll, 28pp, full colour. 'Murder, decadence, cowardice, guilt, and aristocratic foxes in wigs all combine in this gorgeously poignant poem/folksong from Emily Carroll, about the futility and heartbreak one can run into when dealing with vengeance. '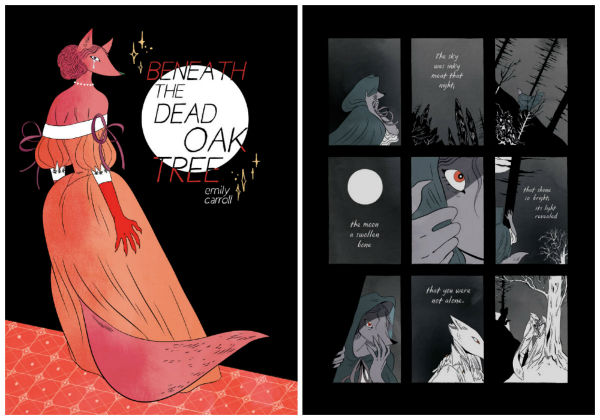 Cat & Bag by Viv Schwarz, 56pp, black and white.  'Cat and Bag are constant companions. Cat is an artist who makes picture books and comics, and Bag is, well… there. There to remind Cat of each and every worry, there to undermine Cat's decisions, there to rollcall all the embarrassing things Cat's done at a moment's notice. Can the unlikely duo ever make it work?' Viv Schwarz chronicles her relationship with anxiety disorder in this collection of warm, funny, and moving strips."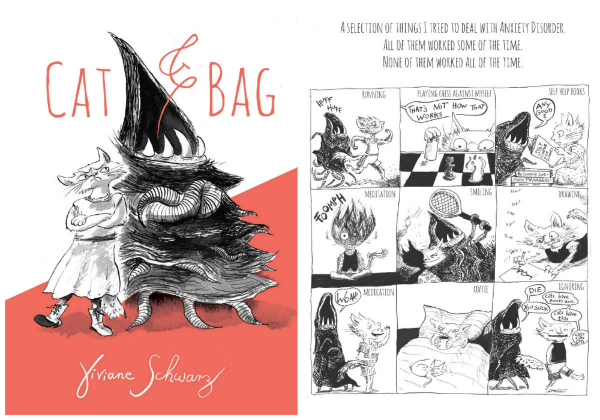 Navel Gazing by Gyimah Gariba, 60pp, full colour. 'A cool evening finds Gyimah Garbia's protagonist in introspective mood. But what happens when being wrapped inside your thoughts finds you quite literally inside yourself…! ' Navel Gazing follows an engaging, reflective journey of self exploration, doppelgangers, and an infuriatingly monosyllabic wise old sage."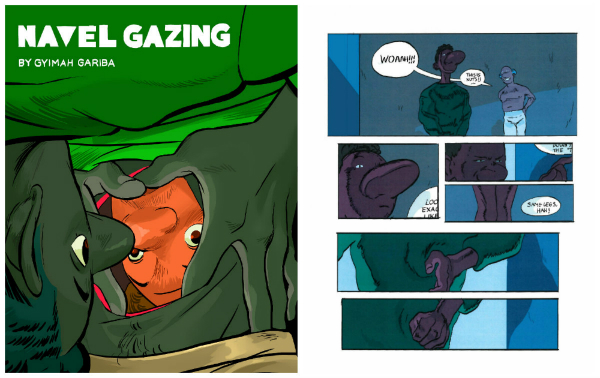 Wizard and Soft Pig by Rosie Brand, 100pp, full colour: 'Roll around in the gentle visual felts of Wizard and Soft Pig, wander aimlessly through the forest, smile at a flower. Lie face down in the mud.'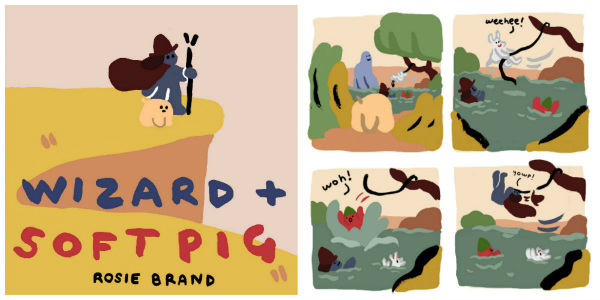 Paradise by Matthew Pettit, 'In a different time, Paradise follows the journey of two boys that defected from their bandit gang. The book explores the circumstantial relationship between the two and how an inevitable circle of violence and anger permeates their actions.'
Colossal Tussle exclusive print by Alexis Deacon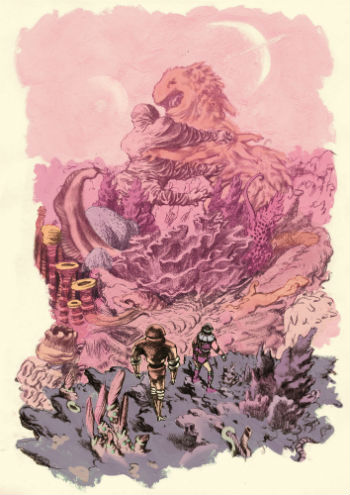 One more reminder: visit the ShortBox site here and order #7 online here.