ELCAF WEEK!
While the latest issue of graphite arts anthology Tiny Pencil was a long time in coming, this fifth edition – a sci-fi spectacular with many of the darker overtones that have made its predecessors such a deliciously bleak hit – proves to be one of editor Amber Hsu's finest achievements with the project to date.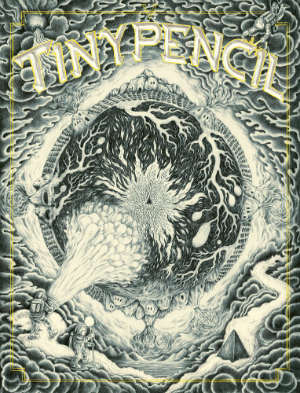 If you're unfamiliar with the Tiny Pencil philosophy, the book mixes short comic strips with single illustrations, giving an intriguing amalgamation of traditional (and often rather non-traditional) comics tales with images that invite the audience to construct their own narratives around their compositions. Readers with an interest in the origins of Tiny Pencil and its ethos can read a comprehensive interview with Amber Hsu here at Broken Frontier last year.
Subtitled 'The Cosmic Issue – Into the Annals of Time and Space', comics content is the predominant material this time around, with work from some particular Broken Frontier favourites included in the mix.
The highlight is a story from BF Award-nominated artist (and one of our second wave of BF 'Six Small Press Creators to Watch') Kim Clements (Rabbit Thoughts) who tells of the time the mysterious Night Whisperers invaded a small town and of the young girl who encountered their nocturnal wanderings (below left). Clements is an artist equally at home working in a welcoming children's illustrative style as she is in much darker and insidious tales, with her deliberately naive layouts ably lending themselves to either end of the storytelling spectrum. This is haunting and atmospheric work and a standout entry in the issue.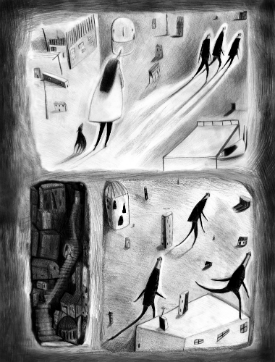 Gareth Brookes (A Thousand Coloured Castles) plays with anachronistic elements in 'On My Voyage to the Moone and Some Notes on the Customs of the Men Found Thereon' detailing an unlikely 17th century lunar exploration in mock period style with some rather cutting social commentary thrown in for good measure. Matthew D. Swan, another familiar 'Small Pressganged' face, provides an account of alien intervention and paradox with almost diagrammatic visuals that add to a sense of cyclical inevitability. Swan proves once again what a versatile storyteller he is here with work that is far removed in tone and presentation from the frantic fun of his Parsley Girl material.
Other notable entries include Jun Cen's rendition of worlds within worlds and realities within realities (below) as the micro and the macro absorb and spawn each other. Benjamin Wright (of another ELCAF exhibitor  LaLaLa PomPom) gives us a wonderful piece of astral slapstick in a moon-landing conspiracy adventure. Wright's tale employs a parallel narrative playfulness that splits off and reconverges like some kind of wearily resigned version of a 2000 AD Future Shock. And Alexis Deacon's short has a neat rhythm to its amusing central idea as the reality of his two-pager continues to shift and redefine itself with his protagonist's movement across panels.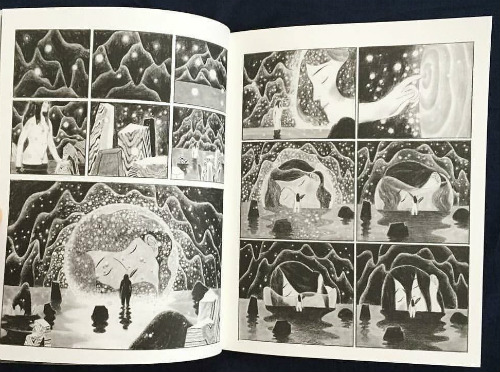 Audrey Niffenegger, Eleni Kalorkoti, Bart Nijstad, Tom Kindley and Sean Prentice are among some of the names providing haunting sci-fi themed non-comics illustrations.
Amber Hsu's always essential Tiny Pencil once again proves itself to be a vital crossover project bringing different areas of the illustration world together and, hopefully, artists to new audiences in the process. Let's hope that the sixth number isn't as long in coming because a new issue of Tiny Pencil is always a landmark occasion on the UK small press publishing calendar.
For more on Tiny Pencil visit the website here and follow the anthology on Twitter here. You can order Tiny Pencil: The Cosmic Issue here priced £12.00 plus postage. 
Tiny Pencil will be at ELCAF from Friday-Sunday at Table 36.