Broken Frontier Award-winning artist Gareth Brookes has produced a body of work over the last decade that has been consistently innovative and experimental. From The Black Project through to The Dancing Plague. Brookes has a new exhibition of his work called 'Burning Soaking Piercing Dancing' running this November at London's 155a Gallery which us sure to be worth a visit. Full details in the press release below.
Gareth Brookes returns to the 155a Gallery to show recent work taken from his graphic novel The Dancing Plague, and latest comic Home.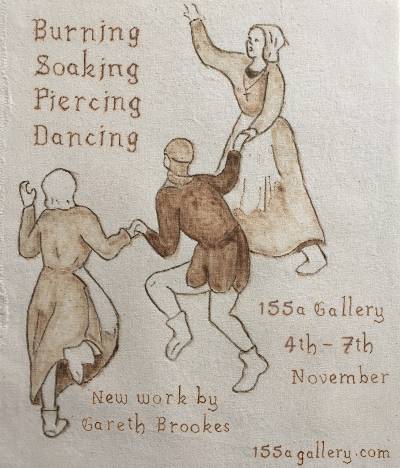 Utilising processes such as pyrograph., embroidery and monoprint combined with materials which include calico and paper handtowels, Brookes employs unique approaches to produce beautiful sequential art.
The Dancing Plague, published by SelfMadeHero tells a true story, from 1518, when hundreds of inhabitants of Strasbourg were suddenly seized by the strange and unstoppable compulsion to dance, from the imagined perspective of Mary, one of its witnesses.
"With fire and needle, Brookes crafts a book the likes of which we've never seen before". Ed Park – The New York Times
Original pyrography and embroidery from the book will be included in the show.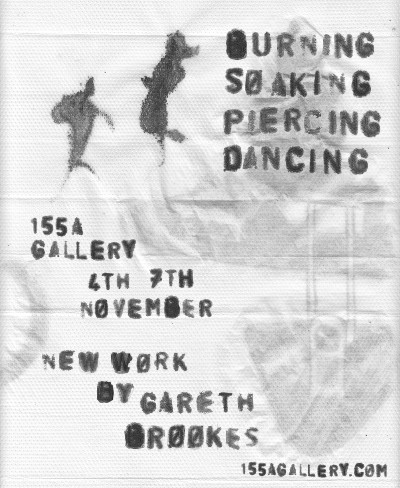 Home is a guided tour of places of memory, drawn with charcoal and ink on paper hand towels from images found on google street view. It is Brookes' latest short experimental comic and will be launching at the show.
Gareth Brookes is one of the most surprising comics creators working anywhere in the world. – Dylan Horrocks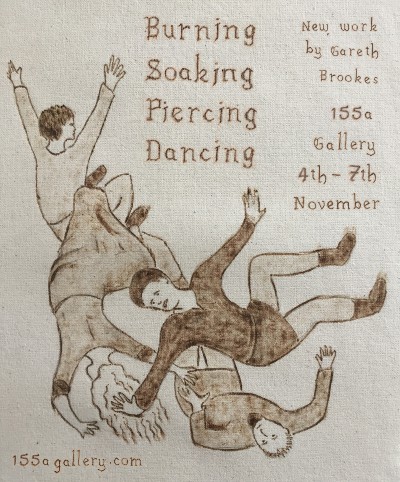 The Show will be open from Thursday the 4th – Sunday the 7th November between 11am and 5pm.
155a Gallery
155a Lordship Lane, London SE22 8HX