We have all been there at some point. Restless nights, the frustration of not being able to drop off to sleep, the consequent anxiety that only exacerbates our insomnia. But imagine that same experience if you were also aware that somewhere in the confines of your bedroom there was something… other. Some lurking malevolent presence just out of sight but silently waiting with insidious intentions. That's the premise of Sadiya's Don't Look, another complete-in-one comics short available this month as part of the Shortbox Comics Fair.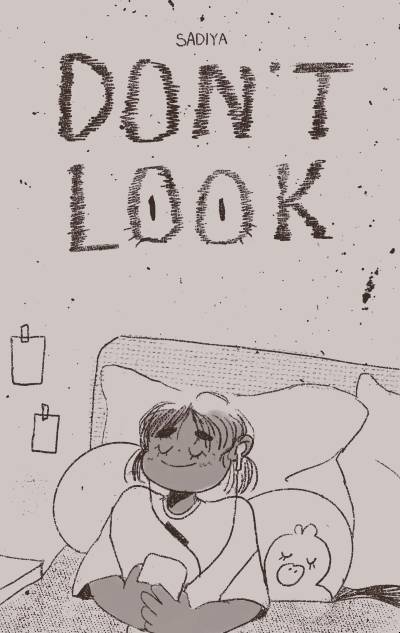 Layla's bedtime routine begins benignly enough but as she initially slips into unconsciousness she is abruptly wakened by the terrifying sensation that something oppressive and overwhelming is surrounding her. Her various attempts to distract herself from these worries prove fruitless and, as the night goes on, she becomes more and more aware that she is being engulfed by something malicious and otherworldly…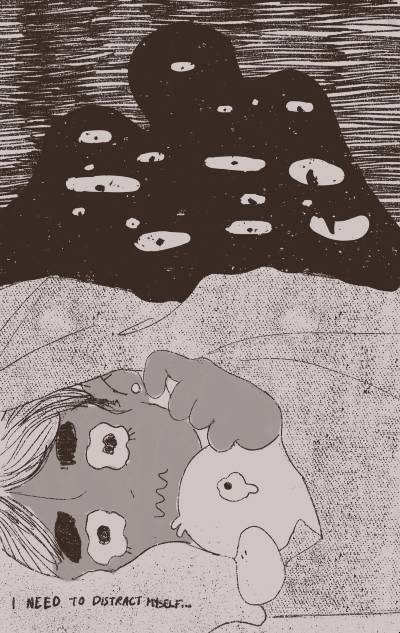 With its mix of those universal fears that we can all relate to, gentle humour, and supernatural motifs Don't Look is an appealing journey into sleeplessness and those invasive thoughts that can overtake us in the small hours of the night. Sadiya's accessible cartooning style gives protagonist Layla an instantly endearing appeal with visual characterisation being a vital part of a story that has only limited narration. Indeed, Layla's cycle of emotional states across the night is largely (and vividly) communicated in body language and facial expression, ensuring we connect more immediately and intimately with her feelings of frustration, worry, irritation, shock, fear and relief.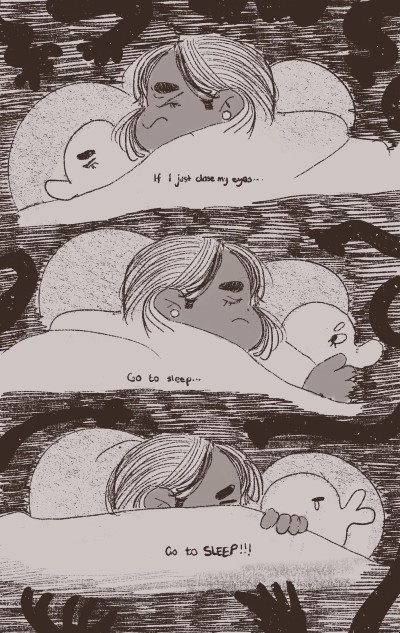 What works so well in the sequential storytelling of Don't Look is the way in which Sadiya avoids rigid page structures, instead allowing the action to flow across the canvas of each page. It emphasises the sense of claustrophobic confinement and dreamlike perception that is at the heart of the narrative, with the stygian menace of the night-time entity constantly encroaching with an ever more disturbing confidence. Of course, Don't Look can be interpreted as much on a metaphorical level as a literal one; the horror elements symbolic of all the worries and anxieties that keep us awake at night. Ultimately, though, that's the reader's choice to make. One you'll get the opportunity to consider for yourself by picking up this digital release via the Shortbox Comics Fair here.
Sadiya (W/A) • Shortbox Comics Fair, £3.50
Review by Andy Oliver