Strong curation is about showcasing both established, familiar practitioners and voices in the medium who are deserving of a far wider appreciation. Each year the ShortBox Comics Fair has introduced me to creators I wasn't aware of who I have then been able to investigate further. In that regard it's like a huge online comics anthology full of artists to take note of and explore, and in some cases, like today's review subject Violet Kitchen's Return to Sender, to wonder how you had missed that individual's work before.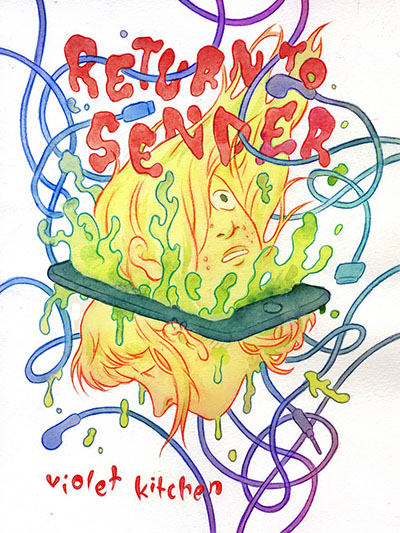 Looking at Kitchen's website and the steady stream of output there over the last few years I feel almost embarrassed to admit that Return to Sender is my first exposure to her comics. Especially given that its sits so firmly in that "pure language of comics" classification that we love so much here at Broken Frontier.
Described as "a ghost story of sorts" (a play on words that becomes more obvious as events unfold) Return to Sender is an unsettling hybrid of graphic medicine, social commentary and body horror. Its protagonist is a sickly individual suffering from a non-specific and lingering illness (which may or may not be metaphorical) who at the same time is struggling to make the effort to reconnect with a friend whose frequent concerned text messages asking about her well-being go unanswered.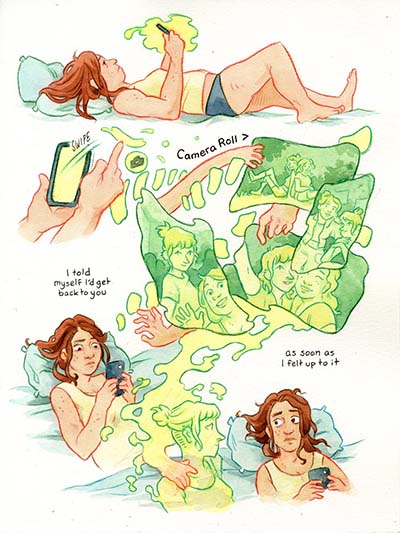 While one thrust of the plot is a one-sided observation of a quietly brutal social phenomenon, as a friendship comes to a probable and abrupt end, it's the way in which Kitchen imbues each page with an oppressive feeling of ill-health that most impresses here, attaining that much admired feat of using the form to "tell stories that could only be told in comics." Kitchen's choice of colours embodies a kind of graphic nausea while panel borders gradually mutate from the feverishly indistinct to dribbling, bubbling, dripping messes as guilt, abandonment and illness converge.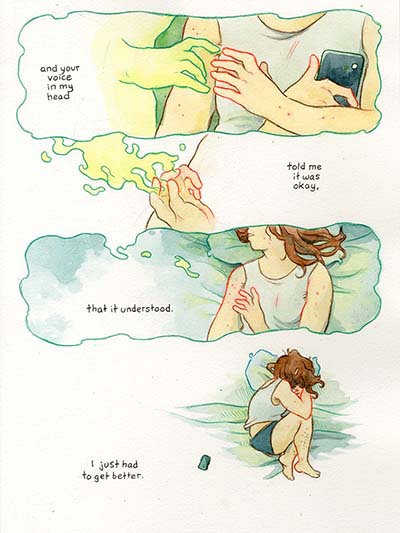 This should be an incongruous thing to say but for all its oozing, snotty, visceral imagery Return to Sender is a gorgeously constructed piece of comics in presentation, with one of the most memorable final pages I've seen in a long time. This one is an absolute must-buy. But then I feel I may be saying that about a lot of the ShortBox Comics Fair titles before the month is over.
Violet Kitchen (W/A) • ShortBox Comics Fair, £4.00
Review by Andy Oliver