Press Release
Space Goat Productions announces partnerships with DC's digital comic series, Arrow and Legendary Comics' Pacific Rim.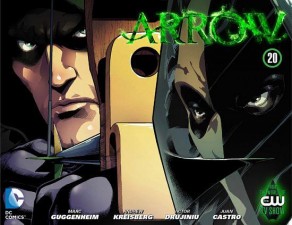 Space Goat's bullpen of artists contribute chapters to DC's Arrow. This project showcases CW's Arrow series in digital format (available for $0.99) and then reprints the stories in traditional comics.
"Weekly comics can cause a lot of headaches, but Space Goat has provided us with some high-level talent and hit some very demanding deadlines. Much like aspirin, they're the miracle cure," said Alex Antone, Associate Editor at DC Entertainment.
Contributors include Allan Jefferson, Le Beau Underwood, Victor Drujiniu, DYM, Jonas Trindade and Juan Castro – – each supplying chapters for the ongoing series.
"It's an honor to contribute to this exciting series, and an iconic character like Green Arrow. It's also a thrill to see our artwork next to the art from a long-time professional like Mike Grell," said Victor Drujiniu.
Space Goat's Yvel Guichet is scheduled to pencil Legendary Picture's Pacific Rim. Helmed by the movie's director, Guillermo Del Toro, the Marvel comic debuts June 5, 2012 and will be a prequel to the movie, which premieres the following week. This monster feature, set in the near future, showcases legions of monstrous creatures, known as kaiju, as they start rising from the sea. The monsters engage humanity in a massive war costing millions of lives and consuming humanity's resources. Del Toro has teased fans that this comic series will detail the period before the after the first kaiju strikes, as the populace takes steps to prepare for future attacks.
"For us, the medium has so much potential.  We're excited to help our partners stretch beyond the bounds of traditional printed comics and offer longtime fans and new fans alike the opportunity to experience exciting narrative and fun artwork," said Shon Bury of Space Goat Productions.