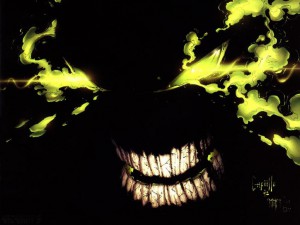 Image Comics and Todd McFarlane Productions (TMP) have announced the digital release of five TMP titles on comiXology. CURSE OF THE SPAWN, HAUNT VOLUME 4, HELLSPAWN: THE COMPLETE COLLECTION, SAM AND TWITCH: THE WRITER, and SPAWN: THE UNDEAD (as well as the collected edition) are all available for purchase now on the digital comics platform, and more titles will be released weekly in the coming months.
"We're excited to make these once unavailable titles accessible to fans again in a modern-day format," said TMP's Managing Editor Jen Cassidy. "Todd McFarlane Productions' library is expansive, and we look forward to growing the digital collection."
CURSE OF THE SPAWN, set in a futuristic world in the throes of apocalypse, when Evil stands at the threshold of victory, is a 29-issue series. After the initial four-issue release on June 18, two additional issues will be made available for purchase each week.
HAUNT VOLUME FOUR, written by Joe Casey (BUTCHER BAKER, THE BOUNCE) and drawn by Nathan Fox, continues the saga of the Kilgore brothers — one of them living, one of them dead, both of them united as the superhero Haunt — in this series created by Todd McFarlane and Robert Kirkman. The digital edition, available on now on comiXology, collects issues 19-24, the entire Casey and Fox run.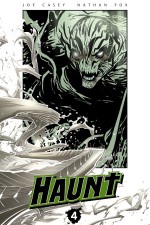 HELLSPAWN re-defined McFarlane's SPAWN mythos with stories by Brian Michael Bendis and Steve Niles (CHIN MUSIC), drawn by Ashley Wood and Ben Templesmith (TEN GRAND) in a stunning new vision of horror. The complete collected edition, which includes the entire HELLSPAWN series as well as bonus art, a cover gallery, and behind-the-scenes content, went on sale on comiXology on June 18.
In SAM AND TWITCH: THE WRITER, the SPAWN universe's favorite flat-foots, detectives Sam Burke and Twitch Williams, take on a serial killer with a literary bent as fear and snow alike descend on the city. Both the single issues (#1-4) and the collection are available now on comiXology.
SPAWN: THE UNDEAD focuses on the HellSpawn once known as Al Simmons, with a self-contained story about the individuals who encounter him in the SPAWN world of urban horror in each issue. The complete nine-issue run and collection are up now on comiXology.
Image Comics/TMP releases to come are the SPAWN: GODSLAYER one-shot, available on July 10, and SPAWN: THE DARK AGES, which will roll out new issues weekly starting on July 10.