It's almost Wednesday, and you know what that means: a fresh load of comics and graphic novels! With so many publications hitting your local comics store or digital storefront, the BF staff is here to lead you through the woods with our weekly staff picks. Satisfaction guaranteed.
Comic of the Week
Casanova: Acedia #1
Originally launched in 2006 as an experimental 16-pages-per-issue series from Image Comics, Casanova was the breakthrough book for Fraction, establishing him as one of the fresh, out-of-the-box thinkers and genre-benders among comic book storytellers. It was also the book that set him up for high-profile gigs at Marvel, and Fraction even released volumes two and three through Marvel's creator-owned Icon imprint.
But now, Casanova Quinn has come home. He's back at the Big I, but he's not exactly in peak condition. As the fourth volume, Acedia, kicks off, Quinn has no idea of his past exploits as a universe-hopping spy killing machine (see, that's genre-bending for you). All he knows is that he's crash-landed in the Hollywood hills and that 'strange occult forces from the future' are on his behind.
It's the perfect jumping on-point for readers craving to experience what a comic book acid trip is like, from the writing all the way down to the hallucinatory colors. Artist Fábio Moon is reteaming with Fraction, and they've recruited Moon's twin brother, Gabriel Bá, for a special back-up story written by Pulitzer-Prize-winning novelist Michael Chabon.
This is escapism at its best – whether you're into acid or not.
Matt Fraction/Michael Chabon (W), Fábio Moon/Gabriel Bá (A) • Image Comics, $3.99
– Frederik Hautain
Find #1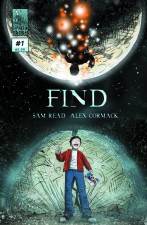 ComixTribe's most recent hit was the nightmare-inducing And Then Emily Was Gone, and if this one-shot is any indication, the publisher is in the midst of a thrilling creative diversification – especially with the market so open when it comes to quality all-ages adventures like this one.
Find #1 makes the most of its single-issue format to tell the story of an extraordinary night in the life of an otherwise "ordinary" young boy. Young readers should have no problem relating to the inquisitive Teddy Chance, and older fans will likely recognize a bit of themselves in Teddy's fascination with the four-color adventures of his favorite superhero, Captain Splendid.
While Find plays with classic superhero and sci-fi tropes, there's nothing cynical in Read and Cormack's worldview, and that's a big part of its charm. Pick it up for the young reader in your life, and don't be surprised if you find yourself flipping through its pages.
Sam Read (W), Alex Cormack (A) • ComixTribe, $3.99
– Paul Mirek
Saint Cole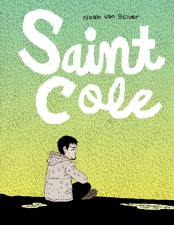 The comics of Noah Van Sciver often make for uncomfortable reading, and Saint Cole – his second book from Fantagraphics – is no exception. Once again, with forensic precision, he unblinkingly lays bare the grim inner workings of a male character.
Under the Noahscope this time is Joe, a 28-year-old waiter who works every shift possible in a pizza restaurant to support his partner, Nicole, and their unplanned baby. However, the tensions in their relationship grow in proportion with his increasingly out-of-control drinking, and the arrival in their apartment of Nicole's rough-edged mother, Angela, sends events spiraling out of control.
With dialogue that sings off the page and his trademark scratchy art style, Van Sciver locks us claustrophobically into his protagonist's life, leaving us unable to look away as Joe makes bad decision after bad decision, leading to a catastrophic conclusion. More first-rate work from a neo-underground maestro.
Noah Van Sciver (W/A) • Fantagraphics Books, $19.95
– Tom Murphy
Effigy #1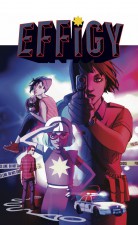 Tim Seeley (Hack/Slash, Grayson) and Marley Zarcone (Madame Xanadu) take a peek behind the curtain of the culture of celebrity in a chilling new series that explores the concept of fame, from the perspective of a former child star, who becomes embroiled in a global conspiracy to venerate our favorite popular personalities.
In a world seemingly dominated by the vacuous and superficial perpetuation of celebrity worship, Chondra Jackson uncovers a deeper, darker agenda at play when she returns to her hometown to lay low after an embarrassing sextape scandal, only to find a fresh corpse interred in an ancient burial mound. The discovery recalls Chondra's role as a child detective and she sets out on a world tour of the most infamous burial grounds in human history to get to the bottom of the mystery.
With YouTube, social media, and reality TV seeking to redefine the way we perceive our world and ourselves, Effigy is a beautifully crafted and timely examination of a human condition that has become increasingly manufactured in recent years.
Fusing killer cults, celebrity worship, and cutting social commentary, Seeley and Zarcone's smart, stylish thriller explores the nature of our obsession with the superstars of popular culture and their impact on our fast-moving, ever-changing society.
Tim Seeley (W), Marley Zarcone (A) • DC Comics/Vertigo, $2.99
– Jason Wilkins
Street Angel HC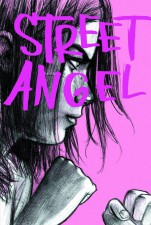 Another not-to-be-missed genre-bending comic is AdHouse's collected edition of Jim Rugg's Street Angel, a mini-series he originally released ten years ago together with writer Brian Maruca.
Jesse Sanchez lives up to her creator's name, as she's a rugged and mean orphan who races across the streets of Wilkesborough on her skateboard encountering everything from time-warped pirates and ancient gods to ninjas and a demented scientist. She's a 12 year-old who's not shy to go at her adversaries with guns blazing, and she knows a thing or two about kung-effin'-fu.
Instead of the hard black and white of the original series, this hardcover collection is produced on pink paper with blue inks and includes several stories that have been released after Street Angel's fifth and final issue. This book is kicking-in-the-crotch fun and undoubtedly the finest collected edition you can grab this week.
Brian Maruca (W), Jim Rugg (A) • AdHouse Books, $19.95
– Frederik Hautain
Quantum and Woody Must Die #1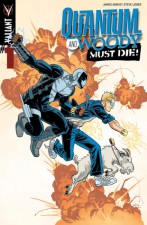 The world's worst superhero team is back in action, and this time Quantum and Woody have a whole team of assassins trying to permanently break up the partnership. The first casualty of this fight is all mental. Is it their imagination, or are Quantum and Woody actually hitting it off with a sexy catburglar duo? Just what is real, anyway?
As Valiant says on its site, "They came. They saw. They pissed off a whole lotta folks. And now a team of mystery vigilantes has singled out the world's worst superhero team for complete and utter destruction."
Who could resist such an eloquent invitation to mayhem? An ideal jumping-on point for newcomers to the Q&W mythology.
James Asmus (W), Steve Lieber (A) • Valiant Entertainment, $3.99
– Karen O'Brien
Vertigo Quarterly: Black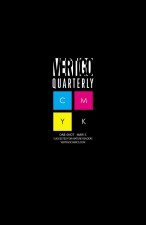 Vertigo wraps up its quarterly anthology inspired by the CMYK four-color printing process with a color that seems right at home for DC's darker side. Of course, the last three issues have shown a remarkable range in types and tones of story, so don't expect any one-note horror stories here.
The anthology format is a particularly good fit for Vertigo, which helped launch some of comics' biggest names only a few decades ago. That means there's a good chance you'll spy some fresh young talent sandwiched between the A-list creators slated for this final issue.
It's not usually this easy to sample such a diverse list of writers and artists – that is, unless you're reading Broken Frontier – and $7.99 for 80 pages is a rare deal on today's comic shelves. Treat yourself and enjoy the surprises this issue is sure to hold.
Mary H.K. Choi, Francesco Francavilla, Tom King, Jeff Lemire, Steven T. Seagle, Si Spencer and more (W), Francesco Francavilla, John Paul Leon, Jeff Lemire, Will Morris, Fabio Moon and more (A) • DC Comics/Vertigo, $7.99 
– Paul Mirek