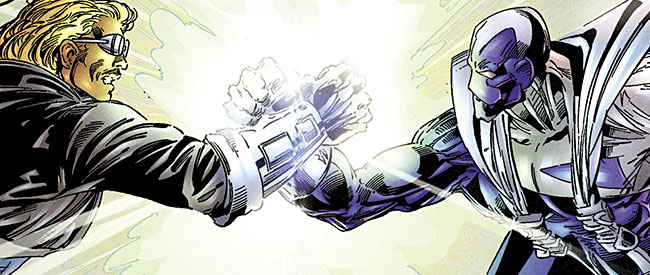 The success of the more marketable concepts of Valiant's recent relaunch has allowed the publisher to experiment with other titles in its archives, testing how well some of their wackier concepts will go over with fans.
They're starting with their worst one first.
Quantum and Woody is the newest Valiant title to rebooted when the first issue drops today under the new creative team of James Asmus and Tom Fowler. Self-proclaimed "The World's Worst Superhero Team" on the very first issue's cover, Quantum and Woody were a pair of superheroes created by Christopher Priest and artist Mark Bright in 1997 under the Valiant imprint of Acclaim Comics.
Eric Henderson was the straight-laced "Quantum" to Woodrow Van Shelton's aloof "Woody". The two were friends who, after over a decade apart, reunited following the double murder of their fathers. In the first issue they get powers that turn them into pure energy. Using that power they set about solving those deaths. But the power comes with a twist: once, every 24 hours, they must unite their wristbands so that the energy doesn't destroy their bodies.
On the surface, the premise sounds a bit self-serious, something you would expect from a gritty post-Watchmen book. But the book was never really about solving a murder. It was about having fun with the tropes of comic book titles at the time.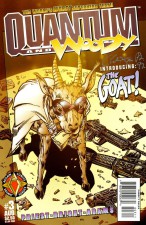 And fun it was.
The series went in some wacky directions over its 22-issue run. The poster child of that wackiness was perhaps the fan-favorite, teleporting character of The Goat. Later known by both Vincent Van Goat and H.A.E.D.U.S.  (Heavily Armed Espionage Deadly Uber-Sheep), the animal became so popular that he even starred in his own special one-shot comic about him saving the planet from a virus.
The Goat wasn't the only character to provide the laughs. The title characters were a hilarious pairing that felt more like sitcom co-stars than comic book superheroes. Woody's hijinks bounced right off the straight man Eric ever since they were kids.
Once the two gained their superpowers, Quantum was interested in being a hero while Woody didn't feel the same responsibilities. This lead to different stories where a captive Woody annoyed his captor with singing, the duo switched bodies, and Woody couldn't find his boots.
Much like another comedic superhero from the 90s, Deadpool, a signature of Quantum and Woody's comedy came in breaking the fourth wall.
One of the most famous wall-breaking moments came at the beginning of issue #4, where Quantum and Woody explain to their audience that, due to (then President of Acclaim Comics) Fabian Nicieza's discomfort with its use in the issue, the "N-word" had been substituted with the word "Noogie".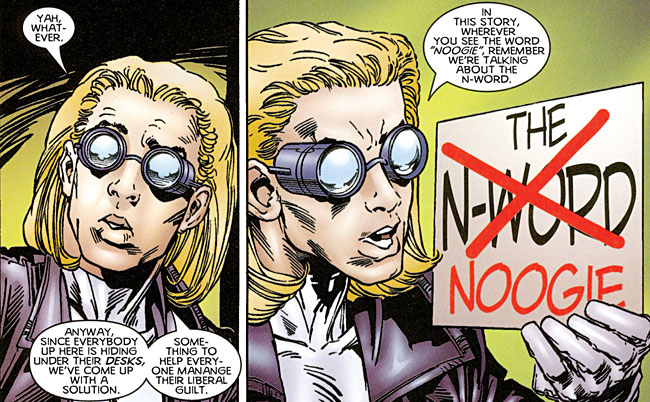 It was a funny gag, but spoke to one of the areas where Priest and Bright excelled at making their comic about more than just fun gags. Quantum (a black man) and Woody (a white man) often acted as stand-ins for commentary on racial equality. The pair often joked about race in ways that maybe couldn't work today. "Only cotton you ever picked was the lint balls out of your drawers," Woody said once in response to Eric's lamenting about his people's suffering.
The ironic thing was that Woody in a way was closer with black people than Eric was. In one flashback to his childhood, Eric says "those black guys" as if the qualifier didn't apply to himself. He doesn't understand some things about his race due to his privileged upbringing. Woody, on the other hand, appears to have a better grasp on some of those issues due to how and where he grew up.
The not-so-delicate, intelligent way that Priest addressed race shouldn't come as any surprise to those that read his Black Panther run at Marvel. In many odd ways the work he did on Quantum and Woody works as a precursor to his run on that title.
Quantum and Woody would last only 17 issues initially, to be brought back to life with issue 18 in 1999, which started with the duo locked away in a basement mourning their cancellation, only to be told by phone that the book was coming back. The series would be cancelled again after only a total of 22 issues (plus a zero issue and the Goat one-off story).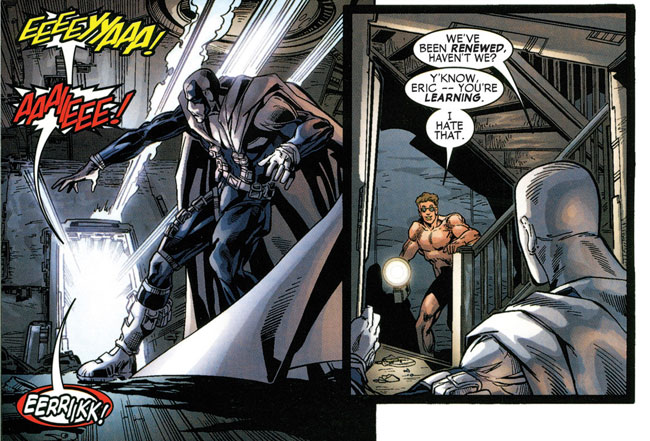 It remains to be seen how much of what came will remain intact with today's reboot. In any case, we'll find out how much these two superheroes have been changed from their original incarnations. For better… or worse.
Come back later today for our review of the new Quantum & Woody #1.