It's almost Wednesday, and you know what that means: a fresh load of comics and graphic novels! With so many publications hitting your local comics store or digital storefront, the BF staff is here to lead you through the woods with our weekly staff picks. Satisfaction guaranteed.
Comic of the Week
Rumble #1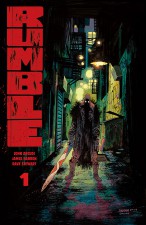 Stop me if you've heard this one… A Scarecrow Warrior God walks into a bar and starts swinging his giant sword at people's heads. That's not so much a joke as it is our introduction to the character whose actions set the events of this bizarre, urban-fantasy horror story into motion.
The ancient warrior, Rathraq, has crossed time and space to track down his enemies and exact his revenge, but the inner city streets of this modern world prove to be an unfamiliar territory for him. Rathraq's quest soon becomes entangled with the lives of Bobby LaRosa, down-on-his-luck bartender, and his friends Del and Timah.
Longtime B.P.R.D. writer John Arcudi reunites with one of the more popular artist from the series, rising star James Harren. They've even brought along Hellboyverse colorist Dave Stewart to join them on this wild, epic adventure with a twist of "street level" humanity and humor.
Rumble #1 ships with a 1:15 variant cover from the artistic team behind The Wicked & The Divine, Jamie McKelvie and Matt Wilson.
John Arcudi (W), James Harren & Dave Stewart (A) • Image Comics, $3.50

– Tyler Chin-Tanner

Copra: Round One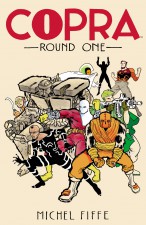 When Michel Fiffe's full-blooded take on the Suicide Squad archetype first appeared, it seemed the perfect epitome of a cult comic: produced entirely by Fiffe himself — to a near-monthly schedule — and the subject of rave word-of-mouth buzz. 'Round One' collects the highly sought after first six issues, in which we see the group torn apart by a traitor and suddenly becoming fugitives from the US government.
With the crackling energy that comes from a creator taking the production process into his own hands, Copra embodies what I've described before as "barefoot comics" (after director Sally Potter's manifesto for "barefoot filmmaking"). Fiffe himself has written about "breaking the Kirby barrier" (a notion apparently coined by Walt Simonson): producing his pages quickly and instinctively, without "being so precious that it stalls you, not refining the work until it no longer has any life".
However you want to describe it, Copra is the perfect antidote to the Big Two's corporate sludge for readers who want a bit of imaginative, high-octane and beautifully executed super-action in their life.
Michel Fiffe (W/A) • Bergen Street Press, $19.95
– Tom Murphy
The Wicked + The Divine #6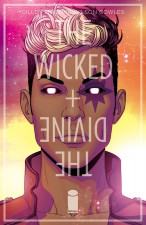 Unholy. Unruly. Un-freaking-believable. The Wicked + The Divine is the kind of comic created after smoking a cig of Warren Ellis' beard hair dipped in Grant Morrison's magic herbal tea.
The story Kieron Gillen and Jamie McKelvie have come up with of ancient gods reincarnating every 90 years in the bodies of unsuspecting adolescents has hit with a bang. If you're looking for the one new comic of 2014 that set fandom on fire as quickly as a finger-click, this is it.
After the book's launch, there was no convention where you didn't run into people pretending to be young gods nor any social media network where #WicDiv wasn't the talk of the town.
Will you get the answers you're looking for, as the series's second arc kicks off, not in the least whether Laura herself is suddenly a young god? Now that would be wicked!
Kieron Gillen (W), Jamie McKelvie (A) • Image Comics, $3.50
– Frederik Hautain
Multiversity Thunderworld #1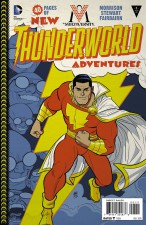 The fifth chapter of Grant Morrison's unifying trek across the Multiverse takes us to the magic of Earth 5, also known as Thunderworld.
In this world, young Billy Batson utters "Shazam" and transforms from Whiz Media's boy reporter into Shazam, Earth's Mightiest Mortal. In this world, the Marvel family battles the Monster Society of Evil and Mr. Mind. But now Dr. Sivana is attacking the Rock of Eternity, and the universe is at stake. Somehow, Sivana's children are imbued with superpowers, and a mysterious comic book holds a special meaning for the heroes of Thunderworld.
What on Earth 5 is going on? I don't know, but I can't wait to find out. Grant Morrison had my attention at the mere mention of Shazam. I was always fascinated about a kid actually being a grown-up hero and how different Shazam's perspectives on problems always were because of his actual youth and inexperience. I'm also looking forward to Cameron Stewart's interpretation of these characters. The action sequences should be a lot of fun.
Grant Morrison (W), Cameron Stewart (A) • DC Comics, $4.99
– Karen O'Brien
Cap Stone #1
One of two comics shipping this week from Titan Comics touched by the singular imagination of Liam Sharp, Cap Stone is the story of an absentee superhero and indelible mark he left on the world. After his career ends in shambles, the world's first and only superhero disappears, his only legacy an ominous doomsday warning everybody writes off as a hoax.
Only his arch-nemesis Charlie Chance a.k.a the Pet, believes in Cap Stone's warning and sets out on a quest for the only person to put her behind bars. Teaming up with writer Christina McCormack, Sharp's story of a world without heroes is a dark, cynical take on the cape-and-spandex set that succeeds in turning tried and true conventions inside out.
Featuring Sharp's lush illustrations and spot on characterization courtesy of both writers, Cap Stone is an intriguing entry into the growing stable of high quality superhero books providing alternatives to the overly-formulaic offerings of DC and Marvel.
Liam Sharp & Christina McCormack (W), Liam Sharp (A) • Titan Comics, $3.99
– Jason Wilkins


East of West: The World #1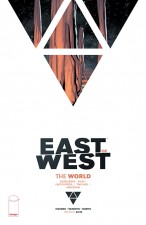 With each new issue, East of West manages to expand its world, revealing dangerous new characters, exotic locations and complex political schemes that will most likely get a whole lot of people killed in fascinating and sometimes horrific ways. Hickman and Dragotta have created a ruthless world that has captivated readers from the first issue, but there are times when you need a scorecard to keep the characters, their backgrounds and their motivations straight.
East of West: The World #1 is a stand-alone issue that serves as a sourcebook, atlas, encyclopedia, timeline, and apocrypha that should illuminate the densely packed and ever-expanding world surrounding this hit series. New plot and character information that will be vital as the story moves forward is also included.
If you haven't been following East of West, pick up the trades and get caught up, you'll be glad you did.
Jonathan Hickman (W), Nick Dragotta (A) • Image Comics, $3.99
– Karen O'Brien
Athena Voltaire Compendium HC

First appearing more than ten years ago as one of a handful of quality web comics, Steve Bryant's seminal, Eisner-nominated Athena Voltaire returns just in time for the holidays, in this beautiful compendium from Dark Horse Comics.
Reaching out to a new generation of comics readers, Bryant has revisited and rejuvenated the original property, drawing over fifty pages of new material and presenting a new backstory that fills in the gaps, from the sultry aviatrix's previous flights.
Filled to the brim with action, adventure and intrigue, this is a book that harkens back to an era when comics were still fun and under-analyzed by critics such as yours truly. A refreshing change of pace from the take-no-prisoners, angst-ridden, artistically self-aware comic book snobbery, Athena Voltaire is a funny book that is actually fun!
Steve Bryant (W), Steve Bryant (A) • Dark Horse Comics, $16.99

– Jason Wilkins