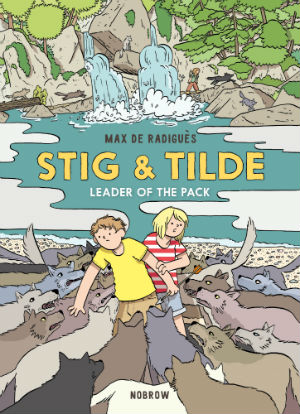 It's been a productive couple of years for Belgian creator Max de Radiguès whose work has spanned releases from such purveyors of indie and alternative comics excellence as Fantagraphics (Hobo Mom, his collaboration with Charles Forsman), Conundrum Press (Simon & Louise and Weegee: Serial Photographer with Wauter Mannaert) and, of course, last year's Stig & Tilde: Vanisher's Island from Nobrow Press. It's been material that has been diverse in theme, genre and approach but has had one overriding thing in common – the critical acclaim that each and every one of those projects has garnered.
This past month saw de Radiguès returning to the world of Stig and Tilde, the teenage twins who we were introduced last year in Vanisher's Island, the first volume of their eponymous adventures. In that story the Scandinavian siblings took off to sea as part of a local coming-of-age tradition that demanded they spend a month living alone on a small island offshore. Sent off course to the wrong island they ended up encountering supernatural forces and a disturbing presence already at home there…
In this follow-up, having escaped from the threat they faced in the first book, the pair continue exploring the islands. Arriving at a second one they find themselves immediately surrounded by a pack of aggressive wolves. Can they learn to live in harmony within this new environment or will the feral beasts prove a challenge too far for the intrepid pair? Who is the other mysterious inhabitant of this locale and what is her story? And how do events here relate to their previous adventures in the first story?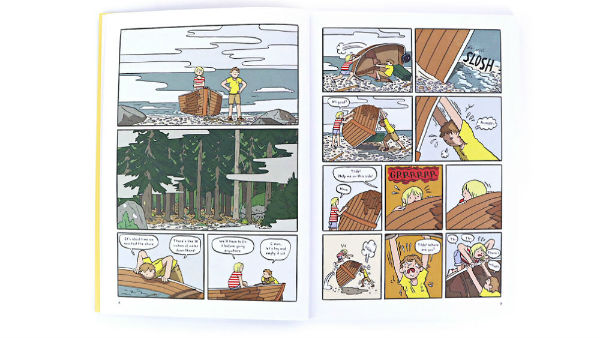 Although adopting the look and feel of a European children's comics album de Radiguès is creating something a little darker here in tone, and establishing a series of books that is certainly not standalone in delivery. Events in this book tie heavily into the first, wrapping up dangling plot threads and adding extra context to what was established in Vanisher's Island. It also sets up possible storylines further down the line. One particularly intriguing sequence, for example, hints at the strange nature of these mysterious isles with attention-grabbing teasers as to other locations that are ripe for fresh adventures.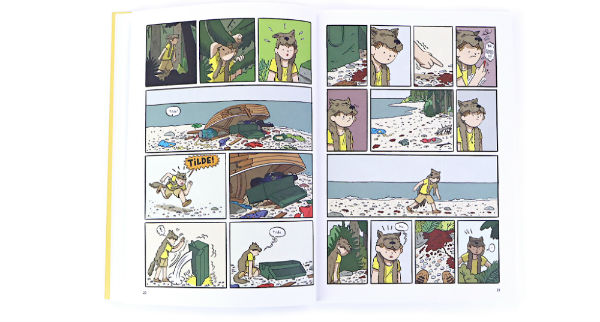 It's the clarity of de Radiguès' visual storytelling, though, that will be the immediate draw for many readers. Here he uses that ever effective bandes dessinées practice of placing stripped back, representational characters on more detailed backgrounds to connect with the audience more fully by balancing emotional immediacy with realism. His sense of pacing too is deft in its realisation. An early scene with the twins sheltering from the wolf pack within the shelter of their overturned rowboat continually shifts the action from within and outside, heightening the sense of trapped tension while also creating a feeling of place and perspective. And de Radiguès is as at home when communicating events through extended sequences of pure visual storytelling as he is with dialogue or narration.
With at least one more album in the series to come (Loser Island) we have more Stig & Tilde to look forward to but this is a series with the potential to run and run. Delightful and charming yet unafraid to incorporate bleaker elements into its narrative, Stig & Tilde: Leader of the Pack perfectly captures the pure essence of our formative teenage years with wit and empathy.
Max de Radiguès (W/A) • Nobrow Press, £9.99
Review by Andy Oliver