Welcome news about a new event that includes UK indie comics as part of its platform. TAGS Fest (Tabletop and Graphic Storytelling Festival) is launching this December in Edinburgh with a particular focus on the remarkably vibrant Scottish scene. Full details in the press release below.
Brand new comics and games event TAGS Fest comes to Edinburgh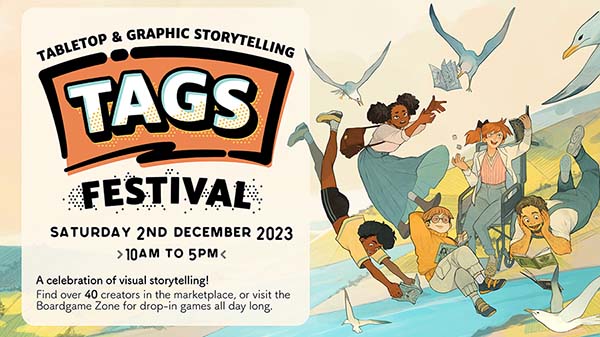 Tabletop and Graphic Storytelling Festival is a brand new event dedicated to spotlighting Scotland's small press talent, hosted by Fruitmarket in the heart of Edinburgh on Saturday, December 2nd from 10am to 5pm.
TAGS Fest will be celebrating collaborative and visual storytelling in its many forms, from comics to roleplaying games, board games, and zines. The event is free to attend.
A bustling market will feature over 40 independent creators, curated to spotlight new, exciting, and diverse voices. Exhibitors include Eisner-nominated comic creator Ver, Peruvian cyberpunk legend Gustaffo Vargas, and Dundee's CHIP Collective, publishers of Living with Cancer, a charity anthology dedicated to supporting Cancer Research UK.
The event has also partnered with Leith's Ancient Robot Games to curate a Board Game Zone full of free-to-play games of all kinds, with both drop-in and bookable games available.
TAGS Fest is run by Eve Greenwood of Quindrie Press and Brian Tyrrell of Stout Stoat Press, two award-winning independent micropublishers based in Edinburgh.
"Scotland has an incredibly strong creative scene," says Eve. "We're pleased to be able to add a new small press event to the calendar, and give Scotland's fantastic creators another opportunity to show off their work."
"Storytelling is something to be shared and treasured," adds Brian. "We're so excited for attendees to meet local authors, get ecstatic about ground-breaking new releases, and play together in Fruitmarket's wonderfully accessible venue."
WHAT: Tabletop and Graphic Storytelling Festival
A celebration of independent, self-published work from creators.
WHEN: Saturday, December 2nd 2023, 10am–5pm
WHERE: Fruitmarket, 45 Market Street, Edinburgh EH1 1DF
HOW: The market is free to attend and is not ticketed. The Board Game Zone is free to drop into, and some volunteer-run games require booking free tickets at tagsfest.co.uk