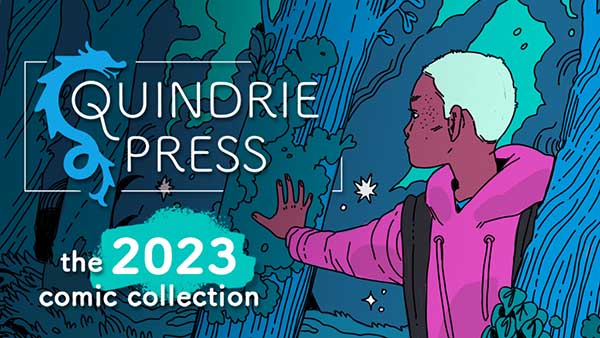 Quindrie Press, the Edinburgh-based micropublisher founded by Eve Greenwood, have just announced a new set of books for 2023 to be launched on Kickstarter in May. A couple of years back we ran a Quindrie Press interview here at BF and their anthology When I Was Me: Moments of Gender Euphoria was a Broken Frontier Award winner in 2021. Take a look at their upcoming batch of books in the press release below and get ready to back that crowdfunding campaign.
The latest comic collection from Quindrie Press is coming to Kickstarter on May 10th
A heavy metal demon… a quest to the fae realm… a heartbroken traveller… the last remaining cyborg… From award-winning and Eisner-nominated micropublisher Quindrie Press comes four brand new comics from four more of Scotland's most exciting creators! Our latest collection is edited by Eve Greenwood (Inhibit, When I Was Me: Moments of Gender Euphoria) and Hari Conner (Finding Home, Into the Dungeon).
Catharsis by Ell J Walker: Dimitri is an aspiring heavy metal musician with one small problem: he's too shy to share any of his music. Well, okay, two problems: he's shy and he has also accidentally summoned a demon made of his own anxieties, and it's about to tell everyone all his deepest, darkest secrets. Ell J Walker is an Edinburgh-based artist who originally washed up on the shores of Orkney. She likes drawing sad men, horses, guitars and folklore.
Find a Seat by Faye Stacey: It's hard being dumped. It's even harder when, on the way home from being dumped, you get on the wrong train. Some would say the hardest thing of all is being dumped, getting on the wrong train, then finding out that the train belongs to Death and they don't plan on letting you leave. Faye Stacey is a Glasgow-based designer and illustrator, who spends their time drawing creatures and comic books. They've coloured books for Mad Robot Comics, and created their own webcomic Sub Terra. When not drawing they are usually wrapped in a blanket playing video games.
Flesh & Flora by NORRIE: Gen is alone, with only their robot companion Hare and the creatures they tend to for company. When Gen and Hare discover a creature they've never seen before, Gen's world – and even Gen themself – begins to fall apart. NORRIE is a comics creator, illustrator and character designer from Scotland. He lives in Dundee, drinks coffee and watches the birds from his window. He has no complaints.
Witching Hour by Beth Fuller: Esio knows all the rules about travelling to the fae realm: stick to the path, don't say your name, and don't eat any offered food. She is determined to make it to the realm's castle and ask for a wish from the mysterious being who lives there. Unfortunately for her, struggling stockbroker Ted has invited himself along for the dangerous journey. Beth Fuller is an illustrator and concept artist from Dublin, Ireland. She's considering putting down the stylus pen and heading off into the wilderness to live as a hermit, but likes hot showers and horror films just enough to keep her in civilisation. For now, anyway.
Each of the 48-page books will be available to buy separately for £8, as a bundle for £30, or as a PDF bundle for just £15. The print bundle also comes with an exclusive sticker sheet designed by Ver, creator of the Eisner-nominated comic Wolvendaughter, from the very first collection Quindrie Press published.
The Kickstarter campaign can be found here. For more information, visit quindriepress.com, find Quindrie Press on Twitter at @QuindriePress, or email quindriepress@gmail.com.