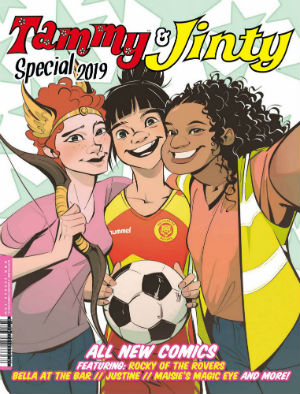 Rebellion continue to bring classic comics characters of yesteryear to new audiences not just via their handsomely presented Treasury of British Comics editions but also through their semi-regular Specials like Scream! and Misty, and Cor!! and Buster. Re-imagining old faves for contemporary audiences the Specials have been very well-received to date and this month's Tammy & Jinty Special may well be the best of a strong bunch.
Revisiting two of the biggest names in weekly comics for girls, this Special is a mix of rebooted familiar faces like Bella at the Bar and Maisie's Magic Eye, alongside contemporary characters like Rocky of the Rovers, and all-new creations. Editor Lizzie Boyle has put together a fantastic line-up of indie creators including Rachael Smith, Yishan Li, Rachael Ball, Vanessa Cardinali, Sarah Millman and so many more. We're certainly keeping our fingers crossed here at BF that this excellent anthology finds its audience and leads to much deserved follow-ups in the near future.
We speak to editor Lizzie Boyle today about reviving old favourites, reaching new readerships and matching up some very familar indie creative names…
ANDY OLIVER: The Rebellion revival Specials so far have been pairing up classic titles from the IPC library with Scream! and Misty, and Cor!! and Buster. Of all the girls range of weeklies what is it about Tammy and Jinty's publishing histories and content that made them such a fitting complement for each other?
LIZZIE BOYLE: It could have been a much longer list – there were so many girls' titles from the 50s through to the 70s before a lot of mergers and the general (but not complete) disappearance of the sector in the 80s. Tammy was probably the marquee name, the most famous of all the girls' comics in the 70s and home to some of the most well-remembered characters and stories. Jinty always had a little it of a darker side to it – not the horror genre that sits within Misty, but more science fiction, more alternate realities, a bit more menace.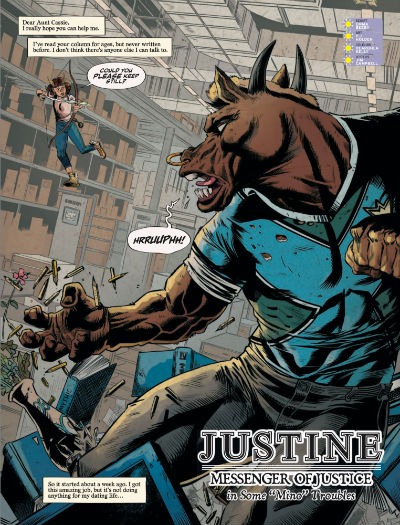 Justine, The Wing'd Messenger of Justice by Emma Beeby, P.J. Holden, Dearbhla Kelly and Jim Campbell
AO: How did you first become involved with the project?
BOYLE: I'd been working with Rebellion as a writer for the Scream! and Misty Special in 2018 and the Cor!! and Buster Special in 2019. Late in 2018, Rebellion contacted me to ask if I'd be interested in guest editing the Special. I had some background editing anthologies for indie publisher Disconnected Press which gave them the assurance that I knew a (little) bit about how things worked. They showed such a lovely amount of trust in me – it's been a fantastic experience!
AO: The Special boasts a varied line-up on all sorts of levels, not simply in terms of genre but also the different approaches to graphic narrative. Who are some of the characters – old and new – that readers can expect to see in these pages?
BOYLE: Thanks! One of the features of the classic comics was that diversity of style and genre. It was nice to have that freedom to mash things together! Some of our classic characters include Justine, The Wing'd Messenger of Justice – a schoolgirl who gains some rather awesome gadgets and powers after a chance encounter with a Greek goddess, and Maisie, who finds a piece of space debris which gives her ultimate powers of persuasion. And, of course, Bella at the Bar, our budding gymnast, whose story stretched across 13 years of the earlier comics and who has been brilliantly brought back to life by Rachael Ball and Vanessa Cardinali.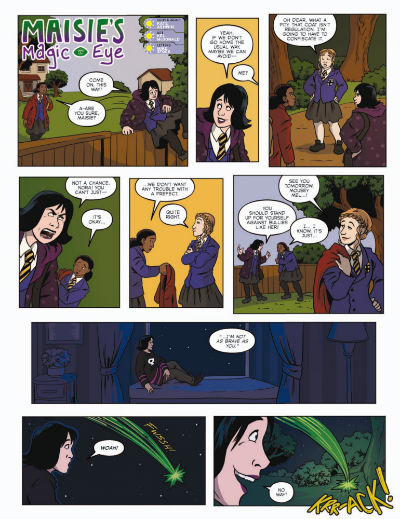 Maisie's Magic Eye by Kate Ashwin, Kel McDonald and Mike Stock
AO: It's a difficult balancing act with a revival like this in satisfying both those invested in the original runs and the new wider audience it needs to appeal to. Who do you see as the core audience for the Tammy and Jinty Special?
BOYLE: We've created the Special with two audiences in mind. We know there will be people who remember the classic comics and who want to dip into the nostalgia well – we hope that we've done justice to what they remember. But we're equally keen to find new readers: pre-teen and teen readers who want to try out some different styles and types of comics. I remember being bought comics to keep me quiet on car trips going on holiday – we'd like to encourage all comics loving parents to buy the Special for the same purpose this summer!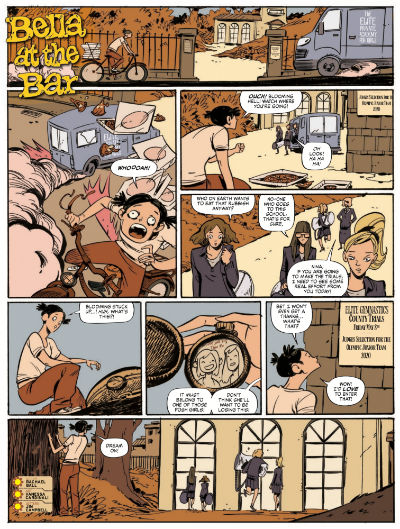 Bella at the Bar by Rachael Ball, Vanessa Cardinali and Jim Campbell
AO: When we reviewed the Cor!! and Buster Special at Broken Frontier we emphasised that fundamental importance of the comic finding a contemporary readership rather than existing simply as a re-creation of middle-aged enthusiasts' childhoods. Was there still a sense of trepidation, though, about re-imagining such fondly remembered favourites as Bella at the Bar and Maisie's Magic Eye?
BOYLE: There was a huge sense of trepidation, especially with Bella! Jenny McDade and John Armstrong created such an iconic style in the old Bella strips. We discussed long and hard whether to simply reprint an old tale or to try something new – and we decided that new would be more exciting and welcoming for our new audiences. There was no point trying to mimic the old style; we had to go for something bold. Keith Richardson at Rebellion introduced me to Vanessa Cardinali's art – there's so much energy and distinctive character in there. It's very different and we hope people will love it!
AO: On the subject of contemporary characters, Roy of the Rovers spin-off Rocky of the Rovers appears in the Special – a sports-based character very different to her 1970s predecessors like Bella. Given the sometimes quite formulaic premises for the source material, was there a conscious decision to break away from some of those 1970s/'80s standards?
BOYLE: Sports stories are difficult (if you listen to the 2000 AD Thrillcast about the Tammy and Jinty Special, you'll hear Rocky writer Rob Williams talking very eloquently about this). Basically, someone's going to win or lose – so you have to make the story about the journey that they go on to get to that point. We have football, roller derby and gymnastics in the Special and each story takes us on a different journey.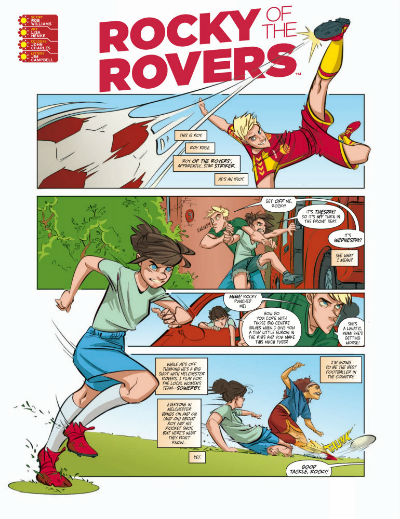 Rocky of the Rovers by Rob Williams, Lisa Henke, John Charles and Jim Campbell
AO: From a Broken Frontier perspective it was such a joy to see so many indie and small press U.K. creators featured in the Special. People like Rachael Smith and Rachael Ball who we've covered extensively at BF over the years for example. How did you go about the process of selecting the creators involved and matching up writers and artists?
BOYLE: Again, huge thanks to Rebellion for the trust they showed in their editor and the freedom they gave me to go and find such an amazing group of creators. Because we were looking across so many genres, and at a different readership to many a Rebellion title, it opened up such a rich pool of talent for us. With writers, it was about their ability to create character and mood, tension and humour in just a short number of pages. And with artists, it was about their ability to bring those things to life. You'll see some wonderful moments of quiet emotion in Yishan Li's artwork in DuckFace (written by Rachael Smith), and some incredibly powerful drama in DaNi's art in The Enigma Variation (written by Grainne McEntee). Matching people up is one of the best bits of editing an anthology – it's a dark art…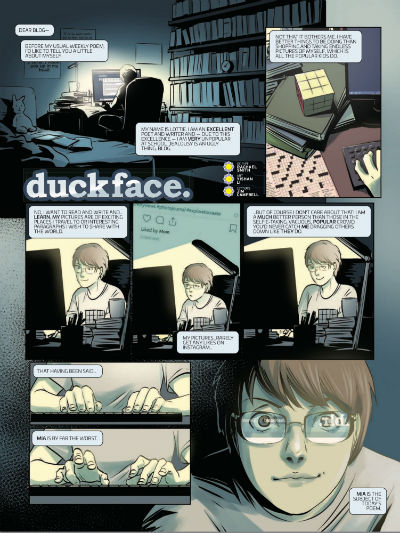 Duckface by Rachael Smith, Yishan Li and Jim Campbell
AO: Each of the stories feels very much like a pilot for an ongoing strip or series of adventures. If the Special is successful enough are there plans for revisiting some of these characters already in place?
BOYLE: It's a tough one. The Special is officially a one-off – unless you all petition Rebellion like crazy for some more! So we had to introduce characters from scratch, get them through a storyline and get out within a very short space of time. In doing that, you always build up some anticipation about what will come next…
AO: And, finally, are there any classic strips from the original Tammy and Jinty comics not included in the Special that you'd love to see revived in the future?
BOYLE: I was lucky enough to spend a day amongst the archives of girls' comics held by Rebellion. Wow! I barely scratched the surface! There's a great story called Tomorrow Town by Benita Brown and Jose Casanovas (1982) which presages a world in which technology has taken over, and a stylish disco tale called Dance Into Darkness (art by Christine Ellingham, writer unknown, 1978) which features some amazing sunglasses and some very spooky cats. I'm not sure if Corgi With a Problem (1973) will ever make a comeback though…
The Tammy & Jinty Special 2019 is on sale this week.