Press Release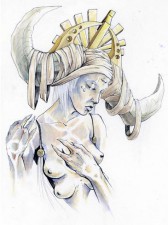 "The 13th Sign" asks the deeper questions of life, and of the choices we make. It is a story of flawed characters, all living separate lives of vice and corruption. Living thus has lead their souls to an ethereal realm somewhere in between heaven and hell…
"The Ophiuchus Sodality"
A transcendental realm where damned souls, named Ayamas, must fight to regain their squandered vitality. The realm is an unknown place of suffering and determination where fantastic battles are fought throughout mystical locations. Their soul's redemption, or damnation, revolve around their respective decisions.
Taking nearly 3 years to complete,"The 13th Sign" was written during Andrew's travels throughout England, Ireland, the Czech Republic, and finished in the U.S.A. Due to the story's length, we've decided to divide the book into parts. This was in order to keep fans from waiting too long for finished results.
We want to use as much creativity as possible. Depending on the chapter, layout/format as well as mediums used change throughout the book. Each setting, time, and location is uniquely diverse as well as the story itself being told throughout different times using flashbacks, dialogue, introspection, poetic narrative, and of course the art itself. We are hoping to complete book 1 of 3 by Summer of 2014.
We have posted Chapters 1 and 2 online to read FOR FREE so that readers and potential publishers can see what the book is all about. We also have a Facebook page with many concepts, finished pages, and us updating the fans and having fun:
You can also check out our Kickstarter page and help by donating and/or spread the word!
https://www.kickstarter.com/projects/1362723464/the-13th-sign