Press release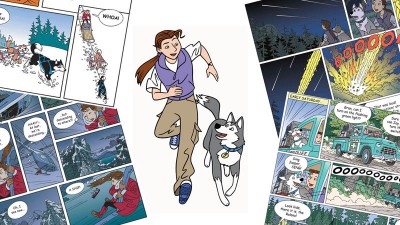 Glen Lovett, the author/artist of 'The Adventures of Jasper' graphic novel series for kids is currently working on the 3rd volume 'Jasper and the Solar Trial' and has launched an Indiegogo campaign to help get it finished.
The books are published through Glen's company Lovett Pictures Inc. in Victoria, British Columbia, Canada. The Jasper books are 48 pages full colour action/adventure comic albums in the clear-line style. Volume 1 – 'Lost in Skookum Valley' and volume 2 – 'Secrets of the Petroglyph' were both gold medal winners at the Independent Publisher Book Awards in LA, 2008 and New York, 2011. The French version of volume 1 – 'Perdus dans la Skookum Valley' was published last year.
Glen has recently completed all of the rough page layouts for 'Jasper and the Solar Trial' and now looking to raise $15,000 (CAN) to help cover his expenses as he works over the next 6 months to complete all the inking, colouring and lettering.
The Story
In book 3, Ruby is visiting her Australian cousin named Banjo, an engineering student who has entered his revolutionary new car in the 'Solar Trial'. (This is based on the real 'Solar Challenge' race that runs 3,000km from Darwin to Adelaide). Banjo's high-tech car gets the attention of a big-wig executive who works for a fictitious multi-national oil company. The oil exec puts his sinister plans into action. Banjo and Ruby are hijacked mid-race and it's up to Jasper to track them down, encountering dangerous, colourful and sometimes funny native Aussie animals of the outback along the way.
The Adventures of Jasper combines Glen's love of 
Siberian Huskies with his passion for comics, specifically
 European comics in the clear-line style.
Originally from Australia, Glen moved to Canada in 1994 with his partner Kay, also an animation artist and painter, and their first Husky named Ruby. Since then, Glen has continued working from his home-based studio on Vancouver Island creating storyboards and designs for animation companies in Canada, the U.S. and Australia. Disney TV, Warner Bros, 
Hanna Barbera, Nelvana, Nickelodeon and Atomic Cartoons are just some of the studios he has worked for over that time.
You can find more images and info about the Jasper series at: www.jaspercomics.com
Jasper at Facebook: https://www.facebook.com/JasperComics?ref=hl
Glen at Facebook:  https://www.facebook.com/AdventuresofJasper
Twitter: https://twitter.com/Lovettpix