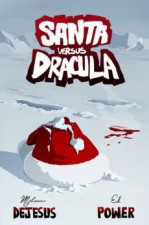 Press release
The mashup of the fall and winter (and maybe of the ages) is coming your way as writer Ed Power and artist Melissa Dejesus bring you the battle of this century, Santa vs Dracula.
VAMPIRE VS ELF! WEREWOLF VS REINDEER! FRANKENSTEIN VS SNOWMAN! When Count Dracula, Igor, Mr. Hyde, and their forces of darkness invade the North Pole to obtain Ol' Saint Nick's ability to gain entrance into any home, Santa, Mrs. Claus, Jack Frost and all the forces of Christmas are forced to defend their home and their holiday! This is it, naughty vs. nice in an all-out, epic battle of the ageless for the ages! SANTA VS DRACULA! This time…It's Seasonal!
Funded with a Kickstarter, this 168 page full-color graphic novel is being distributed by SLG Publishing and is currently available for preorder at Amazon.com. Click the read more button to see some of the great interior art  and find the link for preorders.
Santa vs Dracula will be available this October.