J.G. Ballard was a great writer, but his books could always be shorter. That's not a critique — the man himself was always reaching for greater brevity, the better for his concepts to be delivered to a wider audience. He referred to his 1970 The Atrocity Exhibition as a collection of "condensed novels": a series of short, intense bursts of his signature high-concept, low-culture explorations of the filth of America post-JFK assassination. Ten years later, he attempted to go one further, reducing a full novel to a magazine spread, which he planned to blow up and display on billboards. It's a project that suited Ballard, a writer whose interests lay more in affect and shock than in plot and character. Who needed two hundred pages of narrative when you could just densely pack your themes into a single, stark text?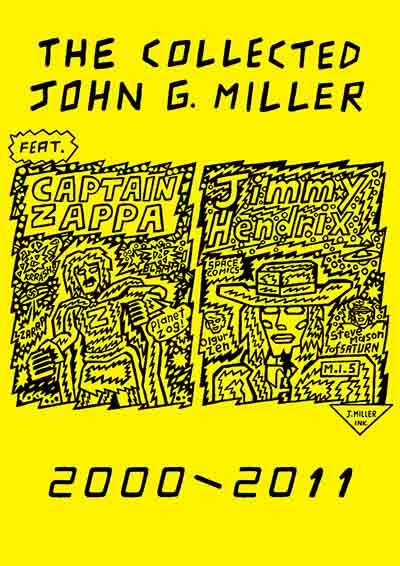 So it is with The Collected John G. Miller, three volumes crammed with stories that rarely run to more than five pages, but many of which are fizzing with more ideas and creativity than many cartoonists manage in their entire careers. The underground Scottish artist has been self-publishing work for the better part of four decades and, in the process, has created a universe of characters and tropes which remain consistent even as they ping between self-critiquing autobiographical snippets, half-ironic serialised science fiction stories, and affectionate counterculture parodies (my personal favourite being the non-sequitur one-pager "Jack Kerouac Meets Mothra"). Part of that's down to Miller's voice coming through loud and clear in each, a formidably intelligent and scatalogically funny anti-establishmentarianism that often emerges as a refreshing counter to the similarly outsider — but considerably more crank — self-published work of Steve Ditko. A lot of the gag strips begin with a familiar genre premise, and end with people puking.
Mostly, though, it's down to the artwork. There's some sense of development across these collections, but mostly it's the confidence that comes from dedication to a craft than a radical evolution of style: Miller finds what works for him fairly early on, and sticks with it, as well he might. The stories are presented in dazzling, stark black and white, but there's little negative space allowed within that. Almost every section of a panel that could be left blank is decorated with starry, zig-zag or polka dot patterns, like the glow-in-the-dark decoration of a child's bedroom ceiling, or an invasive species of Kirby Krackle. While his character work is expressive and expansive, in many stories he piles the text in, using a font that's approaching cuneiform with its jagged edges. These at-times overwhelming captions and speeches work best in his Renegade X, Android Smasher and Enemy of the Future serials, where mysterious agents fight against repressive future worlds. Miller does well in these stories to both be deadly serious and winking at the reader. Societies where rationality has superseded creativity and nuance are described as speaking "Short back and sides English. Clipped. Castrated," the streets lined with billboards reading "ART IS MENTAL ILLNESS" and "LOGIC IS REALITY."
Sometimes this condensed Ballardian psychedelia is more playful, as in the recurring adventures of The Girl With The Flowey Trousers who, in one short, spontaneously "zarps" down a drain and happens upon a secret society of "drain police," emerging to the surface to ponder "what the fuck all that was about." As with many of his contemporaries — and the people wot I like nowadays — on the "fringes," Miller borrows freely from popular culture, with stories featuring repeated B-movie figures like UFOs, conspiracy theories, mummies, Frankensteins, and the like. There are even early stories dedicated to "fans of DC's The Spirit," and another riffing on the fascist undertones of Captain America. When his narratives stretch beyond a single page, they take bizarre logical leaps, the way that a slightly fried individual at a party may suddenly switch topics or tones mid-anecdote. You're constantly wrong-footed, even when the material seems familiar, but never in a way that's aggressive or emptily provocative. Miller's reader is always in on the joke, even if they don't understand the punchline (if there even is one). Taking in all these short bursts of pulp fun, glimpsed from the dole queue or the bedsit, is mind-boggling when brought together like this. It's like driving down a highway lined with Ballard's "new novels," or turning the TV on to something weird and mondo when you've gotten home from the pub with a curry. He's a genre unto himself, a one-man cosmic gumbo of reference points, a historian of comics from newspaper funnies through King Cat, and never anything other than John G. Miller.
John G. Miller • Braw Books, £11.99/$20.00 per volume
Buy online here from Spit and a Half in the US
Review by Tom Baker