Press release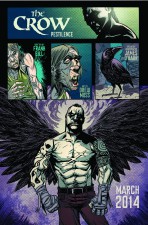 The spirits of vengeance are coming back with brutal force in The Crow: Pestilence, a new miniseries coming from IDW in early 2014. This series marks the comic-book debut of prose author Frank Bill, who first debuted on the scene with the acclaimed and brutally poetic short-story collection, Crimes in Southern Indiana. Bill followed that book with his even more raw debut novel, Donnybrook. On Pestilence, Bill, a longtime Crow fan, will be joined by artist Drew Moss (The Colonized), with Crow creator and vocal Bill fan James O'Barr supplying covers for the series.
Debuting in the spring of 2014, The Crow: Pestilence transplants the spirit of vengeance to the southwest, introducing a brand-new cast of characters and exploring the grim underbelly of greed and betrayal in the deadly town of Juarez, Mexico.
"I've never seen lead characters take more brutally inventive abuse than the kind Frank Bill heaped on his characters in Crimes and Donnybrook. I'm excited to see Frank bring such a strong voice and visceral storytelling ability to comics, especially on something as well-suited to his skills as The Crow," said Chris Ryall, IDW's Chief Creative Officer/Editor-in-Chief. "It was great to find out that James O'Barr was equally intrigued by Frank's work, comparing him to Jim Thompson and other literary greats."
"I've always been a big fan of James O'Barr's The Crow and his artwork," said Frank Bill, "so when I was offered the opportunity to write my own version, I was blown away. I wanted to place my best foot forward, I knew I had some big shoes to fill."
About Frank Bill's debut novel, musician Ray Wylie Hubbard said "Frank Bill's Donnybrook is Poe shooting heroin, Steinbeck freebasing cocaine, and Hemingway really drunk. It's so great, I felt I had been throat-punched, kicked in the cojones, and was going to spit blood." All of which applies to the story being told in The Crow: Pestilence as well, only here, the visuals are brought to teeth-rattling life by Drew Moss.
Created by James O'Barr in 1989, The Crow flew to success in comics and on film. After a number of successful books and films spiraling out of the original graphic novel, The Crow landed at IDW in 2012 and has since appeared in three unique miniseries, two by O'Barr himself: Skinning The Wolves and Curare.
Edward R. Pressman, producer of the 1994 smash hit film The Crow, together with Relativity and Dimension Films, is currently in production on a reinvention of the original film, which explores its own unique storyline separate from the comic book. F. Javier Gutierrez (Before the Fall) will direct from a screenplay by Cliff Dorfman with Luke Evans (Fast and Furious 6) starring as 'Eric Draven'. Pressman licensed the comic book rights to IDW. The deal was brokered by Dan Kletzky of Entertainment Licensing Associates.
The Crow: Pestilence is out in next spring, digitally and in print!