Press Release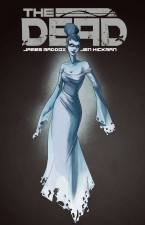 James Maddox providing preview images for his new series THE DEAD. It was just released on Comixology and have been getting some great momentum.
 DEAD studies a different kind of afterlife. 
When Sam Coleman opens his eyes after dying, he expects to see clouds or hellfire. What he's faced with instead is "The House" — a surreal and often-dangerous afterlife of interconnected rooms.  As Sam travels deeper into this new world, he finds the strange creators of these rooms aren't the only residents of The House. Here there be monsters, and if he isn't careful, Sam's stay will take a horrible turn.
Brought to comic life by two of the industry's newest and brightest creators, THE DEAD is a highly ambitious work that promises mainstream appeal while continuously pushing the limits of the comic medium.
 "An excellent indie horror book with a wholly original premise."
– Mike Carey (The Unwritten, Lucifer, Suicide Risk)