Press Release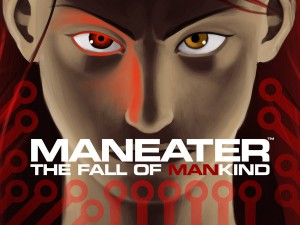 Writer N Pfeifer (FleshEatingZipper) and world-class illustrator Cody Meyer are proud to announce their new Kickstarter campaign for MANEATER: The Fall Of Mankind, an 80s-tinged detective story! Terrorist Deity Marvelous is on the loose in Metropolis One and threatens to unleash a virus that will destroy every human male on the planet. The Metropolis One Police Department springs into the action, sending gifted young detective Ram Crasher to investigate. Can Crasher stop Marvelous from unleashing the virus and destroying mankind?
You can visit the Kickstarter campaign
here
"This is all of my 80s sci-fi nostalgia wrapped into a tight little package," says Pfeifer, "it's a project I've been working on for years and partnering with long-time colleague Cody Meyer to bring it to life has been terrific. It's a mature read for mature readers and I think they'll love it!"
Meyer explained, "MANEATER is a personal blend of detective and cyberpunk stories wrapped in stylized art. Its a comic with a strong female protagonist not bound to the usual comic book tropes. She's intellectually and physically capable, living as a beat cop in a city built on the ruins of the world's past mistakes."
The creators are asking for $15,000 to produce the novel, which is also being produced as five separate issues. Backers who pledge $20 will receive the entire MANEATER saga while higher tiers allow for backers to contribute content to the comic. If funded, MANEATER: The Fall of Mankind is slated for release in March of 2014.