Horror and romance. Two genres that for some may, on first consideration, seem diametrically opposed in tone but on reflection, of course, make perfect bedfellows. Claire Napier's one-shot comic The Magic Necklace (currently crowdfunding on Zoop) draws these storytelling standards together with a tale that is unsettling in narrative, theme and presentation. It's a comic that is creepily disquieting but hypnotically, compellingly so.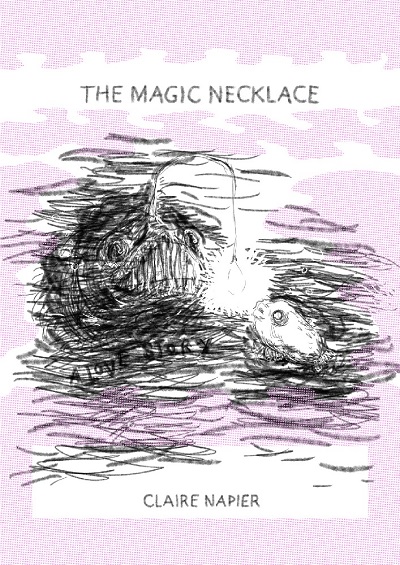 The thematic power and comics craft inherent in The Magic Necklace are not well served by simple plot summation (especially given the turns it takes), as reducing its premise to a list of events drains it of its nuance, biting commentary, and atmosphere. But, as a starting point, the comic follows Ann-Rita who days before we join her had come into possession of an ancient necklace once belonging to Morgan Le Fey; an artefact that grants its wearer magical powers of immunity.
When we meet Ann-Rita she's in a café bar where she comes to the attention of flirtatious manager Billy. A game of cat-and-mouse ensues as Billy attempts to seduce her and she allows his attentions. There's a tension between the two but also a kind of sparring; a back-and-forth where influence and control seem to constantly shift and change. As this interaction continues secrets will come to the surface and true intentions will be revealed…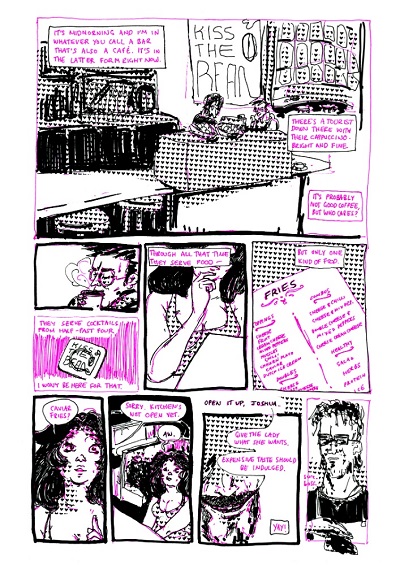 The Magic Necklace is a difficult comic to discuss because so much of this tale is contingent on the reader making certain discoveries for themselves. Suffice to say Napier uses this dark fantasy to explore ideas of the implicit threat that remains a constant for women in heterosexual relationships, and the balance of power they encompass; leading to an eventual and articulate subversion of those dynamics.
Napier's hazy, off-kilter visuals employ nightmarish bursts of the grotesque across a canvas of brutal impressionism that keeps the reader's uneasiness at a heightened level. The pink tones add an effective sense of the incongruous while the all-pervading employment of stippled hearts as a visual motif turns unthreatening iconography into something quite menacing. As the story progresses Ann-Rita's observations and internal monologue can suddenly become visualised in the moment as visual metaphor, drawing us into the intricacies and complexities of events.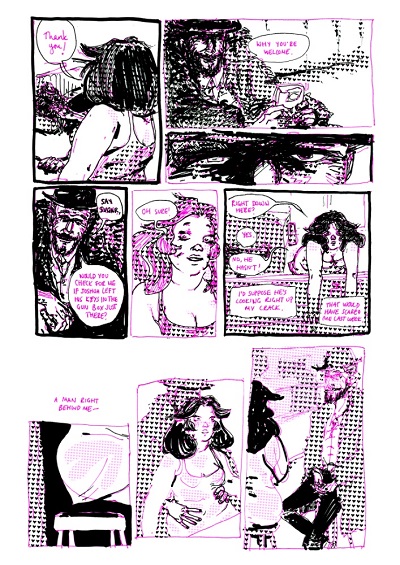 Again, it's difficult to analyse and isolate the depth of Napier's commentary and insight here without introducing an element of redundancy into the audience experience. Some things should be felt in the immediacy of the reading moment rather than foreshadowed in a review, after all. The Magic Necklace is a 40-ish pager that embraces the unique qualities of the form to present an eerie parable replete with social commentary in its horror-romance trappings. You can back it here.
Claire Napier (W/A) • Self-published
Review by Andy Oliver