Press Release
A new comic book created by a couple of Lexington, KY area natives would like your help in spreading the word about their premiere creation! Our Kickstarter is launching January 17th!
Deth Industries is excited to announce the release of its premiere comic title, Ordinary Heroes, an ongoing comic book that stars two ordinary guys and their extraordinary neighbor.  The story revolves around Barry and Derrick, two hetero life-mates, that are dragged into the world of crime-fighting by their wheelchair-bound, paraplegic neighbor Ken.
Synopsis
After a tragic event in Ken's life, he develops a multiple personality disorder with hilarious and quite deadly results.  Ken is a stay-at-home IT technician until his other personality; an unhinged, costumed vigilante, takes control.  Going by the name of the Stars and Stripes of Justice, he believes himself to be a silver-age, super-powered, costumed superhero.  While standing for "truth, justice, and the American way", his inadvertent and reckless physical actions sometimes show quite the opposite.
Due to his delusional views of himself, Ken puts himself and those around him in danger.  This danger filled lifestyle leads to Barry and Derrick coming to his aid for his own safety and to protect those around them.  Thus, the Ordinary Heroes team is created!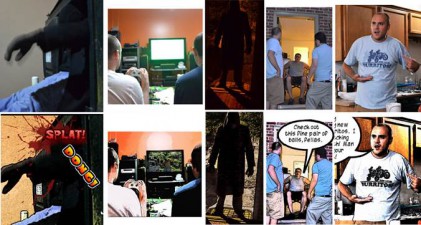 The Comic
What makes this comic truly unique is its special art-style using a not-so-ordinary process.  Shot in live-action with all of the usual difficulties facing a movie shoot (actors, locations, costumes, sets, time of day, etc.) Those images are then post-processed in Adobe Photoshop giving it the look of a modern, big budget comic book.
The Creators
Ordinary Heroes is the combined efforts of Barry Corman and Derrick Miles, two longtime friends and natives of the Lexington, Kentucky area with the shared dream of creating the next big comic book.  Without the necessary drawing abilities, the comic book was once an unattainable dream for them.  However, with the help of Photoshop, Derrick was able to create a unique art style and bring their comic vision to life.
The Kickstarter
To fund the printing of the first issue of Ordinary Heroes, a Kickstarter was created and set to launch on January 17th, 2014. The Ordinary Heroes Team has created an uncommon set of pledges that will stand out from its competition.  Included with the basic package, funders will receive not only a signed physical print of the comic book, but also a hard-rock style theme song written and performed by the creators as well as a PC RPG game in the vein of Earthbound, Chrono Trigger, and Final Fantasy that stars the Ordinary Heroes team in their very first 16-bit adventure.
To see the Kickstarter preview, please click the link