Press release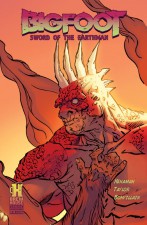 Having barely escaped the vampiric seductress, Malona the Damned, Bigfoot and Bagworm find themselves at the foot of the great Turonian Jungle and in the crosshairs of the deadliest poacher this side of the galaxy!  More importantly, Bagworm discovers the answer to the series' greatest mystery: WHY Bigfoot was brought to the alien planet… and why he must be stopped at all costs!
The World-Building is over… Time to tear it all apart!
Self-publishing upstart, Brewhouse Comics, is proud to present: BIGFOOT – SWORD OF THE EARTHMAN, "Poachers of Turonia", the fourth chapter of the epic six‐issue mini‐series involving the world‐famous sasquatch and his quest to defeat the ruthless emperor of a barbarian planet. Equal parts Conan, Krull and Flash Gordon, the sword, sorcery and sasquatch tale is written by Josh S. Henaman with art by Kubert alums Andy Taylor (line art) and Thomas Bonvillain (colorist). BIGFOOT – SWORD OF THE EARTHMAN is not the story of how Bigfoot became a myth on Earth. It's the story of how he became a legend of the stars.
BIGFOOT – SWORD OF THE EARTHMAN #4 will be in select stores and available for online ordering on August 14th, 2013. A six‐page preview appears online at www.bigfootcomic.com.
Brewhouse Comics is the ultimate DIY publishing house. Founded in 2012 by Josh S. Henaman, Brewhouse takes its name from the public houses of old, where the emphasis was on good drink, good company and great stories. Focusing on craft, Brewhouse aims to take that philosophy into the comic book world one story at a time.