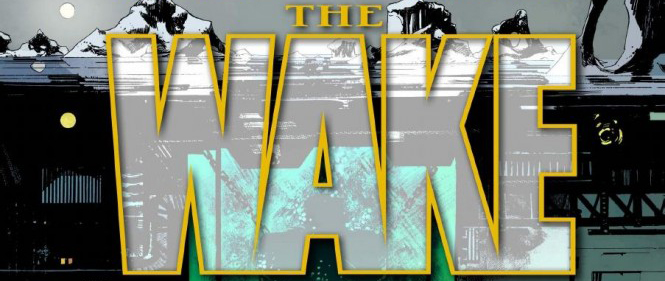 A new terrifying tale rises to the surface in Snyder & Murphy's The Wake!
The U.S. Department of Homeland Security invites cetologist Lee Archer to join a diverse cast of underwater experts to examine a strange discovery at the bottom of the ocean. "Invites" is certainly not the right word –– Archer does all she can to avoid taking part in this deep sea mission to uncover what kind of creature is making a noise which Archer may or may not have heard before. By making her an offer she can't refuse, HLS Agent Astor Cruz escorts Archer and these experts to a ghost oil rig at the bottom of the sea, where, after a horrific accident, Archer gets a glimpse of the cause of the accident, and a hint at further chaos to come.
Well, Scott Snyder has certainly done it again, this time bait and tackling an all new breed of monster: a veritable Merman or creature from the Black Lagoon (and if one person can make sea monsters cool, it's Snyder). The author of the critically acclaimed series American Vampire takes terror in an all new direction with this premiere issue of The Wake –– hundreds of feet below the surface. But as is a gold standard in Snyder's style, this horror tale hints at an even stronger focus on the characters and not the creature itself. Coupled with the artwork of Sean Murphy, The Wake #1 emits a haunting glow into our psyches; from the ghost rig location to a quick, lasting impression of the sea monster itself, the mood of this first issue echoes through each panel.
The story of The Wake also seems to be one that spans generations, which is one of the most attractive aspects of American Vampire –– the series has gone from the Wild West to the 1950s; The Wake, however, opens up with a chapter that takes us 200 years into the future, yet concludes with a one-pager set in a time when cavemen walked the earth. And while I'm not sure where the story will go from here, one thing's for sure: This first issue has strapped me in for an exciting deeper dive in the months ahead.
Scott Snyder (W), Sean Murphy (A), Matt Hollingsworth (C) • Vertigo, $2.99, May 29, 2013.