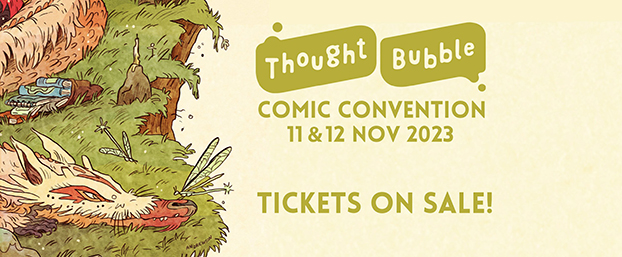 Every year at Broken Frontier we put in an incredible amount of time into giving you the very best Thought Bubble review coverage possible in the two weeks ahead of the event. It's unsurpassed anywhere else in comics commentary and this year will be no different. Demand, though, always outstrips what we can supply several times over so it seemed appropriate this year to write up a small guide to submitting and to other ways you can get a BF shout-out for your work.
Our Thought Bubble celebrations will run from Monday, October 30th through to Friday, November 10th.
Reviews and timelines – There's no real cut-off for review submissions but for a realistic chance of a review getting us a copy of your work by October 23rd would be advisable. The longer you wait after that the more the odds increase against you. But it's still not out of the question by any means (don't be that person who sends us something the Friday the day before Thought Bubble though… there's always one!). Digital copies are absolutely fine so do not stress about sending something physical.
Reviews and priorities – Priority is festival debut comics/books and work from or about marginalised voices. While BF usually concentrates on experimental and alt work we do try and cover a notable amount of genre comics too around Thought Bubble to reflect the breadth of work on show.
Reviews and resubmissions – There are a number of overdue reviews which we are now sitting on because the creators involved are tabling at TB and it makes sense that they get something out of the increased traffic during our coverage. You (probably) haven't been forgotten.
Inside Looks – If you don't have anything new at Thought Bubble this year then why not consider contributing one of our "creator commentary" Inside Look features on one of your existing projects that will be on sale at the con? Details on our Creator Opportunities page.
Previews – If you're submitting something for review do consider also including a number of pages and a project summary paragraph that we can run as a preview if we don't have time for a review (and note them as such when you mail us). For short comics a cover and 2-3 interior pages would be a good selection and for longer-form work a cover and 3-5 interior pages.
Will your comic be ready in time? – If there's a good chance your comic won't be ready for TB please consider whether it's fair on other creators to submit it for review. While it's not an issue for us to hold a review over until after Thought Bubble that's time that could have been used for another artist.
And, finally. we will do our best to cover as much as possible but inevitably it will only be a selection of everything sent. Don't be too disappointed if you don't get a review. It's no reflection on you and your work just indicative of how much excellent indie comics goodness is out there and how few reviews outlets there are in the UK right now.
All our contact details for coverage submission can be found here.