While we were all aware of the inevitability of today's announcement the news that there will be no Thought Bubble in a physical sense in 2020 has already been greeted with resigned sadness (and also a determination that 2021 will be twice as rewarding!) on social media.
Thought Bubble is an event we always give huge coverage to at Broken Frontier given that the self-publishing community we exist to serve debut so many new books there and it's such a wonderful celebratory event for the scene. Every year we run an extensive "Thought Bubble Fortnight" in the lead-up to the festival and if you're feeling nostalgic you can look back on our 2019 TB reviews/interviews coverage here. You can also see our report from last year's new-look Thought Bubble in Harrogate here.
We're running the full press release below as it also contains information on how you can support TB ready for what will no doubt be its triumphant return next year. In the meantime there's a digital incarnation of TB to look forward to and if you're still planning on launching comics/graphic novels around that time please remember that we'll be here to support as many of you as we can squeeze in with reviews and interviews in November. Our contact details, as ever, are here.
THOUGHT BUBBLE FESTIVAL POSTPONES AND ANNOUNCES DIGITAL COMIC CON
THOUGHT BUBBLE WILL RETURN TO HARROGATE CONVENTION CENTRE IN NOVEMBER 2021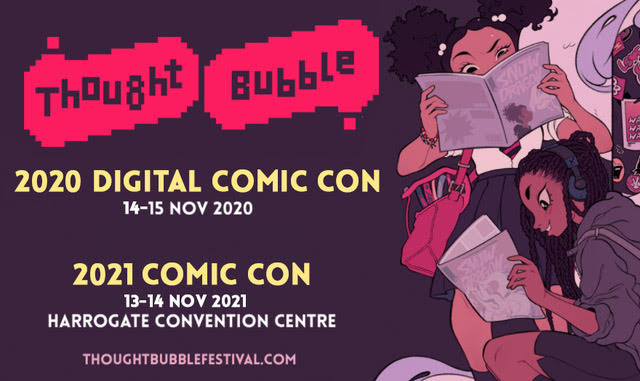 THOUGHT BUBBLE DIGITAL COMIC CON
14th – 15th NOVEMBER 2020
THOUGHT BUBBLE COMIC CON
13th – 14th NOVEMBER 2021
HARROGATE CONVENTION CENTRE
https://www.thoughtbubblefestival.com
https://www.facebook.com/thoughtbubblefestival/
https://twitter.com/ThoughtBubbleUK
https://www.instagram.com/thoughtbubblefestival/
Thought Bubble, the UK's largest comic art festival has announced they will be postponing their 2020 festival and convention to November 2021, holding a digital convention in its place.
Due to take place from the 14th-15th November this year at the Harrogate Convention Centre, the festival has made the difficult position to postpone the event as it has become clear that safely delivering a large-scale events like Thought Bubble by November will not be possible.
Despite the sad news, Thought Bubble are very happy to announce dates for their 2021 convention in Harrogate and the creation of a digital convention, that will run online over this year's original dates.
Thought Bubble's digital convention will be free to all and feature massive online exhibition halls alongside tons of great new and live streamed content including masterclasses, Q&A's, panels, parties, premieres and much more. With partners already on board including comiXology, 2000 AD, Mondo, Leeds Art University, Awesome Merchandise, Travelling Man and Serial Box, Thought Bubble's digital comic con is set to be as ambitious and special as the beloved physical event.
All ticket holders and exhibitors have been contacted with more info on all of their options.
Martha Julian – Deputy Director, Thought Bubble:
"We're so sad that we've had to postpone this year's show, but we hope everyone understands that the safety of our visitors, exhibitors, guests and staff is at the very centre of this decision. We are excited to come back in 2021 with an absolutely incredible show. 
2020's digital comic con is a new venture for us, and we have some amazing guests in place already, with a packed programme that we hope people will love!"
Please see below for the full statement from Thought Bubble:
Dear Thought Bubble friends
We hope you are all keeping safe and well in these tough times. Our hearts are with you.
We've been holding out hope that things would be ok by November and Thought Bubble could go ahead as planned but right now it seems impossible that we'll be able to guarantee everyone's safety. Which means we have had to take the extremely hard decision to postpone this year's show until 2021.
Everyone's safety is of the utmost importance to us. Alongside this we have also had to consider that international travel may still be restricted and any form of social distancing will mean we simply can't present the convention and festival activity in the same way. Interaction between audiences, guests and exhibitors is a cornerstone of the festival and it doesn't feel right to try and present a diluted version of this. We're so sad we won't see you all in November, but the team will be working hard throughout this year and next to make sure we can host an even bigger and better Thought Bubble in 2021, which will be held 13-14 November at Harrogate Convention Centre.
This has been and continues to be an incredibly challenging time for us especially as a not-for-profit company, our priority is to do everything we can to keep going until next year.
There are ways you can help us; If you are an exhibitor, you can choose to move your table money over to the 2021 show without any price increase. If you've purchased a ticket, you can keep hold of it for next year's event, or you can donate the value of your ticket to us. You can also become a Friend of Thought Bubble or make a donation via our website.
We know this may not be possible for everyone and we are offering refunds on tickets and table fees to those who would like them. Exhibitors and tickets holders, you will have an email with all the details on this.
On a positive note, we are planning to present something very special this year which will help us to connect with the community we dearly love. On 14-15 November 2020 we will be holding a Digital Comic Con. There will be a huge focus on our amazing exhibitors, we'll have guest interviews, panels, masterclasses and loads of cool stuff. We are excited about what good can come from this new challenge, and we hope you will be too! More info will be available later today.
We have put together a FAQ which will hopefully cover anything you might want to ask, but we're here if you need anything else.
Stay safe, look after each other, support local business and keep reading comics!
All our love, from Team Thought Bubble
–
Press Quotes 
"The highlight of the year for comic, animation, games and film fans across Yorkshire and beyond." – The Big Issue
 "So many cool guests! We got up to some really cool stuff" – What Culture 
"this is a weekend in the comics calendar that is as much about the people attending as their chosen art form and that sense of comics community was evident throughout" – Broken Frontier