With just over a couple of weeks to go the Thought Bubble team have released details of this year's full programme of events, panels, signings and workshops, including our own exhibition of Gosh! Comics and Broken Frontier Drink & Draw artwork and in-person Drink & Draw event as organised by Nora Goldberg (more details coming later this week at BF). Check out the press release below and follow the links for more information on a much anticipated return of TB to Harrogate!
Photos below by Andrew Benge.
THOUGHT BUBBLE FESTIVAL SHARES FULL PROGRAMME
UK'S LARGEST COMIC ART FESTIVAL RETURNS FOR FIRST EVENT SINCE 2019
THOUGHT BUBBLE FESTIVAL 8th – 14th NOVEMBER 2021
–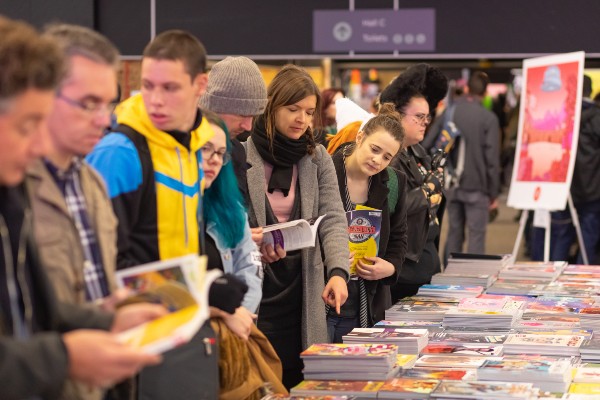 THOUGHT BUBBLE COMIC CONVENTION
HARROGATE CONVENTION CENTRE
13th – 14th NOVEMBER 2021
https://www.thoughtbubblefestival.com
Thought Bubble, the UK's largest comic art festival, has shared the full line up and schedule for this year's festival and convention. Following a move to a digital event in 2020, Thought Bubble will return for a physical event on 13th-14th November – their first since November 2019.
Hosting a full festival week of events and exhibitions across Yorkshire, Thought Bubble will round out the week with a huge two-day comic convention at the Harrogate Convention Centre. Hundreds of independent comic creators and artists will be attending to showcase and sell their work alongside a full line up of special guests made up of some of the most exciting names in comics. Alongside guests and exhibitors, the convention will host two full days of panels, workshops, screenings and lots more – reaffirming why Thought Bubble is one of the most beloved events on the global comics calendar.
Guests appearing at this year's festival include acclaimed US comic book artist Joëlle Jones (Wonder Woman, Batman, Lady Killer), iconic British artist Jock (2000 AD, The Wytches, Wolverine),  Jordanian-American artist, illustrator and creative director Sara Alfageeh (Squire)  and multi-award winning artist, Christian Ward (Invisible Kingdom, Superman: Red and Blue, Thor) among many more.
The festival has also shared its full panel and workshop programme including ComiXology Originals presents: CONversations with Tula Lotay and Jock as well as Rewriting Extinction – Comics to Save the World, YA Got It! – Young Adult Comic Spotlight and Strip Panel Naked – where creators James Tynion IV, Charlot Kristensen break down pages from their work and discuss how they created the writing, art, colours and lettering, and how those choices end up affecting the reader.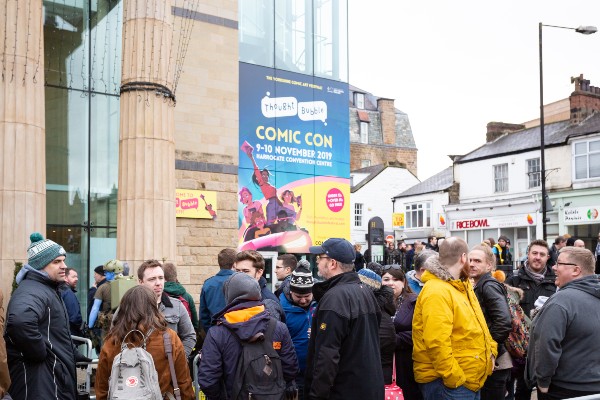 In the run-up to the comic convention, the festival week includes a whole host of events including exhibitions and installations from the students of Leeds Arts University, schools workshops with JAKe and Kim-Joy (Great British Bake Off), drawing socials, a huge comics giveaway in libraries all across Yorkshire, and an exclusive Northern launch of Cecil Castellucci and Charlotte Marlow's opera, The Language of Flowers.
Due to pandemic related travel issues, a number of Thought Bubble's featured guests will now be appearing digitally, with iconic American creators including Scott Snyder & Chuck Palahniuk amongst those videoing in to the Harrogate event.
Thought Bubble remains committed to delivering their event with sensible and careful policies in place to combat the spread of covid-19. The festival has announced that all those over the age of 18 will need proof of full vaccination or proof of a negative test within the last 48 hours to gain entrance to convention and, unless medically exempt, masks must be worn by everyone over the age of 12 while on-site.
Alongside these entry requirements, this year's convention will take place over more of Harrogate Convention Centre than ever before, allowing for more space and less congestion, while the number of exhibitors has been reduced to allow for easier movement throughout the convention halls. Working with their event and industry partners, Thought Bubble is doing all it can to create an environment that is safe while remaining fun, relaxed and welcoming for all.
Tickets for Thought Bubble Comic Convention are on sale now with tickets for under 12s, carers and over 65s totally free. Tickets give access to all events within the comic convention; panels, workshops, guest signings, as well as the three huge halls of comic creating exhibitors, publishers and more.
–
Chloe Green, Thought Bubble Festival Manager, said: "Now we are on the home-straight, I want to say a huge thank you to every single ticket holder, exhibitor and guest who has put their faith in us over the last 18 months. It really feels like the community has pulled together, more than it has done before, and we cannot wait to show you what Thought Bubble 2021 has for you!"
Gemma Rio, Head of Destination Management for Harrogate, said:  "The whole town really got behind Thought Bubble in 2019, and it was heart-breaking that a return in 2020 wasn't possible, so we're all absolutely thrilled that we can now, finally, give the thousands of comic fans and artists a warm Harrogate 'welcome back!'. She continued: 'We are extremely proud that the festival has made its home in Harrogate; the event's creativity, values, and energy have become a fantastic asset in the district's cultural programme.'
For full programme, guests and events please visit:
https://www.thoughtbubblefestival.com
"The highlight of the year for comic, animation, games and film fans across Yorkshire and beyond." – The Big Issue
"So many cool guests! We got up to some really cool stuff" – WhatCulture
"this is a weekend in the comics calendar that is as much about the people attending as their chosen art form and that sense of comics community was evident throughout" – Broken Frontier