As we are all aware, back in early February the military staged a coup in Myanmar. It resulted in the detainment of elected leader Aung San Suu Kyi and members of the National League for Democracy, which had won the election by a landslide. In the weeks since many protestors have been killed and the military has declared a year-long state of emergency.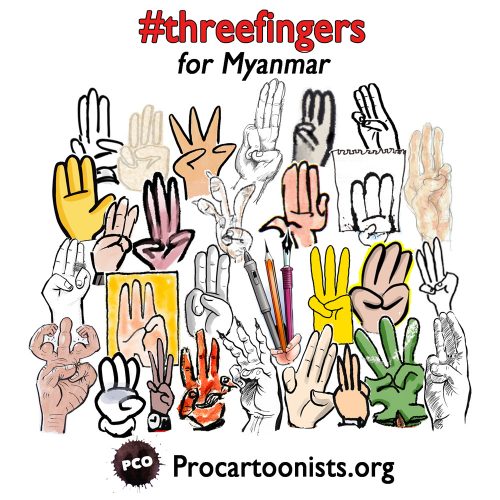 The Professional Cartoonists' Organisation in partnership with Burma Campaign UK have launched a social media campaign to raise awareness of the ongoing situation and to support local artists. Members have been drawing themselves giving the three-fingered salute of protest with the artwork being displayed on the Three Fingers site. Proceeds from sold art will go to Mutual Aid Myanmar. There's a growing archive of the work here including many artists from Myanmar and names that will be familiar to Broken Frontier readers like Martin Rowson and The Surreal McCoy/Carol Isaacs.
More details of campaign and how to take part can be found on both the PCO site and the Three Fingers site. You can also keep track of developments on Twitter here and on Instagram here.