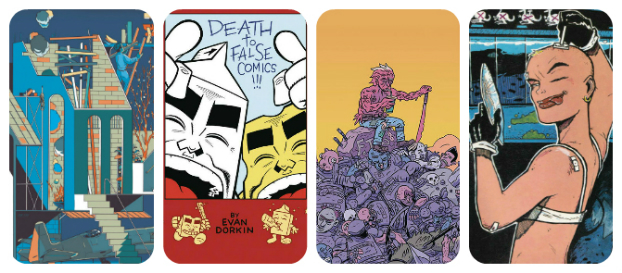 It's nearly Wednesday, and you know what that means: a fresh load of comics and graphic novels! With so many publications hitting your local comics store, comics events or digital storefront, the BF team are here to lead you through the woods with our weekly staff picks. Satisfaction guaranteed!
Comic of the Week
Nobrow 10: Studio Dreams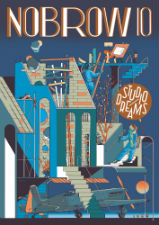 As the build-up to this year's East London Comics & Arts Festival begins, its founder Nobrow Press is also celebrating their tenth anniversary of publishing. Commemorating this auspicious occasion they've brought back their signature eponymous magazine with a theme that invites artists to design their own dream studio spaces.
An illustration-based collection of over 100 pages of international artists it includes work by Lisk Feng, Alexis Deacon, Keith Negley, Icinori, David Doran, Bianca Bagnarelli, Eleni Kalorkoti, Jon Boam, Dustin Harbin and many more. The countdown to ELCAF 2018 starts here!
Anthology – Various creators • Nobrow Press, £18.00
– Andy Oliver
The New World: Comics from Mauretania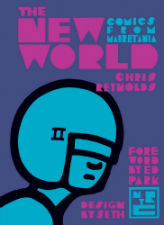 Back in the 1980s and early 1990s, during that era's Fast Fiction-fuelled heyday for the UK small press, Chris Reynolds' Mauretania Comics was one of the flagship titles for stylish and intriguing art comics. He was even way ahead of the graphic novel curve, producing a book for Penguin in 1990.
Utterly distinctive, his comics created a world where the mysterious and the mundane crossed paths. Meditations on memory and the passage of time would suddenly share the page with cryptic sci-fi allusions, all delivered in his atmospheric noirish style, rolling out one captivating image after another.
However, the dispersal of that creative cohort and the ongoing cycle of generational churn meant that Reynolds largely dropped out of sight. If it hadn't been for a lengthy 2005 appreciation by Seth in The Comics Journal – "Chris Reynolds is the most underrated cartoonist of the last 20 years" – we might not be talking about Mauretania Comics today.
But now, thanks to the sharp curatorial minds at New York Review Comics, this beautifully designed and produced volume is dropping onto the shelves, containing the Mauretania graphic novel, 'The Dial' (another defining longer story) and a selection of lyrical shorter pieces – polished little jewels that sparkle as bright as ever 30 years on.
Chris Reynolds (W/A) • New York Review Comics,  $34.95
– Tom Murphy
The New York Review of Books has been quietly asserting itself as an discerning publisher of previously obscure or else little-seen comics, with a particular focus on works in translation, as with their recent Yvan Alagbé collection Yellow Negroes and Other Imaginary Creatures. With their latest, their editors have turned their eye to our fair isle, and the surreal, stylised, self-published genre work of British cartoonist Chris Reynolds. This handsome collection is designed by Seth — presumably Chip Kidd was busy — but it's the stories within those foil-stamped and debossed covers that are really striking.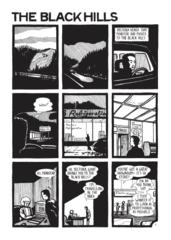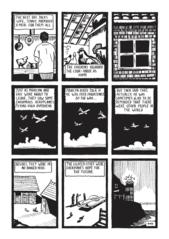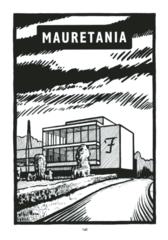 Collecting a handful of short stories, a novella and a full-length graphic novel, The New World: Comics From Mauretania is a comprehensive introduction to Reynold's work and the fictional setting in which most of his stories take place. Mauretania is the town — equal parts Twin Peaks, The Prisoner's village and the sort of idyllic seaside location subversive sixties horror films were set — being warped by the appearance of helmeted weirdo Jimmy. That is, warped even further than it already has been from an alien invasion years in the past. Offbeat, unusual, and gripping.
Chris Reynolds (W/A) • New York Review Comics,  $34.95
– Tom Baker
(Look for a review of The New World: Comics from Mauretania very soon at Broken Frontier)
The Communist Manifesto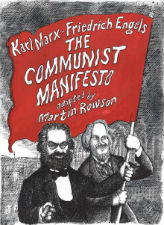 Adapting classic works of literature into the comics form has been something UK publisher SelfMadeHero has been renowned for since its early days of its popular Manga Shakespeare line. In their ten-plus years of publishing SelfMadeHero have brought us everything from Victor Hugo's The Man Who Laughs to the supernatural tales of M.R. James in Ghost Stories of an Antiquary to the comics page.
This week sees perhaps their most ambitious adaptation to date as Guardian cartoonist Martin Rowson translates Marx and Engels' Manifesto for the Communist Party – undoubtedly the most influential political publication of all time – into a sequential art format. Rowson's take is frenetic and darkly witty with fittingly grotesque visuals. Coinciding with the 200th anniversary of Marx's birth, expect this to be comics art that grabs far wider media attention over the coming weeks.
Martin Rowson (W/A) • SelfMadeHero, £12.99/$19.99
– Andy Oliver
Milk and Cheese: Dairy Products Gone Bad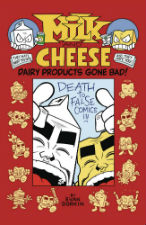 They've been causing havoc for decades at this point, yet there's no sign that Evan Dorkin's gleefully violent, delightfully nihilistic creations are going to curdle any time soon. In fact, this deluxe collection bringing together every Milk and Cheese adventure, from their introduction in 1989 to the present day, couldn't be more timely, given the strong undercurrent of commentary on toxic male nerd culture that flows beneath the killing sprees of the anthropomorphic dairy products.
The Milk and Cheese: Dairy Products Gone Bad trade paperback reprints all the material found in the hardcover edition released back in 2011, and then some. That includes supplementary goodies like pin-ups, original cover art, and the complete Milk and Cheese trading card collection. All this is in anticipation of new Dorkin strips, due to appear in upcoming issues of Dark Horse Presents, promising even more Itchy and Scratchy-levels of unmitigated, unapologetic cartoon violence.
Evan Dorkin (W/A) • Dark Horse Comics, $19.99
– Tom Baker
Times Like These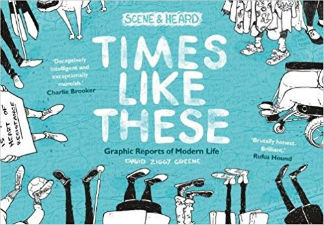 A second collection of cartoonist and Small Press Day creator David Ziggy Greene's Scene & Heard strips from Private Eye hits shelves this week giving us another welcome helping of the artist's distinctive take on graphic reportage.
Greene's interviews with the public on a wider-ranging number of topical issues capture an array of views on the big talking points of the day. I've said of his work in the past that "to condense each complex subject into a handful of soundbites that are so inherently revealing about the diversity of public opinion on any given matter is a tribute to Greene's perceptive approach to this undertaking."
There's also an upcoming tie-in exhibition at London's Orbital Comics.
David Ziggy Greene (W/A) • September Publishing, £12.99
– Andy Oliver
Daygloayhole #1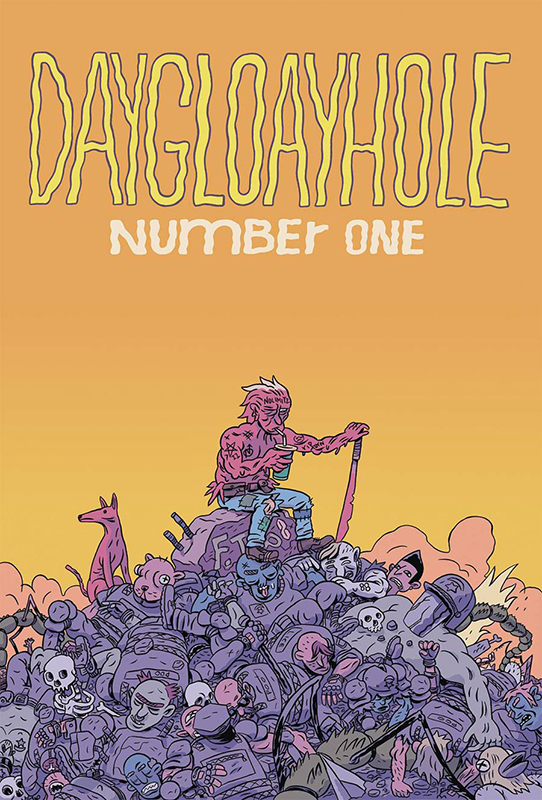 Ben Passmore, author of one of last year's most important comics, the Broken Frontier Award-winning Your Black Friend, is back with a new book filled with social and political commentary. Rather than a street level look at race relationships, the creator tackles the post-apocalypse.
Irradiated deserts, menacing clouds of sentient porn magazines, mutant police, and hipsters on some street art kick. This is the best the end of the world gets.
And if you can't find it at your local comic shop, you can order it directly from the publisher here.
Ben Passmore (W/A) • Silver Sprocket, $6.00
– Tyler Chin-Tanner
Tank Girl Full Color Classics 1988-1989 #1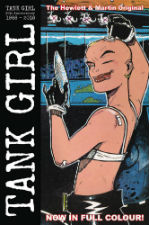 Following a Hollywood-appointed exile of a decade or so, Tank Girl has been a consistent mainstay of comic shop shelves over the past few years. Alan Martin and Jamie Hewlett's iconic, anarchistic creation was resurrected first with IDW, and later Titan Comics, albeit with Hewlett tagging out in favour of a revolving door of modern-day talent including Ashley Wood, Jim Mahfood and Brett Parson. As fun as some of those more recent romps have been, it's high time the original (and the best) to make his triumphant return.
To mark the character's 30th anniversary, Titan are reprinting the original black-and-white Tank Girl stories that appeared in Deadline, and in full colour to boot! No word on whether the stream-of-consciousness pop culture references will have been updated for modern audiences, but Martin's odes to disgraced soap opera actors and Hewlett's unique superflat style will be complemented by all-new covers, unseen archival artwork, and a prestige format.
Alan Martin (W), Jamie Hewlett (A) • Titan Comics, $6.99
– Tom Baker