Press Release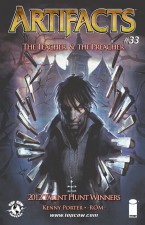 Penned by Kenny Porter and illustrated by -ROM- darkness et folly, the first of the 2012 Top Cow Talent Hunt Comics is here! Artifacts #33, "The Teacher and the Preacher," is the first professional comic appearance by these two rising stars, and the first of three Artifacts comics to be written and drawn by our 2012 Talent Hunt winners. Many competed for the honor of joining the herd, entering their art and stories, but only the best of the best, the cream of the crop, were selected to tell their stories here at Top Cow.
In "The Teacher and the Preacher," Tom and Tilly, under employ of the FBI, seek out a kidnapped girl in a creepy old mansion – and her mysterious piano teacher, a longtime practitioner of the dark arts with a scheme up his sleeve that even Tom doesn't see coming.
Pick it up, because these new talents are just getting started.