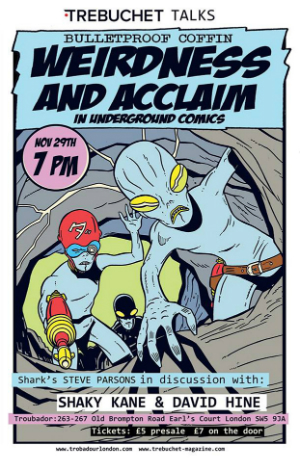 As the year begins to come to a close so do too the London comics events slowly begin to wind down but there are a few last hurrahs for 2017 coming up including one with a BF link at South West London's Troubador next Wednesday November 29th. Long-time collaborators and British indie legends David Hine – a contributor to our Broken Frontier Anthology – and Shaky Kane whose partnership is probably best remembered for The Bulletproof Coffin will be in conversation with Sharks frontman Steve Parsons where they'll be talking about their careers and joint projects.
The evening is part of the online arts magazine Trebuchet's 'Trebuchet Talks'. The duo's story goes back to 1977 and they'll be chatting no doubt about their own contributions to such publications as NME, Deadline, 2000 AD, Strange Embrace and various Marvel and DC series with a focus on their collaborative work on comics like The Bulletproof Coffin and Cowboys and Insects.
You can pre-book tickets for £5.00 or pay on the evening when entry will cost you £7.00. You can read more about the event on Hine's blog and don't forget that David is also re-presenting some of his old 2000s Broken Frontier 'Waiting for Trade' columns on his website starting with the first one here.