Autumn is festival time in the UK and, after last month's fantastic inaugural Hackney Comic + Zine Fair, the Broken Frontier team were at two established events this past weekend. Leam Comic Con and Brighton Illustration Fair are very different entities in terms of the kind of work they showcase but both have an admirable ethos in terms of approach and focus.
The stunning location for Leam Comic Con and London Horror Comic's John-Paul Kamath at the event
On Saturday myself and BF's Holly Raidl visited picturesque Leamington Spa for this year's Leam Comic Con, now back in its original October slot. Leam organisers Dan and Lisa-Marie Mallier emphasise that it's a convention that is "keeping comic con about comics!"; something that is underlined not just by the accessible kid-friendly environment combining sequential art, cosplay and panel events but by the mix of small press publishing and established serial comics names on show (John Wagner, Mike Carey and Jamie Delano for example). This year also saw our esteemed Comics Laureate Hannah Berry on the guest list for the first time and, as part of the events programming, she spoke with Olly MacNamee about her aims in using the position in an educational context. Leam remains one of the friendliest shows on the circuit and one that we could not recommend more highly for a family comics experience.
Leam Comic Con's distinctive venue at All Saints Parish Church from the outside
On Sunday I attended the second day of this year's BIF (Brighton Illustration Fair), an excellent crossover event of illustration, comics and zines that probably appeals more to the ELCAF-minded part of our community. BIF remains one of those now oh-so-rare events where I may still discover someone whose work I'm unfamiliar with and this year was no exception. Our own Jenny Robins was there on the Myriad Editions table (her book Biscuits (assorted) comes out from Myriad next year). Across the weekend there were Broken Frontier Six to Watch creators including Jayde Perkin and Shanti Rai on the exhibitor list, along with BF faves like Ed Cheverton, Ben Williams, Warwick Johnson-Cadwell tabling. BIF always provides attendees with an opportunity to appreciate the wider practice of creators working within the comics field and those whose work fits into the allied areas of graphic narrative.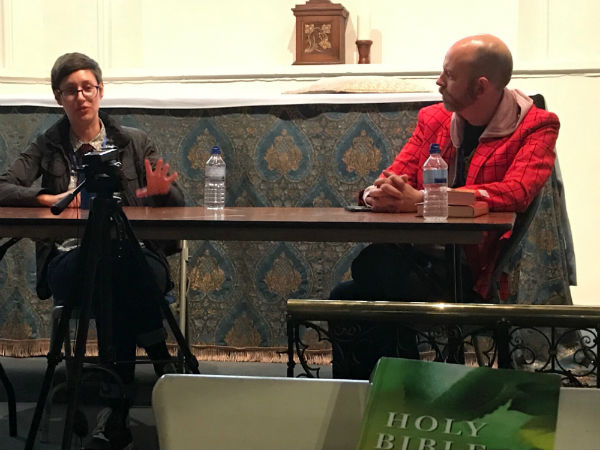 Comics Laureate Hannah Berry in conversation with Olly MacNamee at Leam Comic Con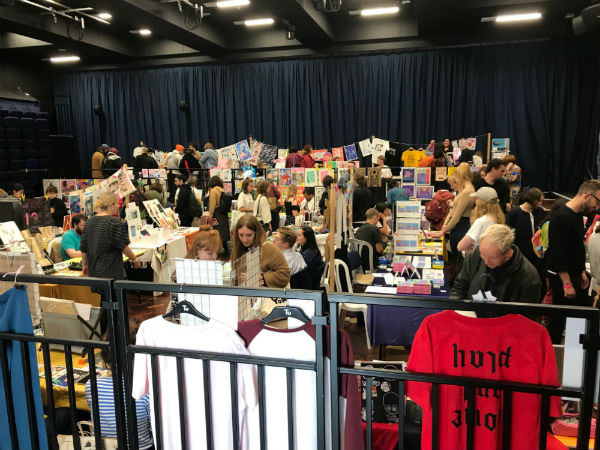 A packed Brighton Illustration Fair on Sunday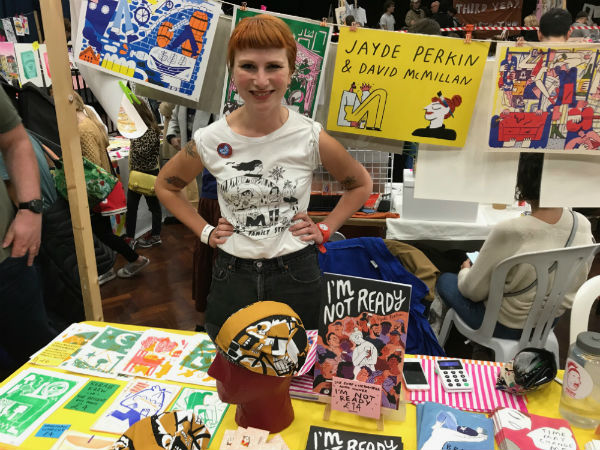 2018 Broken Frontier 'Six to Watch' creator Jayde Perkin
Broken Frontier will next be at the Lakes this coming weekend where we will be tabling in Page 45's room as their guests with a selection of Broken Frontier Six to Watch work. We will, no doubt, see some of you there!