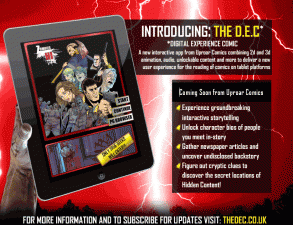 Press release
Derry/Londonderry based media studio Uproar Comics is set to release a new app which brings comic books to life. The app, called the DEC (Digital Experience Comic) will launch on the 31st of July.
This innovative project is another example of the creativity which is thriving in Northern Ireland today.
Uproar Comics was launched in 2011 by Derry locals and lifelong comic book fans Kevin Logue and Danny McLaughlin. Uproar Comics is probably best known for their flagship publication, the award winning 'Zombies HI'.
Now Uproar is exploring new possibilities and using the latest technologies to create truly interactive comic books. Managing Director Kevin Logue is excited about the future of the industry, 'with the DEC we're creating a new type of interactive experience. We can't wait for other comic book fans to see and experience it.'
Kevin is also positive about the future of comic books in Northern Ireland, 'comic books are hugely popular in Northern Ireland. Just look at the success of 2D Festival here in Derry and Q-Con in Belfast'.
Uproar has big plans for the future. On the 31st of August, Uproar Comics will release three teaser trailers for potential future titles and will invite their fans to vote for their favourite, which will then be made into an interactive comic book.
For more information about these projects, go to uproarcomics.co.uk or follow Uproar Comics on Twitter and Facebook.