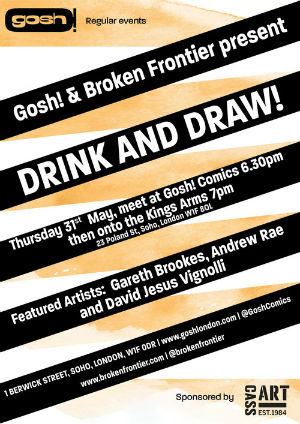 Our fifth Gosh! Comics and Broken Frontier Drink and Draw of 2018 is this week! And, as you have come to expect by now, we have a fabulous line-up of guest artists with us on Thursday May 31st. Creators David Jesus Vignolli, Gareth Brookes and Andrew Rae join us for our regular monthly meet-up, sponsored by Cass Art.
Please note that we're in our new venue again this time around and we've moved to Thursday nights. You can find us upstairs in The King's Arms on Poland Street and your co-hosts for the night are myself (Broken Frontier Editor-in-Chief Andy Oliver) and Gosh's very own Nora Goldberg.
The fun begins at 6.30pm at Gosh! on Berwick Street before we head off for our sketching and drinking antics at 7pm. Don't forget you can join the official Facebook event here.
A quick intro to this month's artists…
Originally from Brazil but now based in London, David Jesus Vignolli is the creator behind the magical original graphic novel A Girl in the Himalayas published this year by BOOM! Studios through their Archaia imprint.
Focusing on a young orphaned girl Vijaya, A Girl in the Himalayas tells the story of how she is rescued from near death by the immortals Vasu and Prasad and taken to live in Sanctuary, a hidden community of supernatural beings. I said of it this week at Broken Frontier: "With an accessible, clean line Vignolli's storytelling embodies both clarity and sophistication. It's a remarkably confident offering from a newer creator and one fully deserving of the critical acclaim it will receive."
Gareth Brookes has a long pedigree in the UK small press scene having been a member of the Alternative Press and a contributor to such pivotal publications as The Comix Reader and various Banal Pig offerings with Steve Tillotson. In 2012 his previously self-published The Black Project (below) won the Myriad First Graphic Novel Competition going on to be published by them in 2013. It also won the Broken Frontier Best Graphic Novel Award in 2013 and the French edition was nominated for the prestigious Sélection Officielle at Angoulême this year.
Fashioned in embroidery and linocut, the book details the misadventures of Richard, a youngster who started constructing his first girlfriends from household and found objects. His second Myriad graphic novel A Thousand Coloured Castles combined graphic medicine and suburban mystery in a hallucinatory crayoned work that was also Broken Frontier Award-nominated last year. He recently revisited both graphic novels in a dystopian future one-shot comic Afterwords.
Brookes' dark wit knows no boundaries or genre limitations and his self-published offerings include the disquieting observational humour of Can I Borrow Your Toilet? (above right), the "psychedelic, semi-pornographic" sci-fi of The Land of My Heart Chokes on Its Abundance, and the spoof illustrated poetry of The Smell of the Wild.  In 2014 Avery Hill Publishing brought his and Steve Tillotson's satirical Manly Boys Annual back into print alongside a new sister publication Comely Girls Annual.
And, finally, we have Andrew Rae who in comics circles is no doubt best known for his graphic novel Moonhead and the Music Machine published by Nobrow Press. A school-based coming-of-age tale centring on Joey Moonhead – a teenager who just happens to have a moon for a head – it follows his bizarre adventures as he looks to show up his tormentors and win the school talent contest.
Broken Frontier's Bart Croonenborghs said of the book in 2014 "By infusing the story with elements of the absurd, [Rae] externalises the inner core of the characters. The high-school comedy revolves around the 'growing-up' of the protagonists, the realisation that it is okay to be different if you are not part of the cool crowd and that life is all about growing above those deceptive outward appearances." Andrew is also the illustrator of This is Warhol, This is Dali, Where's Warhol? and contributed 'Deity School' to Nobrow's A Graphic Cosmogony anthology.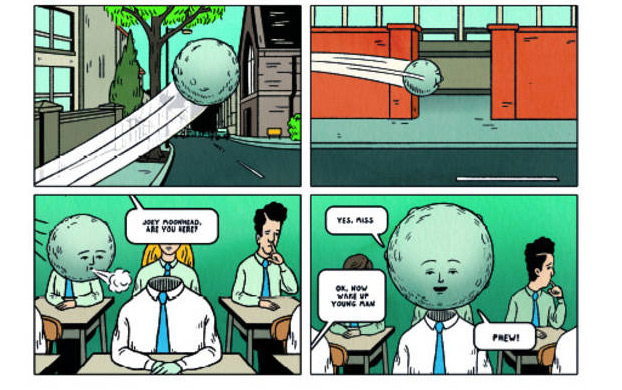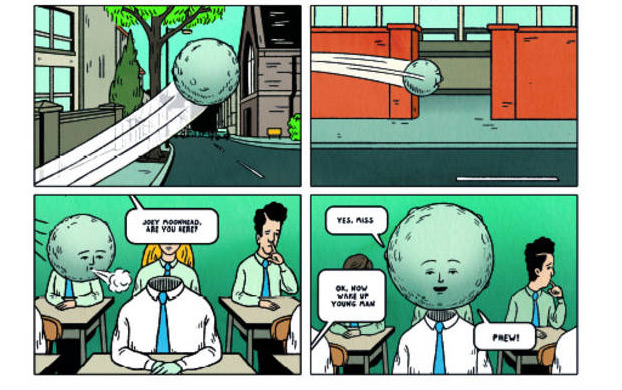 Join us on Wednesday May 31st, then, for another fun evening of drinking, drawing and comics camaraderie. We kick off at 6.30pm in Gosh with a chance to get hold of signed comics and books from all our featured creators before moving over to The King's Arms for 7. We look forward to seeing you then!
The Facebook event page for the night is here.