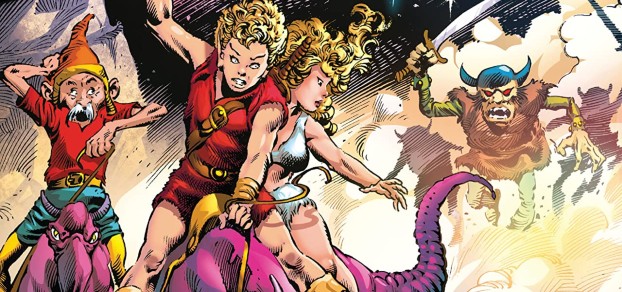 Retroflect has a long history at Broken Frontier, having been both a series of blogs and an ongoing column here in the past. Today we return to this irregular feature for looking at pre-millennium comics, from celebrated classics to obscure and largely forgotten titles. Our subject this time is the adventures of Tyndall and Velanna the elves, and their dwarf companion Mud-Butt, as they explored the lands of the other-dimensional Weirdworld in Marvel's Bronze Age fantasy feature. As ever decades-old spoilers are contained below…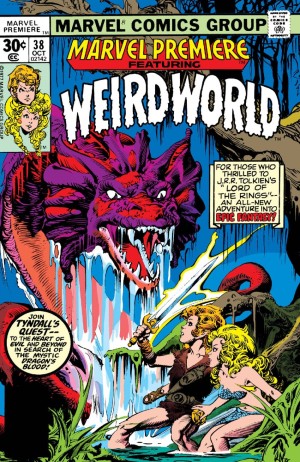 Tapping into a Tolkien-esque mindset (and presumably an accompanying market for such fare), Weirdworld was a sporadically published Marvel Comics feature that never had its own series per se but would pop up in a number of titles with rotating features in the 1970s and '80s.
Its origins lay in a short story originally written by Doug Moench as a back-up for one of Marvel's multiple black and white horror magazines of the era. But by Moench's own admission the fantasy leanings of 'An Ugly Mirror on Weirdworld' were perhaps an odd fit for its original intended home and it languished as inventory for a couple of years. When it did see print its placing was perhaps even more incongruous, stuck awkwardly behind an early solo outing for the Punisher in the pages of Marvel Super Action #1 (cover date January 1976).
The story of Weirdworld is one of "what might have beens". Fan and sales reaction to its intermittent publication in the '70s were apparently strong and yet Marvel never really seemed willing to exploit its potential, even though the respect for the concept was strong enough for it to be included years after its debut as a serial in Marvel's acclaimed adult anthology Epic Illustrated. Before then, though, it would have a publishing history that can best be described as "convoluted". But let's return to that initial black and white short where the long-running adventures of a lost elf began…
'An Ugly Mirror on Weirdworld' introduces us to the elf Tyndall of Klarn, a character whose apparent amnesia immediately makes him readily identifiable as a point-of-reference character; one whom the reader discovers this strange environment alongside. On one level it's an obvious allegorical piece on intolerance and bigotry, with Tyndall finding himself shunned in a small town of dwarves that is terrorised after dark by the giant bat-monsters known as the Night-Fangers. They're a menace that the townsfolk persuade Tyndall only he can end – by destroying the mysterious Heart of Evil that exists within the nearby Realm of Shadow.
Art by Mike Ploog from Marvel Super Action #1 and by Ploog, Alex Nino and Glynis Wein from Marvel Premiere
It's a standard fantasy quest in many ways, with Tyndall's journey allowing us to encounter some of the monstrous creatures and deadly dangers that inhabit this world. When he reaches his destination and discovers the Heart he has been seeking is actually an egg that hatches and brings fellow elf Velanna to adult life we are left, like him, assuming the dwarves' hatred of the unlike was the duplicitous reason behind Tyndall's mission. It's a quirky and even ambiguous tale that in isolation would have gone largely forgotten. But its unresolved mysteries are actually the basis for years of subsequent Weirdworld stories and Mike Ploog's intricately rendered and ever imaginative artwork ensuring throughout that the strip lived up to its rather one the nose name.
It would be nearly two years before Tyndall and Velanna would return again in the pages of Marvel Premiere #38, a series that ran rotating features from across the Marvel Universe (and occasionally from outside of its boundaries). Like its predecessor this instalment was heavy on the accompanying narration, a complementary storytelling device that has sadly all but disappeared in the age of decompressed comics. Unusually, Marvel Premiere #38 resumes immediately from the final panel of the first story, which must have been jarring for new readers at the time, but we're soon swept away in then action as Tyndall and Velanna become caught up in the schemes of the sorcerer Grithstane.
More Mike Ploog, Alex Nino and Glynis Wein pages from Marvel Premiere
Here the history and nature of Weirdworld begins to be elaborated on as Tyndall is forced to travel to the floating, ring-shaped island of Klarn (his apparent homeland). Grithstane requires the mystical dragon blood that can only be obtained from the dragons that reside there before he will release the captured Velanna. Here we learn that the shadow Klarn casts across the world below is responsible for both the region of evil it encompasses and distrust towards the elves who originated there. Grithstane meets a fitting end and Velanna is freed as a result, but it's Mike Ploog and Alex Nino's visuals that are the real star turn here; the brutality of Weirdworld and its often cartoony, caricatured cast making for an interesting contrast.
Marvel Fanfare covers by Pat Broderick
The next chapters in the saga were published significantly out of sequence. When Weirdworld returned in Marvel Super Special #11 (1979) in the Warriors of the Shadow Realm storyline they had inexplicably picked up a new travelling companion, the grumpy dwarf Mud-Butt who is largely played for comic relief. Mud-Butt's introduction to the mythos was in a Ploog and P. Craig Russell-illustrated storyline that would remain uncompleted for many years, finally seeing print in Marvel Fanfare #24-26 in 1985-86. The second and third chapters see the story completed by Pat Broderick and Brett Breeding, with the consequence that Mud-Butt inexplicably and drastically changes appearance from stout, black-bearded dwarf in the first part to a wiry, large-nosed, grey-moustached incarnation by story's end. Perhaps Weirdworld has other reality-bending powers of which we are unaware…
Marvel Fanfare interiors by Broderick, Akin & Garvey, and Scotese
Broderick fills in admirably for Ploog even if he doesn't have the same distinctive vision for this world. Befriending Mud-Butt at a local tavern, Tyndall and Velanna become involved in his plight as a fugitive from another Weirdworld wizard Lord Raven and his rather redundantly named Were-Men. Mud-Butt had previously stolen one half of the sword Glorywand, Weirdworld's most powerful artefact, from Raven. The trio's confrontation with Raven leads to a new quest to reunite the two parts of the sword as a weapon against the encroaching evil that threatens their world.
Warriors of the Shadow Realm covers by John Buscema, Rudy Nebres and Steve Oliff
We have to go back in publishing history to 1979 and the three issues of Marvel Super Special featuring the Warriors of the Shadow Realm to witness how the Weirdworld narrative tapestry of loose plot threads would eventually be drawn together. John Buscema and Rudy Nebres take over on the art and it's a truly stunning affair, with frequent breakouts into double-page spreads emphasising both the majesty and sense of spectacle of Tyndall and Velanna's environment. But it's Peter Ledger and Steve Oliff's painted colours, bringing an otherworldly vibrancy to the action, that no doubt played a huge part in the cult status of the series at this juncture.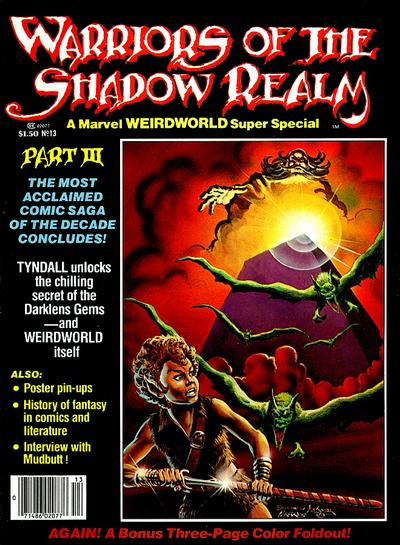 It's in this arc that Weirdworld's origins are finally revealed as resulting from a battle between the evil god Darklens and his fellow dark deities millennia before. Defeated, Darklens crashed to the world below which had been formed by the "cosmic debris" of their conflict. Seeking to regain his former position he elevated Klarn into the sky above and from the shadow region created below it he brought to life malevolent forces to do his bidding. These included the Nightfangers and the Swamp Serpents who had been such a memorable part of the series to date (particularly on that Marvel Premiere cover). Before he could see his schemes through, though, Darklens was killed by a comet sent by the opposing Gods of Light to end his threat.
In these three issues, Tyndall, Velanna and Mud-Butt become embroiled in a conspiracy to resurrect Darklens by his Dark Rider followers, face betrayal by allies, encounter a tribe of savage elves who have long been fighting to stop Darklens' return ,and meet the White Wolf, one of the Gods of Light who is working in Weirdworld's best interest. It's a cracking conclusion to everything that Moench has set up to date that explains the peculiar internal logic of Weirdworld, why the elves are so despised by its other denizens, and the true nature of Klarn. In structure it feels like a sweeping fantasy novel and we can only speculate as to how the fanbase may have organically grown had the misstep of the missing chapter not somewhat derailed the flow of the series.
One interesting sidenote: 'Encounter at Halfway Earth-Weird', a 4-page text story in Marvel Super Special #13, chronicles an unlikely meeting between Doug Moench and his creations in a meta commentary on creativity that records his discussions with Tyndall, Velanna and Mud-Butt.
In 1983 the original version of Weirdworld had one final hurrah in the pages of anthology magazine Epic Illustrated, in issues #9 and #11 through to #13. Again beautifully illustrated by John Buscema and Marie Severin, with painted art by Steve Oliff, 'The Dragonmaster of Klarn' saw the mysterious deities of Weirdworld toying with its inhabitants once again in a game of celestial chess waged between the gods of light and dark.
Yet another of Weirdworld's malevolent wizards Black Majister and his lackey Murkandor, realising the elves and Mud-Butt are a threat to Majister's future plans, set about mystically corrupting Velanna. Majister also awakens the slumbering dragons of Klarn to wreak havoc on the land but Tyndall is revealed to have an instinctual rapport with them. Believing impending disaster is looming, the trio make a peril-fraught journey to Skyhook Mountain to seek out the sorceress Lianissa as an ally against this new threat.
If the Marvel Super Special arc revealed the history of Weirdworld then 'The Dragonmaster of Klarn' outlines its theology. Lianissa explains that the gods of light and dark must never be allowed gain an advantage over each other. If they are not kept in balance, and if one faction gains more souls in the afterlife than another, then the ensuing war of the gods as one side attempted to use that advantage to gain dominion over the other would be catastrophic for the universe.
Epic Illustrated Weirdworld art by John Buscema, Marie Severin and Steve Oliff
Moench's Weirdworld finale is a battle on both an earthly and a metaphysical level as Majister's plot to raise an army of the dead to challenge the very gods themselves concludes the Glorywand subplot (one which ironically will not even be set up from a reader perspective in Marvel Fanfare for another two or three years!). An epic climactic battle will involve goblin hordes, a battalion of dragons, Lianissa and her heroic lover Wulfbuck, and the gods themselves before Black Majister (who by this point is also going by "Nightgaunt") is finally defeated and the almost nihilistic cosmic stalemate between the forces of light and darkness is once more in balance.
Cover art by Mike Del Mundo
The original Weirdworld has made only fleeting appearances in the years since that initial saga came to a close. In the late 2000s an issue of the retroactive continuity implant series X-Men: First Class saw a minor Swamp Serpent encroachment from Weirdworld being dealt with by the original X-Men. In 2015 Weirdworld was reimagined as part of the Secret Wars event. This version mashed together many of the sword and sorcery, pulp hero-style characters and concepts from Marvel's past like Arkon, Morgan Le Fey, Crystar the Crystal Warrior, Skull the Slayer and Man-Thing.
As an alternate reality it was a fun nod to the quirkier corners of the Marvel Universe's past but as a new status quo it effectively drained away everything that made Moench's vision so unique and intricately realised in the first place. A miniseries and a quickly cancelled ongoing run act as a prelude to multiple guest shots across the Marvel line in books like Squadron Supreme, Champions, Black Knight and Spider-Man/Deadpool, perhaps underlining that the concept has more potential than the various revival series have so far realised.
Those wanting to enjoy Weirdworld at its eerie and idiosyncratic best, however, should largely ignore the contemporary material and get hold of the excellent 2016 collection of the '70s and '80s stories (a word of warning that a more recent 2019 trade reprints only part of the original stories). Representative of an era when Marvel was constantly trying to expand its genre horizons, Weirdworld is a throwback to a time when the House of Ideas at least attempted to live up to that epithet.
The classic Weirdworld saga was reprinted in Weirdworld: Warriors of the Shadow Realm. Selected stories were more recently reprinted in Weirdworld: Dragon Master of Klarn.