AVAILABLE AT THOUGHT BUBBLE!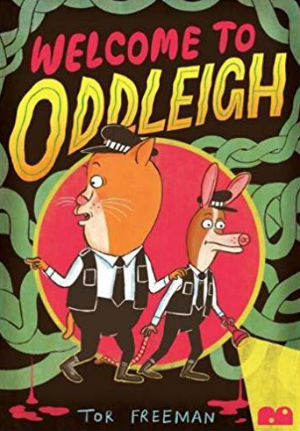 Admittedly this review is going to be something of a cheat, as will quickly become apparent below. But first a word or two about Gary Northfield's Bog Eyed Books, a publisher currently putting out work by some of the very best names in UK all-ages comics. Re-presenting work originally seen in the pages of such esteemed stalwarts of children's comics publishing as The Beano and The Phoenix, Northfield has also secured the talents of self-publishers like today's review subject for the range.
Of course, the man behind such kids faves as Gary's Garden and The Terrible Tales of the Teenytinysaurs was always going to have a strong curatorial eye and, alongside his own acclaimed Derek the Sheep volumes, he's also published Jim Medway's Sgt. Chip Charlton and Mister Woofles of the Royal Canadian Mounted Police and Alexander Matthews and Wilbur Dawbarn's Useleus: A Greek Oddity. And one of the newest books in the Bog Eyed Books line-up is a series of strips I've had a lot of positive things to say about here at BF in the past – Tor Freeman's Welcome to Oddleigh.
So here's where I plagiarise a very trusted source – myself. Some of the commentary below re-presents parts of our previous Welcome to Oddleigh review coverage last year which makes up 40% of the Bog Eyed Books edition…
Springing from the witty imagination of artist Tor Freeman, Welcome to Oddleigh depicts the (largely) crimefighting (mis)adventures of police officers Chief Inspector Jessie and Sergeant Sid and follows their exploits as they tackle some of the titular town's truly oddball reprobates. Freeman's background is in children's illustration (she was awarded a 2012 Sendak fellowship) and her jaunty, anthropomorphic collection of colourful characters reflect that influence.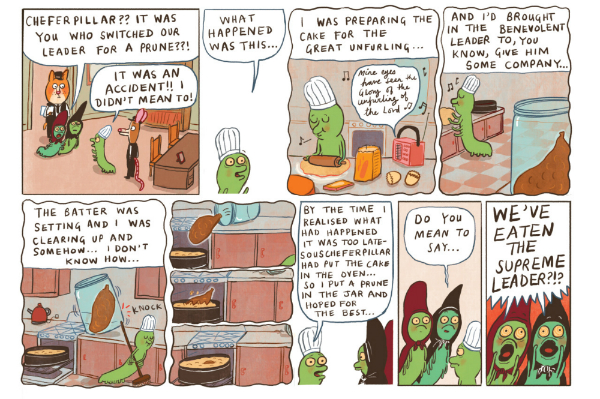 Bog Eyed Books have compiled five Oddleigh stories in this volune beginning with 'The Haunting of Lorringham' wherein Jessie and Sid are called upon to rid Lady Angora's mansion of the curse put on it by her late Great-Aunt Gertwin. Supernatural shenanigans ensue in a frantically paced farce. In 'Cult' (above) there's a sidestep into semi-social commentary as caterpillar cult the Cocoonies prepare for their leader's "Great Unfurling". Kids will love the "Yuck Factor" in this one with one particularly funny but stomach-churning sequence.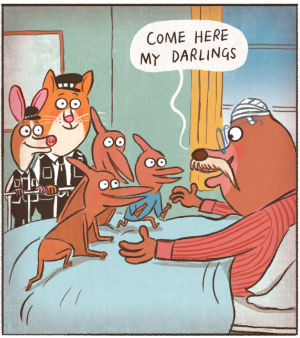 'Ptess of the Oddleigh Hills' gives us a paleontological mystery as Jessie and Sid's interactions with the local fossil hunting professor lead to a rather touching meeting with the titular Ptess, a creature very much out of time while in 'The Dentist' (below) Jessie takes a step away from the daily grind for some emergency oral care for a toothache in a tale that plays on a universal fear with some gruesome fantasy cutaways and a cracking punchline.
Finally, in 'The Bodyguards' our heroes investigate strange goings-on in the entertainment world as they become involved with singer Flynn Carrington and the practical joke campaign against him.
Welcome to Oddleigh is good-natured, charming escapism which no doubt will have an instant appeal to a younger reader. But such is the strength of the impeccable comedic timing, and the wonderful ludicrousness of the situations this daring duo find themselves in, that each story will also provide distracting comfort reading for an adult audience as well.
Freeman's panel-to-panel storytelling impresses throughout and her cartooning is expressive and animated, with charming visual characterisation ensuring our engagement with her very likeable cast. The key factor that makes this such a delightful read, though, is that it's all just so splendidly silly. In Oddleigh the pedestrian and routine world of police procedurals sits side-by-side with dinosaurs, ghosts and the strangest villains.
It seems so trite to describe a book – particularly a children's one – as "feelgood" but there's no denying the sheer sense of joy that permeates these pages. Welcome to Oddleigh simply bursts with imagination and good-natured humour. It's a reminder, as well, of how our remarkable small press comics scene in the UK has become a very real stepping stone to publisher recognition over the last several years. Tor Freeman is an obvious rising star in the comics world after her 2017 Observer/Cape/Comica Prize win and this is a sublimely perfect entry point for younger readers wanting to discover the world of comics for the first time.
For more on Bog Eyed Books visit their site here and follow them on Twitter here. For more on the work of Tor Freeman visit her site here and follow her on Twitter here. You can find Tor at Table 32A and Bog Eyed Books at Table 33 in the ComiXology Marquee at Thought Bubble.