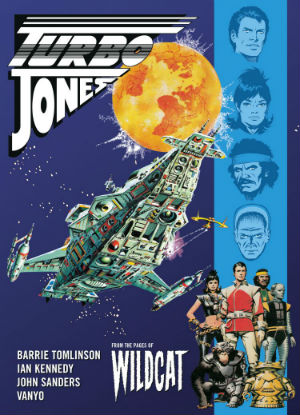 Of all the many IPC titles Rebellion recently acquired the rights to, Wildcat would seem on the face of it to be one of the least likely to qualify for a reprint collection; it lasted just twelve issues (plus a couple of specials) between October 1988 and March 1989, before being folded into the revived Eagle. And of the four lead strips in the title, Turbo Jones (by Barrie Tomlinson, Ian Kennedy, John Sanders and Vanyo) is probably not the most obvious candidate to be the star of the first such collection, lacking as he does the anti-hero credentials of the gun-slinging Loner or the sex appeal of the acerbic Kitten Magee. So, given Rebellion's somewhat unusual approach to these reprints, which seems to consist of random samplings from all eras of IPC's publication history rather than immediately going for the big-name strips, it should probably come as no surprise that Turbo Jones is indeed the latest vintage adventure strip to see print! But, does it work? Let's see…
First off, it really must be noted that this is a beautifully presented package; over 140 pages, the complete Turbo Jones saga from Wildcat plus his adventures from Eagle and some truly amazing colour pages, pin-ups and cover images by the likes of Vanyo and Ian Kennedy make the book a visual treat, worth reading just to feast your eyes on them. And the storyline itself rattles along at quite a pace, so you certainly feel you're getting your money's worth, at least in comparison to the often ridiculously stretched-out storylines in today's comics.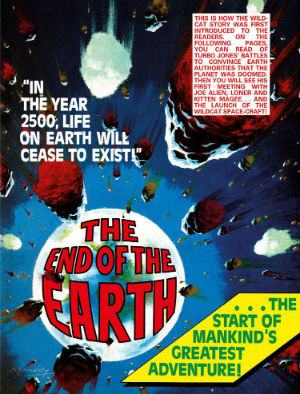 However, while the initial set-up is well done (Turbo Jones initially appears as a figure rather like Superman's father Jor-El, warning a sceptical council of Earth's impending destruction to no avail before taking his own steps to ensure humanity's survival by creating a kind of space ark to carry a few hundred volunteers to a new life on a new world. Which come to think of it is rather more than Jor-El managed to do…) it does start to become a little repetitive once they're actually on the unnamed "new planet".
Turbo is repeatedly drawn into the local conflicts of the various races already inhabiting the planet's various isolated continents, all of whom seem to think he's some kind of military genius! The book also suffers a little by reprinting only the one series, whereas Wildcat divided its page count equally between the solo adventures of the four members of Turbo's command crew – Turbo himself, Loner, Kitten Magee and Joe Alien.
The result is that it feels a little disjointed, the opening chapters introducing us to a main cast of four, three of whom then effectively vanish until the end of the book, with the dangling plot thread of Kitten's mysterious "Lifedust" in particular being maddeningly teased and then never mentioned again (hopefully, a Kitten Magee collection will not be long in coming so that those of us who don't remember her story can have their questions answered). Still, perhaps this approach was the lesser of two evils, the only other options realistically being a hugely expensive Wildcat Omnibus which would have sold about four copies or a series of books which would have taken years to complete Turbo's saga.
As for Captain Jones himself, he's very much a classic British comics hero, seemingly fearless (unless, rather amusingly, threatened with a trip to the dentist) and totally uncompromising; at one point telling a bunch of aliens he has no interest in helping sort out their problems despite having basically walked into their world uninvited, at another point threatening some rather unpleasant members of his crew with dire retribution after catching them mindlessly massacring another alien race for sport.
He's also a natural with any kind of weapon, though he inexplicably seems to favour items of clothing tricked out with laser beams (quite what the advantage is in donning a visor that fires lasers rather than, say, just firing a gun is never explained; the most obvious result, surely, should be that he wouldn't be able to see what he was shooting at! And the laser gloves don't make much sense, either).
He is, however, not the most pleasant of characters, his dismissive and habitually insulting attitude to his faithful sidekick Robo (who is repeatedly referred to as a robot, but drawn as a technologically augmented chimpanzee for some reason) being the most obvious example of this. Turbo may have saved humankind, but he's not the most shining example of it, and neither are his crew. But then, this was a series from the Eighties, the ultimate age of the comics anti-hero, and as a representative example of that particular breed, Turbo Jones is about the best you could hope to get! All in all, an enjoyable romp through one of the less remembered corners of the IPC universe…
Barrie Tomlinson (W) Ian Kennedy, John Sanders and Vanyo (A) • Rebellion/Treasury of British Comics, £14.99
Review by Tony Ingram