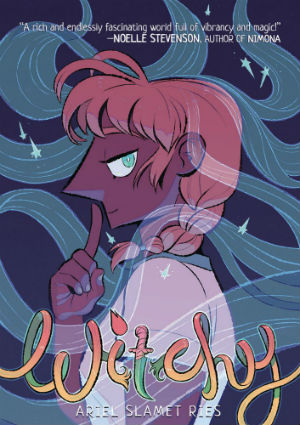 Originally a webcomic, Witchy Vol. 1 introduces us to a world of fantasy in which hair length indicates an individual's proficiency for magic. Ariel Slamet Ries creates a world with a rich and extensive historical context in mind, adding numerous layers to the story. It's a tale that displays how the past can have an impact on ideology, the roles friends and family play on our lives, and how rebelling against something so much bigger than you can be incredibly difficult.
The opening sequence begins with some background on central character Nyneve's family – specifically the death of her father, which has a huge impact on her personality as well as her later decisions as the story unfolds. The bulk of the tale takes place several years after this, when Nyneve is at the school-age in which students' skill are assessed and they could be offered a role in the guard, protecting the kingdom. This is the premise for the majority of the volume – unlike a lot of her classmates Nyneve doesn't want to become a guard, posing a problem as she is forced to take part in the competition. Throughout, the reader learns a number of the characters' secrets, not just Nyneve's; these tend to explain their actions and motivations. The focus on character motivation gives a nice insight into the world.
The characters certainly remain at the heart of the story, despite the complex setting. Exhibiting a wide range of personality traits and ideological viewpoints – giving their relationships a wide range of dynamics and areas to explore. A lot the discussion surrounding character relationships centres on trust, a theme which becomes especially prevalent in the later portion of the story.
The art style and colour choices throughout the book fit alongside its fantasy setting. The colours in particular elevate the mood of particular moments for example; a poignant red-orange palette closes the opening scene, emphasising the weight of fear and helplessness which Nyneve and her mother experience. Oftentimes the composition of pages is playful especially regarding characters use of magic.
One aspect of the story which remained particularly poignant was the idea of being tired from fighting against a system of government. This being an emotion which many people feel but isn't often expressed in fiction, connecting the story to some form of reality in terms of emotion. Relating to a character's feelings makes a story feel so much richer – it allows the reader to understand characters despite the fact that they exist within a world so far removed from our own.
The book is a nice addition to any fan of fantasy's shelf. However, despite its fantastical setting the stories character-driven nature makes it an enjoyable read for practically anyone.
Ariel Slamet Ries (W/A) • Lion Forge, $14.99
Review by Holly Raidl