We are, of course, always eager to give a shout-out to socially relevant work here at Broken Frontier. Making its UK debut at Thought Bubble Won't Back Down! is the Trina Robbins-edited anthology in aid of Planned Parenthood, published by Last Gasp. Check out an extensive preview of this incredibly important book below, with more details in the press release.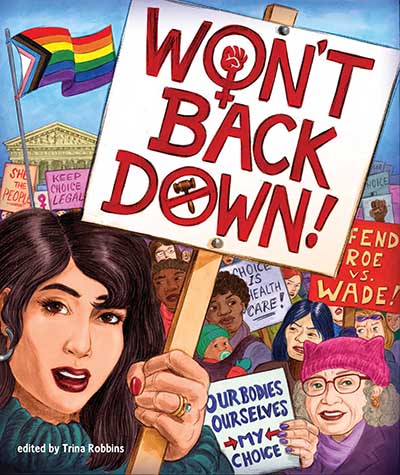 n 1973, the Supreme Court gave women the right to make decisions over the care of their own bodies. A mere fifty years later, a rogue Supreme Court has taken that right away. Today, over 32 states have banned or severely restricted abortion.
We're fighting back as best we can, with pens and brushes, paper and ink, and have produced a pro-choice anthology: Won't Back Down, featuring the work of over 30 artists, writers, inkers, and colorists, and we're giving the profits to Planned Parenthood.
With Won't Back Down, Trina Robbins has created an important anthology that celebrates women who fight for justice – for anyone interested in women's rights, free speech, or simply great comics.
Won't Back Down
Edited by Trina Robbins
ISBN: 9780867199253
$25.00 | Paper
8 1/2 x 11
104 Pages
Publication Date: 2024-01-15
Published by Last Gasp of San Francisco
In addition to Robbins, contributors to the anthology include Lee Marrs, Alison Sampson, Steve Leialoha, Ken Steacy, Barbara Randall Kesel, Yanick Paquette, Signe Wilkinson, Christopher Golden, Marguerite Sauvage, Gene Ha, Carrie Tupper, Todd Klein, Twyla Dawn Weixl, Sabrina Jones, Stephanie Cooke, Leeann Hamilton, Jennifer Camper, Sydney Heifler, Kate Charlesworth, Dave McCaig, Deanna Soukiasian, Grace Gordon, Joelle Barreto, Isabelle Struble, Grace Desmarais, Tony Parker, Bridgit Connell, Michelle Madsen, Janice Chiang, Jessica Balboni, Perl Barry, Jennifer Camper, Eve Furchgott, Sharon Rudahl, Dee Cunniffe, Sayra Begum, Sofie Dodgson, Robert Triptow, Ryan Oakley, Jeremy Whitley, Lisa Sharkey, Wesley Wong, Dominike "Domo" Stanton, Tom Orzechowski, Emily Bowen Cohen, Amy Chase, Dani Coleman, and Rori!