There's a reason established musicians sometimes put out collections of early demos, late into their careers. There's a hint of vanity, of course, underpinning the assumption that someone wants to hear how they came to write a memorable song. It's also an expression of vulnerability though, the pulling aside of a curtain to offer audiences a peek at the mysterious act of creation.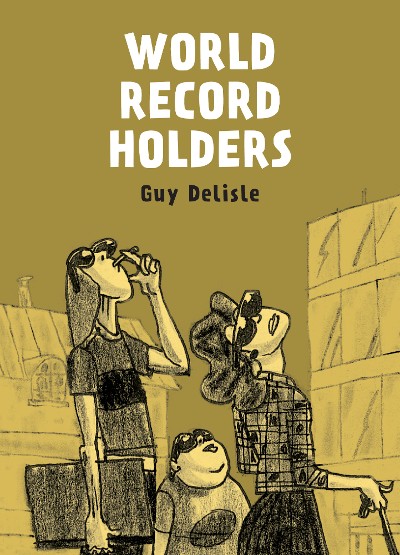 For artists and cartoonists, the showcasing of initial sketches has become a bit of a tradition, often reserved for the last pages of a book. Guy Delisle offers us a lot more with World Record Holders, a collection of his comic strips from 1995 to 2014. For readers familiar with his travelogues, these panels are far removed from those amusing anecdotes set in unusual locales. What stays the same is his understated humour and ability to take on the role of impassive observer, enabling us to draw our own conclusions at leisure.
There is a looseness here that is almost immediately apparent, a sense of freedom that presumably comes from not being compelled to draw within the prescribed boundaries of a travelogue. It explains the somewhat experimental approach, hinting at a past career in animation, and creating the impression of being allowed to look at practice sessions before a main event. It's the equivalent of being invited to a soundcheck before the concert has begun.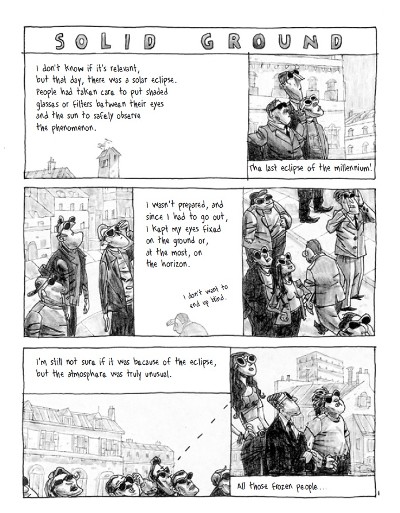 If this sounds as if World Record Holders may disappoint Delisle's fans, the opposite is true. There is much to enjoy here because it reveals a lot more about the artist than his more popular, often autographical work does. His last book Factory Summers, for instance, was also a look back at life before he became a cartoonist, but was still deeply personal in its focus on his relationship with his father. While this collection also charts that journey from amateur to professional, it takes a few turns down blind alleyways in the process. What we get are gags, puns, and a few flights of fancy, via a loosely structured collection of stories.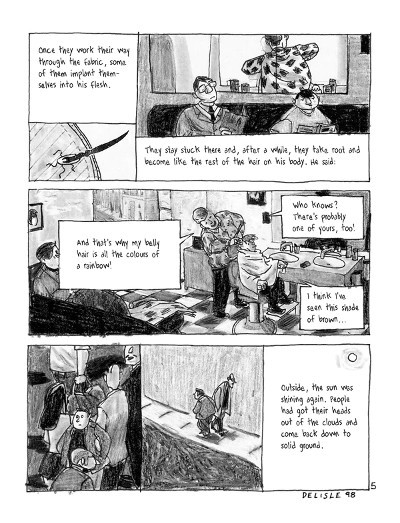 There is much tongue-in-cheek wit here — thanks in no small part to translators Helge Dascher and Rob Aspinall — revealing a playfulness to Delisle that is often lost in his weightier observational humour about places like North Korea and Jerusalem. Take the story 'Youri and Youri', for example, where two astronauts representing our race and an alien species may or may not have switched places due to a cosmic accident after spending years in suspended animation. 'Sweet Revenge' documents a century-old fight between a mulberry tree and maple tree growing beside it. There's an axe involved, and a slow battle that is supposed to end with the mulberry tree destroying its enemy within the next 38 years. There's nothing like these tales in Delisle's oeuvre, and it points to a path he might have walked down.
Another thing that stands out is a certain shapelessness to his art, in panels that often rely upon slapstick humour, with grimaces and external props used to convey emotions in a way that is absent from his more mature work. The nicest thing about World Record Holders is how it gives us an inkling of the breadth of Delisle's imagination. Unfettered by time, or the need to chronicle the history of a place, he soars, and it makes for a wonderful sight.
Guy Delisle (W/A) • Drawn & Quarterly, $21.95
Review by Lindsay Pereira