Petulant man-baby at his best and harbinger of nuclear apocalypse at his worst, sentient wotsit Donald Trump is certainly a ripe subject for parody.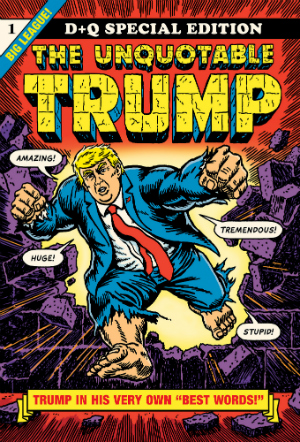 The absurdity of his pre and post election speeches form the source material for The Unquotable Trump, a limited edition publication by satirical artist R. Sikoryak. Real quotes are blended into faultless reproductions of classic comic book covers, perfectly mirroring the original source material while framing Trump's hubristic comments as the ramblings of a solipsistic supervillain.
Starting life as a 16-page self-published B+W comic, The Unquotable Trump gained traction on Tumblr, with appreciation of Sikoryak's shrewdly composed covers growing rapidly through social media word of mouth. His work then caught the eye of Canadian indie powerhouse Drawn and Quarterly, who released it as a 48-page, full-colour, super size limited edition comic this October.
Sikoryak is known for his surreal mash-ups of unusual subject matter and comic art, famously visualising the iTunes Terms and Conditions (the same ones we've all scrolled through and thoughtlessly agreed to) as a novelty comic book.
He explained how the idea for his most recent release came about in an interview with Robert A. Saunders at the E-International Relations site here: "The idea came to me in early November 2016, just a few days before the election. I was so exhausted and distressed by Trump's outrageous statements as a candidate that I wanted to say something.
"I thought it would be a perfect satirical response to take his actual quotes and put them into parodies of real comic book covers, which are so bold and graphic. But on November 2, I really didn't want to think about him anymore! And then, a few days later, he won the election, and I felt I had to do it." Sikoryak's clever interpretations come from across the graphic storytelling spectrum, with Schulz's Peanuts, Gibbons' Watchmen, Kirkman's The Walking Dead, and Macfarlane's Spawn among the roster.
Superheroes like Captain America were conceived as a response to Nazism, so it seems fitting that once again the medium is used to lampoon an unapologetic neo nazi sympathiser. One of the most galling quotes is taken from a 2016 Michigan speech and features in a Black Panther cover (adapted to read 'Black Voter'). An aggressive Trump barks "You're living in poverty, your schools are no good, you have no jobs, 58 percent of your are unemployed. What the hell do you have to lose?"
In case there were any questions about the validity of the quotes, the work includes a full resource list with a credit to the illustrators who inspired the cover and the exact speech the quote is taken from.
Sikoryak's skill at weaving fantasy and reality is clear in The Unquotable Trump; framing Trump's misogynist, xenophobic, racist, and often incoherent ramblings in the innocence of comics like Jughead is a jarring and profoundly sad experience. It would be easier to imagine these words as a work of fiction, rather than verbatim quotes from a man voted into the office of a superpower.
A memento that will serve as a sad (sad!) reminder of a period of American regression, The Unquotable Trump is a succinct and devastating document of man who may come to define a truly perplexing, disappointing chapter in recent history.
R. Sikoryak (W/A) • Drawn & Quarterly, $19.95