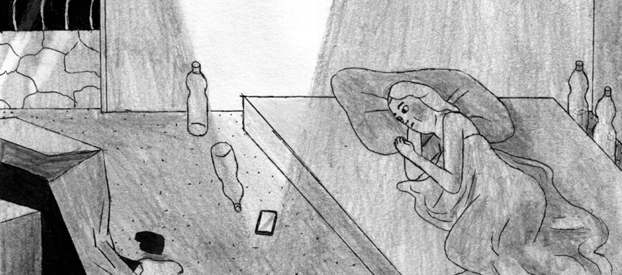 ELCAF FORTNIGHT!
I picked up a mini-comic extract of Shit is Real at ELCAF a couple of years ago, so it's fitting that I'm now looking at the complete work as its creator, Aisha Franz, returns to the festival as a featured guest.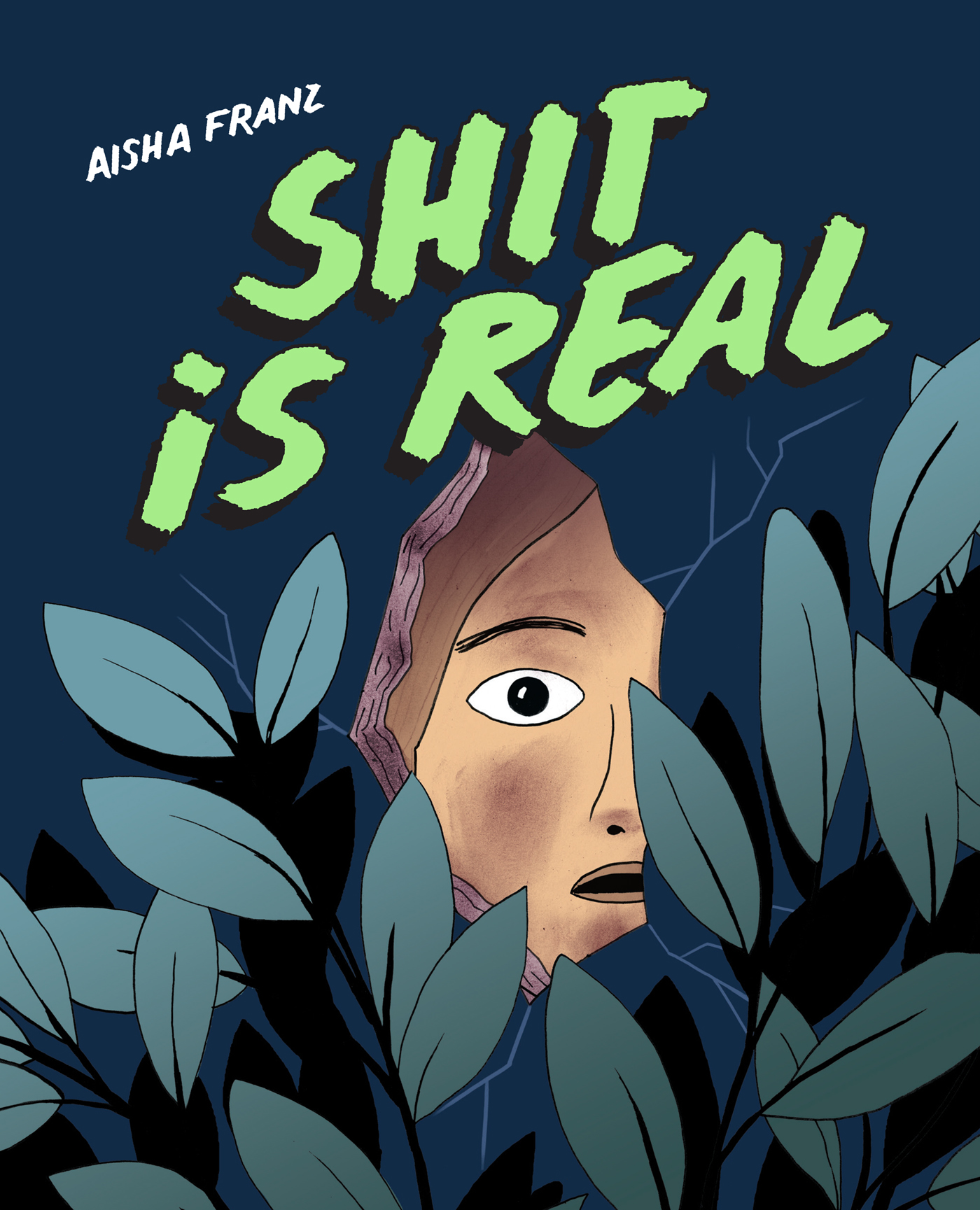 And along the way, the book has become a confident and compelling graphic novel about the pressures of urban life and the (not always helpful) ways the mind deals with them.
More specifically we look at Selma, a young woman living a complicated life in hip Berlin, who is gripped by graphic flights of fantasy at moments of stress. The worlds that she straddles – the real and the imaginary – are introduced vividly in the book's prologue sequence.
Apparently lost in a hostile wilderness (which recurs throughout the book as a counterpart to the teeming city of her 'real' life), she finds her way back to the apartment of her boyfriend, the weirdly anthropomorphic Max, only to learn with brutal suddenness that he has broken off the relationship. Leaving with just a few possessions (including the 'Shit is Real' painting that gives the book its title), she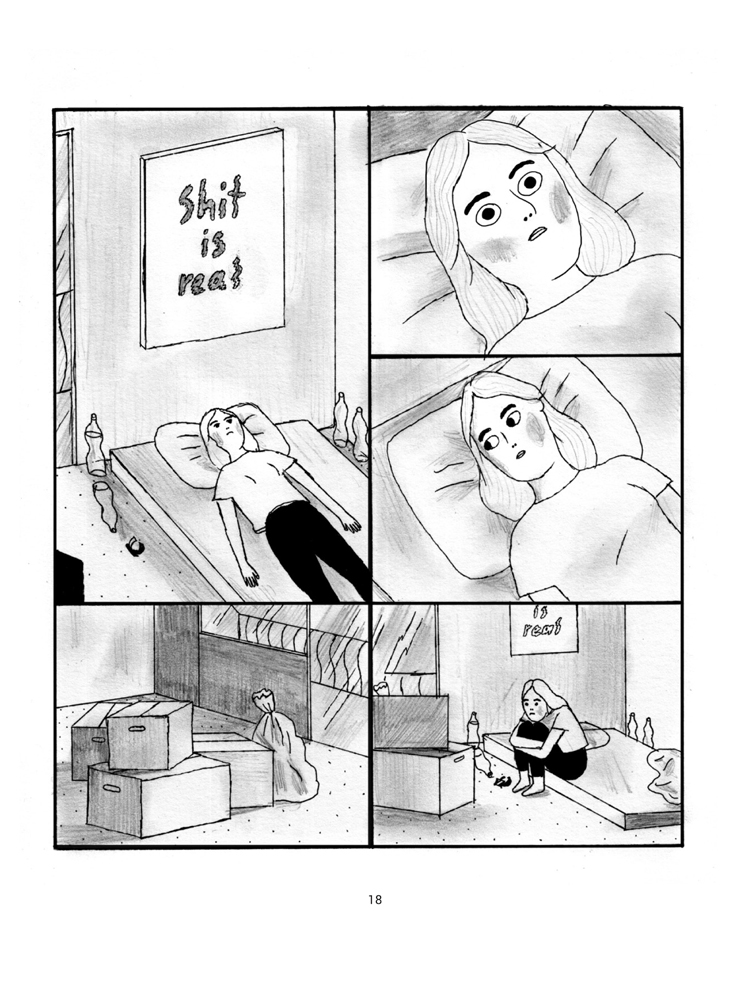 heads off into her uncertain future.
The title phrase vibrates through the rest of the book, and there is a real heft to the depiction of the mental cost of daily metropolitan life. Franz also delivers a clear-eyed look at how much of what we do every day is about fantasy and delusion – in terms of both the hallucinations that threaten to overwhelm Selma and the way we try to convince ourselves, our friends and our "friends" that we're "living our best life". Shit is real, apart from when it isn't.
Franz also depicts with subtlety the competitive element of young urban female friendship; as her peers are gliding ahead with their careers and setting up home with hip boyfriends in trendy apartment blocks, Selma is struggling to get her laundry done.
However, things change after a DIY calamity gives her a (suggestively shaped) peep into the apartment of her mysterious and glamorous neighbour. When she finds the woman's entry card in the street, Selma takes advantage of her absence to hijack her lifestyle and identity. However, as we approach the climax of the book, the tension between Selma's internal and external lives intensifies and gradually overwhelms her.
Technological alienation also looms large for Selma. Even in the opening sequence, her failure to get a phone signal sends her panic rocketing, and her first clue that there's a problem with soon-to-be-ex boyfriend Max is when her high-tech entry card doesn't let her in to their shared apartment. Later, her attempt to do her washing is foiled by the need for an online membership number, and even choosing something to eat at a local restaurant has to be done through a downloaded menu.
Franz's art style might look a little blunt at first glance, but with its focus on the subjective experience, this isn't a book that stands or falls on photorealistic depiction. Franz uses the form confidently, and the idiosyncracies of her style capture perfectly the gradual unravelling of Selma's state of mind. One powerful sequence (above), in which Selma is overwhelmed by the swirling stimulus of a trendy avant-garde art party, highlights Franz's skill at projecting Selma's ordeal onto the page.
Elsewhere, in a quieter mode, Franz captures with touching simplicity the paralysing inertia of depression. In a telling sequence, Selma just lies down before going on a night out, letting the time pass until her alarm tells her its time to go. A second glance at the book also reveals how many silent sequences it contains; Franz's choices, narrative flow and use of expressions and body language are always effective.
This is a graphic novel that is worthy of that description; it has depth and empathy, and it uses the infinite stylistic possibilities of the comics form to take us where words alone can't go.
Aisha Franz (W/A) • Drawn & Quarterly, $24.95
Aisha Franz will be reading from and talking about her comic series Work-Life-Balance at ELCAF. For more on her work visit her site (currently under construction) or follow her on Twitter and Instagram.
Catch up on all our ELCAF Fortnight articles to date here. ELCAF runs from June 22nd-24th. Full details on the ELCAF site here and you can also follow the festival on Twitter here.